Take Classics to New Heights
Sep 14, 2011
Korea's young classical artists are sweeping global competitions. With the world's leading ballet companies beckoning to dancers and major symphonies searching for the next big musician, the country is proving itself a vibrant cradle for young maestros. This new generation of artists is leading the way to success.

At the 14th International Tchaikovsky Competition in June, five Korean musicians took home prizes in the piano, violin and voice categories. The competition, held in Russia every four years, has been dubbed the "Classical Olympics," and the young musicians shocked the world with their talent.
Soprano Seo Sun-young and bass Park Jong-min won the top prizes in the female and male voice categories. Son Yeol-eum and Cho Seong-jin placed second and third, respectively, in the piano competition, while Lee Je-hye took third place for violin. Additionally, Son won several Best Performance awards for her pieces by Rodion Shchedrin, Rachmaninoff and Tchaikovsky.

In May, soprano Hong Hae-ran also made news by becoming the first Asian winner of the voice competition at the 7th Queen Elisabeth Competition in Belgium, one of the world's top three music contests besides the Tchaikovsky and International Chopin Piano Competition. Using the Brussels win as a springboard, Hong is now poised to launch her career with New York's Metropolitan Opera House this month.

These steps toward classical independence have been long coming. A number of successful veterans have been paving the way for decades, and past winners of the Tchaikovsky Competition include pianist and conductor Chung Myung-whun, baritone singer Choi Hyun-soo (also known as Hans Choi), pianist Paik Hae-sun and singer Kim Dong-seub (also known as Gerard Kim).

Others have gained recognition both at home and abroad with their rigorous international touring schedules and overseas activities. Paik Kun-woo, one of Korea's leading pianists, went to the United States to study at Juilliard School when he was 15, receiving international recognition for his performance of the complete works of Maurice Ravel at the Lincoln Center in New York. Violinist Chung Kyung-wha, the sister of Chung Myung-whun, entered Juilliard at 12 and quickly became a star when she played a Tchaikovsky concerto with the London Symphony Orchestra. Award-winning soprano Sumi Jo attended the Accademia di Santa Cecilia in Rome and sang at the world's top five opera houses as a prima donna.

MUSICAL GUIDANCE
Apart from the rare exceptions, most of Korea's top veteran musicians have received their musical training overseas from an early age. As late as the 1980s, it was difficult to get a strong musical education in Korea — a country where Western classical music had not been introduced until the 1960s
without some form of governmental support. If one wanted to become a world-famous musician, the only way to achieve that goal was through one's own network, and preferably overseas.

Photo from KOREA Magazine September 2011
This is why the recent success of so-called homegrown "classical kids" (as they are known colloquially) has become such a talked about phenomenon. Behind a string of successes at international competitions are the educational support system and economic growth that have, together, enabled Koreans to foster an interest in art and culture.
This generation studied at national institutions whose instructors were the very same people who had once studied abroad, and benefited from Korean companies that now support the arts. In short, becoming an artist is no longer the pipe dream it once was, and the field of classic arts in Korea is rapidly evolving with the times.
Cho Seong-jin, one of the Tchaikovsky Competition winners, is currently studying at Seoul Arts High School. The other four competition winners studied at the Korea National University of Arts (KNUA) and soprano Hong also graduated from KNUA.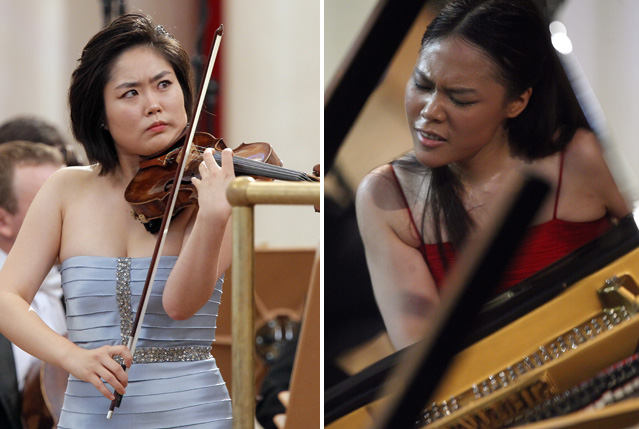 Jehye Lee(L) plays violin during the third round of the XIV International Tchaikovsky Competition in St.Petersburg, Russia and Yeol Eum Son (R) performs in the third round of the piano competition during the XIV International Tchaikovsky Competition. (Photo: Yonhap News)
KNUA has positioned itself as a wellspring for talented musicians through an education system that focuses on practice. Since its foundation 2011in 1993, it has given rise to numerous winners on the world classical music stage. In addition, the Korean National Research Institute for the Gifted in Arts (KRIGA), a stepping stone for many on the way to KNUA, has helped provide an early education for gifted youth in music since 1994. Several graduates from KRIGA later went on to win international music competitions.

Professors with a wealth of experience and talent have been vital in helping these young artists. Choi Hyun-soo, winner of the 1990 Tchaikovsky Competition and the first male ethnic Korean singer to win, is now a professor at KRIGA. Acclaimed pianist and conductor Kim Dae-jin, a professor at KNUA, actually taught two of this year's Tchaikovsky winners and also Kim Sun-wook, the winner of the 2006 Leeds International Pianoforte Competition and the first Korean to win the event.

FOUNTAIN OF RESOURCES
Koreans no longer have to give up their dream of studying music due to a lack of funds, as major corporate sponsors of the arts are stepping in to help. Four of the Tchaikovsky Competition's winners (Son, Cho, Lee and Seo) have been the beneficiaries of the Kumho Asiana Cultural Foundation's sponsorship program, which has been supporting young talent for the last decade. Their initiatives include scholarships, free airline tickets, opportunities to perform and free instrument rentals.

Cho Seong-jin, who placed third for piano in the Tchaikovsky Competition, performs at the international contest(L). Soprano Hong Hae-ran, winner of the Queen Elisabeth International Competition, listens to Queen Fabiola of Belgium(R). (Photo from KOREA Magazine September 2011)
Kumho accepts new musicians into its sponsorship program twice a year, in a cutthroat competition in which over 200 aspiring musicians apply. To date, roughly 1,000 people have benefited from the program.
Another noteworthy music sponsor is the Daewon Cultural Foundation, which specifically supports classically-trained musicians. Korean Leeds winner Kim received financial and administrative support from 2005 to 2008, and has since signed with Askonas Holt, an international arts management company whose client list includes the likes of Sumi Jo, Chang Han-na and Chung Myung-whun.
-Article from KOREA Magazine September 2011
Department Global Communication and Contents Division, Contact Us