Korea heritage meets fashion at Gyeongbok Palace
Sep 23, 2011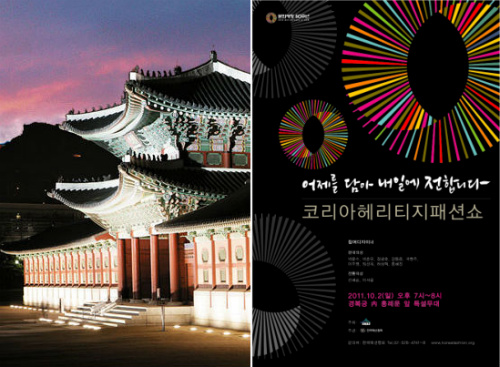 (left) Heungryemun in Gyeongbok Palace (Photo courtesy of the Cultural Heritage Administration); (right) Poster of the Korea Heritage Fashion Show (Photo courtesy of the Korean Fashion Association)
The Korea Heritage Fashion Show commemorating the 50th anniversary of the Cultural Heritage Administration of Korea takes over Gyeongbok Palace on October 2 on a special runway stage built in front of Heungrye-mun (Gate).
Starting at 7 p.m., the exceptional showcase co-hosted by the Cultural Heritage Administration and the Korean Fashion Association will display artistic creations of some of the most talented Korean fashion designers. Other design garments joining a diverse array of contemporary costumes at the iconic national heritage site include the refined traditional wardrobe designs of Hanbok (traditional Korean clothes).
Under the slogan, "Yesterday in the service of tomorrow," the organizers are aimed at reinterpreting traditional cultural fashion and its beauty, in the context of an encounter between old and new. Seasoned with each designer's unique expression and modern senses, the overall show will add an unprecedented vigor to the royal palace that day, followed by a set of other cultural performances.
Fashion designers participating in the Korea Heritage Fashion Show include Park Youn-soo, Park Chun-moo, Jang Kwang-hyo, Kang Dong-jun, Kwak Hyun-joo, Lee Juyoung, IMseonoc, Ha Sang-beg, and Hong Hye Jin, alongside Hanbok designers Kim Hye-soon and Lee Seo-yoon.
The event is open to the public free of charge on a first-come, first-served basis. Advance registration is recommended. For more information, please visit the official website of the Korean Fashion Association at:
www.koreafashion.org
.
Meanwhile, as part of the 50th anniversary celebration, the Cultural Heritage Administration offers free admission to a number of Korea's best-kept heritage sites. From September 26 to October 2, four royal palaces in Seoul, including Changdeok Palace, as well as Jongmyo Shrine, and Joseon royal tombs, will be open to the public free of charge. Visitors to Gyeongbok Palace and Changgyeong Palace can enjoy the magnificent night view under the moonlight, as the two palaces will remain open until 10 p.m. for a set period of time: from October 5 to 9 Gyeongbok Palace and from October 3 to 9 for Changgyeong Palace. Last admission is 9 p.m.
By Hwang Dana
Korea.net Staff Writer
Department Global Communication and Contents Division, Contact Us