Korea heritage inspires contemporary fashion designs
Oct 04, 2011
On October 2, the grounds of historic Gyeongbok Palace turned into the venue for a special fashion show held on the occasion of the 50th anniversary of the Cultural Heritage Administration of Korea.
For the Korea Heritage Fashion Show, held under the slogan, "Yesterday in the service of tomorrow," Korea's most acclaimed contemporary and traditional designers created an inspiring mix of original works based on the common theme of Korean heritage and showcased them on the runway.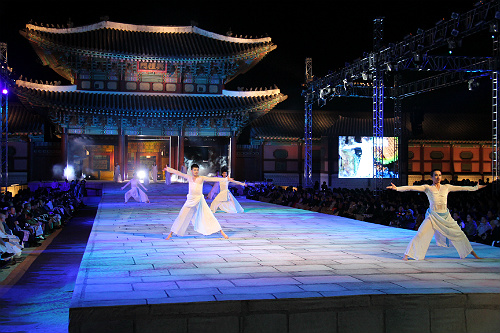 The opening ceremony of the Korea Heritage Fashion Show on October 2 (photographed by Hwang Dana)
Featuring a total of eleven designers, the fashion show unveiled the designs that borrowed motifs, colors, and patterns of Korea's tangible and intangible cultural assets, ranging from Goryeo celadon to traditional games.
Part 1: From Past, Present, to Future
That evening, the Korea Heritage Fashion Show opened with a dance performance on the stone-brick stage specially built for this occasion. Following the opening ceremony, the newest creations of Park Youn-soo, Park Chun-moo, and Jang Kwang-hyo were paraded out on the catwalk, showing the inspiration from the genuine aesthetics of Korean culture such as "dancheong," or the traditional multicolored paint of the royal palaces. The audience also enjoyed the delicate and sophisticated beauty of Korea's national costume with some classic pieces sent by Hanbok masters Kim Hye-soon and Lee Seo-yoon.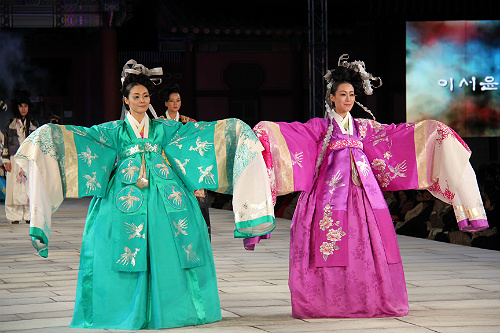 Models wearing creations by Hanbok designer Lee Seo-yoon (photographed by Hwang Dana)
Part 2: Fashion dresses up with motifs of traditional Korean games
The second part of the show was dedicated to artistic collaboration under the theme of traditional Korean games, featuring works by Kang Dong-jun, Kwak Hyun-joo, Lee Juyoung, IMseonoc, Ha Sang-beg, and Hong Hye Jin. The designs on the runway wowed viewers, reminding them of traditional swings and kites with a modern and creative reinterpretation of cultural heritage, as each designer displayed a diverse array of modern stylings and colorful costumes.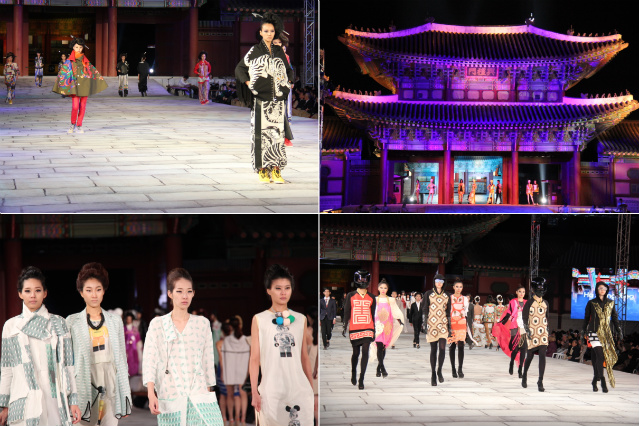 Korea Heritage Fashion Show (photographed by Hwang Dana)
One of the designers who participated in the Korea Heritage Fashion Show said, "The event provided an unprecedented opportunity for an aesthetic contemplation on Korea's cultural heritage, its traditions, and unique values through its modern adaptation."
Meanwhile, Gyeongbok Palace will be open to the public until 10 p.m. from October 5 to 9. For more information about Gyeongbok Palace, please visit the official website at:
www.royalpalace.go.kr/html/eng
(Korean and English).
By Hwang Dana
Korea.net Staff Writer
Department Global Communication and Contents Division, Contact Us