Baseball fever heats up at the 2011 Korean Series
Nov 03, 2011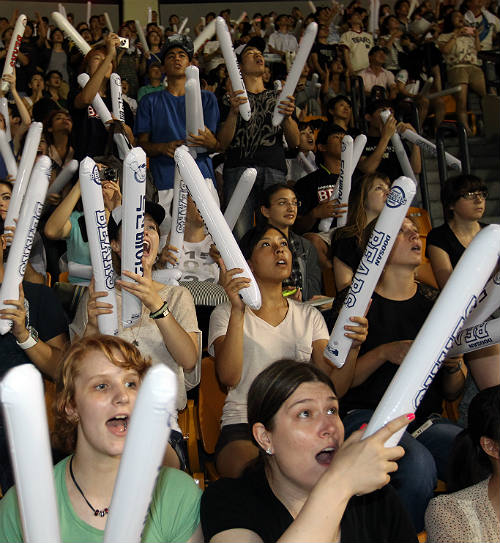 Foreign students attended a baseball game in Jamsil park (Photo: Yonhap)

The 2011 Korean Series wrapped up on October 31 with the Samsung Lions taking their place as the champions of Korean professional baseball in 2011. The seven-game playoffs between the Samsung Lions and the SK Wyverns started on October 25. The tickets for the game sold out as soon as they were available, pointing to Korean people's explosive interest in baseball.


Baseball is one of the biggest sports in Korea, having gained popularity since the Korean national baseball team's gold medal victory at the 2008 Beijing Olympics and also their advance to the semi-finals of the 2009 World Baseball Classic.
According to weekly magazine MK Economy, the number of fans in attendance has accelerated since 2007. The number of fans clocked in at around 3 million in 2006 and then gradually increased to 4.1 million in 2007, 5.25 million in 2008, 5.29 million in 2009, and 5.9 million in 2010. This year, the number exceeded the 6 million mark. Around 6.8 million people visited ballparks during the regular season this year, marking for the highest attendance in the history of professional sports in Korea.


The improved convenience of facilities attracted new baseball fans, especially women, foreigners, and families. According to a post-season survey conducted by the Korea Baseball Organization (KBO), 31.4% of the audiences who attended games this season were women. As the scope of baseball fandom has broadened to include women, baseball games have become a highly recommended date spot for couples and ideal grounds for membership training among workers. The Sajik Baseball Stadium in Busan, home field of the Lotte Giants, has become a must-see tourist destination, and the enthusiastic and passionate Busan baseball fans themselves are a sight to behold.


Domestic baseball is becoming popular among foreigners as well. About 70 foreign students studying from the Korean Language Education Center of Sogang University attended a game together in Jamsil park last September. The immersion program offers language classes as well as cultural outings, and going to a baseball game was included as one of their culture courses. During the game, the students showed great interest in the vigorous cheering by the crowd.


Another trend in baseball is the increased participation in amateur baseball clubs that provide a chance to learn the sport. The online community site One Game states that the number of private baseball teams is at 10,766, with a total of 243 leagues and 53 tournaments taking place every year. . Some of these teams and leagues, such as the Seoul Baseball League (SBL), have been started by foreigners.
In a recent interview with Huh Goo-yeon, a commentator and member of the KBO technical committee, he said that most people see baseball as a good way to entertain themselves, and see baseball games as a festival to be enjoyed with family and loved ones. That's why baseball fans do not want to just sit back and watch the game quietly, he added, and with the developments in media and the Internet, fans today can access the latest baseball news anytime, anywhere.



By Lee Seung-ah
Korea.net staff writer


Featured Topics
http://www.korea.net/NewsFocus/Culture/view?articleId=89584
URL Copy
Department Global Communication and Contents Division, Contact Us