Asiana International Short Film Festival attracts movie buffs
Nov 04, 2011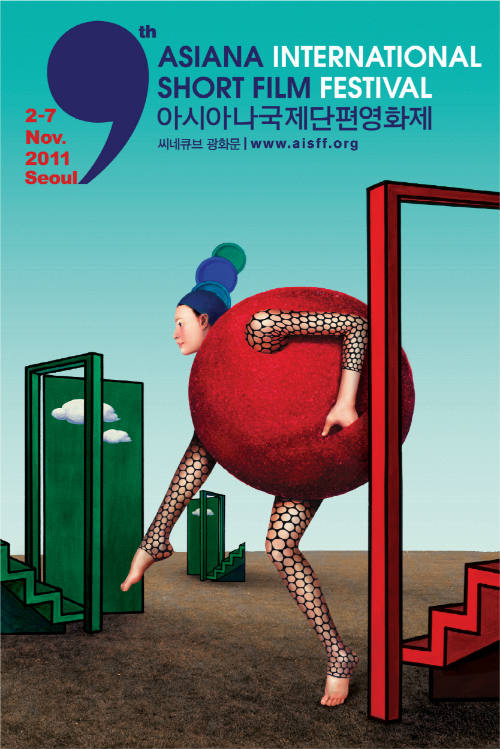 Poster of the ninth Asiana International Short Film Festival (Courtesy of Asiana International Short Film Festival)
The ninth Asiana International Short Film Festival (AISFF) has returned for a six-day run starting November 2, bringing together the latest short film productions by both established and emerging filmmakers to the silver screen at the Cinecube in Gwanghwamun, Seoul.
Following the opening ceremony attended by celebrated Korean actors, actresses, and film directors, were screenings of two films:
Etude, Solo
, a story of a piano tuner and his accidental encounter with his first lover by Korean Director Yoo Dae-eol, and
Martin
, which narrates the growing pains of a nine-year-old Mexican boy dreaming of becoming a metro driver like his father.
Held every autumn since 2003, the festival, which was initially designed as the world's first-ever cabin film festival by Asiana Airlines, has grown into one of the most prominent international film festivals in Korea. The festival has not only supported rising talents and creativity through its AISFF Fund Project, but also led the distribution of short films through numerous channels including subsequent nationwide tours and in-flight screenings.
For its ninth edition, the festival offers 54 distinctive productions from 35 countries. The selection process was particularly competitive as a record-breaking number -- amounting to 2,173 short films from 90 countries -- were submitted to the International Competition. Under the slogan "Discover the hidden side of Korea with short films," the festival has also run the "Traveling Shorts in Korea" program since 2010, with support from the Ministry of Culture, Sports and Tourism and the Korea Tourism Organization.
This year's festival is packed with a diverse array of special events offering extra fun and excitement including 2011 AISFF Night, slated for November 5, an auction of directors' favorite items, and AISFF Tent Bars, which can be found next to the Cinecube throughout the festival. A lecture by renowned Japanese director Inudo Isshin will take place at 2 p.m. on November 5 at the Daewoo E&C Munho Art Hall. Inudo Isshin's filmography encompasses
Josee, The Tiger and The Fish,
and
La Maison de Himiko
. Admittance to the lecture will be available on a first-come first-served basis.
The mother company of Asiana Airlines, Kumho Asiana Group, has long supported arts and education since its establishment in 1977, under the founder's managerial philosophy to give back a portion of its profits to the community to whom it owes its existence. Today, the Kumho Asiana Cultural Foundation has become an exemplary model of corporate philanthropy in Korea, operating a number of cultural institutions and educational programs aimed at nurturing talent and promoting culture.
For more information, please visit the official website at:
* Asiana International Short Film Festival:
www.aisff.org
(Korean and English)
* Kumho Asiana Cultural Foundation:
www.kacf.net
(Korean and English)
By Hwang Dana
Korea.net Staff Writer
Department Global Communication and Contents Division, Contact Us