Korean folk song "Arirang" arrives in London
Nov 11, 2011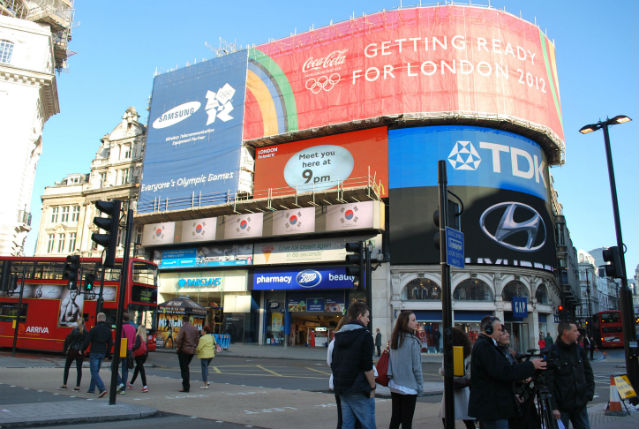 A video promoting the Korean folk song "Arirang" plays on the screens at Piccadilly Circus in London (Photo: Yonhap News).
The latest endeavor to spread appreciation for Korea's musical heritage has taken the traditional Korean folk song "Arirang" to the streets of London. For the month of November, the large-scale digital billboards of Piccadilly Circus in London will flash more than global brand names and product images. Fifty times per day, a thirty-second video advertisement complete with a closing image of a fluttering Taegukgi (Korean flag) will play on the screens, inviting visitors, tourists, and passersby to consider the authenticity and spirit of Korean culture as embodied in "Arirang."
The Piccadilly advertisement is part of a collaborative campaign spearheaded by freelance publicist and Sungshin Women's University visiting professor Seo Kyoung-duk to promote the "Arirang" legacy. The 37-year-old Seo is well-known for his experimentation with mass-marketing techniques, such as running promotional ads for Dokdo and bibimbap in international newspapers and distributing informational booklets on Hangeul to museums such as the Smithsonian in Washington, DC.
Seo picked up the idea of promoting "Arirang" at the beginning of 2011, when K-pop began to attract increasing international popularity. In response to a question he received as to K-pop's originality, Seo set out to show how the unique dramatic energy and open, incorporative spirit of Korean musical traditions find their roots in the simple melody of "Arirang." The song is sung in a round with a repeated refrain, but the verses in between vary widely by region in lyrics and style, evoking mirth and joy in one version and wistful yearning in the next.
In June 2011, the global Arirang publicity campaign became an official government objective when the Ministry of Culture, Sports and Tourism announced that it would be pushing for the inclusion of "Arirang" in UNESCO's intangible world heritage list by 2012. A month later, in August, the Arirang promotional video, produced by several Korean production companies on a voluntary basis, made its way to Times Square in Manhattan, New York. It ran 1,500 times during its month-long run which, by Seo's design, coincided with Korea's Liberation Day on August 15. And as with the London display, the Times Square advertisement was produced by the Korean production companies Wonderboys Film, Vixen VFX Studio, and Dr. Hook Music and Sound Design on an entirely voluntary basis.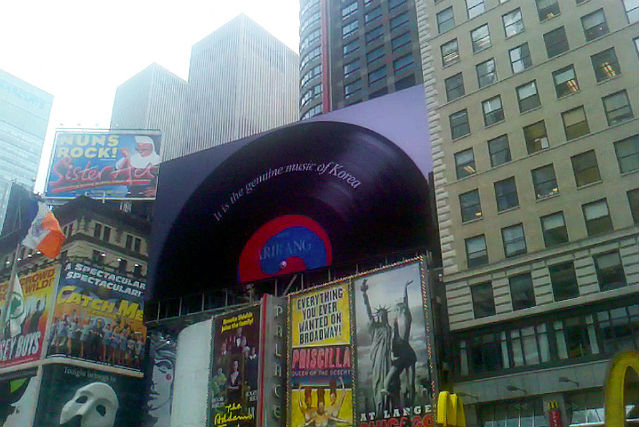 The global Arirang publicity campaign began in August in Manhattan's Time Square, where the Arirang video played throughout the month.
For the Piccadilly Circus project, Seo partnered with the non-profit organization Arts Council Korea (ARKO) to collect the necessary funds through crowdfunding. Crowdfunding relies on the collective support of a community of individuals rather than institutional donors. Also known as social funding, crowdfunding has become an increasingly popular strategy in Korea's cultural and philanthropic scene that enables consumers to influence and support the production of the arts and thereby re-emerge as "prosumers.
In view of this trend, Seo and ARKO invited netizens to donate to the "Arirang" campaign, and during the month of October, a total of 7 million won was collected from approximately 200 individuals. The campaign to take the "Arirang" tune worldwide has become a group effort, with famous participating musicians releasing two "Arirang" albums and several musical scores based on the theme. KB Bank has also joined in the crowdfunding wave with the creation of an "Arirang Love Fund.
More information about "Arirang" and the Arirang campaign, including the original Times Square video, can be found at
http://fund.arko.or.kr
(Korean).
Kwon Jungyun
Korea.net Staff Writer
Department Global Communication and Contents Division , Contact Us