Traditional plates meet modern palates under the Michelin stars
Nov 15, 2011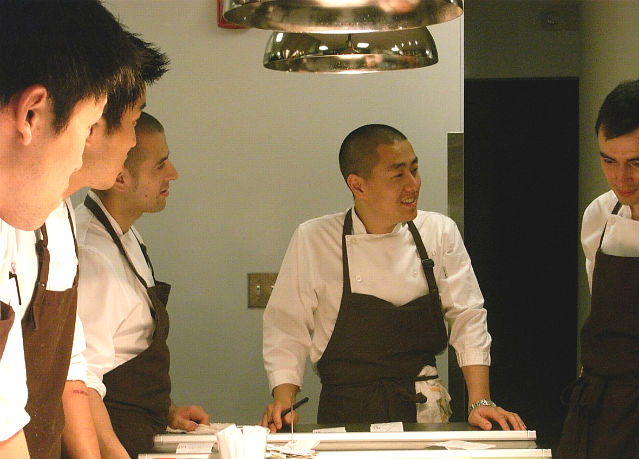 Chef Corey Lee (center) at home in his San Francisco restaurant, Benu (Photo courtesy of Benu).
Following the release of the latest Michelin Guide to San Francisco in October, Chef Corey Lee has become the latest Korean-born proprietor of a Michelin two-star restaurant. Moreover, Lee's dedication to presenting Korean flavors and craftsmanship at their most authentic has set Benu (
www.benusf.com
) apart as a vehicle for the globalization of Hansik, or Korean food culture.
Since Benu opened its doors last summer, the restaurant's tableware has come from Lee's own line of traditionally crafted ceramics, produced in collaboration with Korean porcelain manufacturer KwangJuYo. KwangJuYo was established in 1963 with the aim of continuing to craft Korean pottery in the tradition set forth by the Gwangju Gwanyo workshop that supplied the pottery needs of the Joseon royal family.
The partnership between KwangJuYo and Lee, who was officially appointed goodwill ambassador by the City of Seoul for the promotion of Hansik, can be seen as an effort to provide a multi-dimensional and multisensory Hansik experience. At Benu, Lee stays true to traditional Korean flavors and cooking styles, steaming meat together with Asian pear, flavoring broth with kimchi, making pasta from powdered dotori (acorn) flour, and glazing pine nuts with honey.
The tableware provided by KwangJuYo, meanwhile, pays tribute to the Korean ceramic tradition while also appealing to more modern tastes and practicality. KwangJuYo has made significant gains in fostering appreciation for Korean ceramic crafts while addressing the issues of low demand and marketability that previously plagued the industry. The recent steps taken by KwangJuYo to adapt its product for the modern consumer and thereby expand its market have also helped to expand the international reception of Hansik.
Prior to opening Benu, Lee, who immigrated with his family to the United States when he was seven years old, was the chef de cuisine at the popular Napa Valley restaurant French Laundry. In 2006, the James Beard Foundation awarded him the "Rising Star Chef" designation as the best chef under 30, and French Laundry's maestro chef Thomas Keller praised both his technique and his creativity in presenting the best of French flavors.
In a recent interview with the
Joongang Daily
, Lee described his cooking philosophy as one that seeks to provide more than an everyday dining experience, taking the experience of eating beyond physical and sensory reactions to an emotional response. Moreover, he expressed that the globalization of Hansik will not take place if these goals become the sole focal point. He called instead for those promoting Hansik to direct greater energy to developing an understanding of the ingredients that create Korean flavors, the cooking traditions passed down from generation to generation, and the different developments and innovations in food production today.
Kwon Jungyun
Korea.net Staff Writer
Department Global Communication and Contents Division, Contact Us