The return of vintage Korean rock groups
Nov 17, 2011
There's a new sound taking the world by storm and it comes from Korea…forty years ago.

An increasing number of music aficionados, both in Korea and overseas, are paying attention to Korea's rock music of the '60s and '70s. Musicians like Shin Jung-hyeon, often called "the godfather of Korean rock," as well as groups such as Sanullim are getting their dues after decades of wallowing in obscurity in the bargain bins of Korean flea markets.

Nowadays, vinyl albums of bands from that era cost a pretty penny, with original vinyl from Shin Jung-hyeon rarely available for less than 100,000 won, but back in 1995 when Hasegawa Yohei first visited Korea, he claims the same records were available for as low as 500 won.

Records by Shin Jung-hyun (left), Sanullim (middle), and Kim Jung-mi (right).
In fact, there was such a great interest in vintage Korean records from Japanese record collectors, followed by Europeans, and more recently by Americans, that it's widely believed among record collectors that all the best Korean albums were now overseas. "I almost felt foolish asking if they had the more collectible records, since we all knew the answer would be No," wrote one record collector online. "Every record store owner would tell me the same thing: Japanese record collectors had long since bought up all the really good records."


Hasegawa, a Japanese musician and producer, visited Korea the first time in 1995 with fellow countryman Sato Yukie specifically to go record-shopping. He recalls, "Every Korean laughed at us, 'Why did you buy this? This is very old, not very interesting. You have to buy new bands and more famous artists.'"

Hasegawa and Sato bought up everything they could, trying to map out Korea's musical history by matching faces on album covers.

"[Korean rock] is very similar to Japan, but they have different tastes," says Sato, "so I had to study and research Korean rock music from the '60s and '70s, and then I learned the language."

They were fascinated by Group Sound, a genre of music initially inspired by popular '60s and '70s groups such as the Beatles and the Rolling Stones. In that era, Korean musicians produced all genres, from psychedelic rock and folk rock to surf, R&B, and even American-style country and western. Many acts of the day got their start by playing western covers for American soldiers. Over time, they were exposed to more and more foreign music, but the music they played became more and more distinctly Korean.

"Every country has a filter, so they got a filter to change into Korean style from foreign music," explains Hasegawa. "Twenty percent is influence from foreign culture and 80 percent is originality."

"The historical and cultural features of that period in Korea were reflected in the music," explains Ahn Akhee, a local musician from the band Paryumchiakdan, which is inspired by more hard-rock '60s bands like Mujigae Quintet and Golden Grapes. "Korean music in '60s and '70s contained influences from Japanese and American music but still has uniquely Korean melodies...and their emotions during that period are reflected very well."

Unfortunately, the momentum built up by Korea's burgeoning music scene was disrupted in 1975 when Shin was imprisoned on drug charges and his music was banned.

"They wouldn't let him make a new album from 1975 until 1979," recalled Shin Yoon-cheol, Shin Jung-hyeon's son. Shin has three sons, all who went on to become musicians on their own. Shin Yoon-cheol, the middle son, is now the leader of Seoul Electric Band. He grew up listening to his dad's influences like the Beatles, Led Zeppelin, and Jimi Hendrix, but he also recalls the time when his dad wasn't so popular.

Even after Shin was free to make music again, the public interest in music had moved on. "Korean pop music has changed since then," his son says.

The popularity of Korea's rock music didn't recover for the next couple decades, which is not to say it wasn't being made. The void was partly filled in 1977 by Sanullim, a new breed of band that got its start playing before Korean audiences, rather than American soldiers. Also, heavy metal was introduced to Korea in the '80s, with such bands as Boohwal, Baekdoosan, and Sinawe, the latter formed by Shin Jung-hyeon's eldest son, Shin Dae-cheol.

Hasegawa identifies 1997 as a turning point, a key year in the resurgence of group bands. In that year, indie music was rising thanks to indie acts like Pippi Band and Crying Nut, and a tribute album was released in honor of Shin Jung-hyeon. As well, the country was opening up to the world at the time, allowing Koreans a closer look at foreign culture and, more importantly, a chance to learn about themselves. "They can see through another country into Korean culture," Hasegawa explains, "so they began to feel the importance of Korean culture."

Hasegawa has collaborated with Korean musicians, including Jang Ki-ha and the Faces, the Mimi Sisters, and the Kim Chang-wan Band, featuring the former lead singer of Sanullim, as well as been a part of Sato's band Gopchangjeongol. Every band he contributes to seems to develop a finer appreciation of Korea's past.

"Now, everybody talks about domestic music and its history," Sato says. In 1999, Sato introduced his Japanese band Gopchangjeongol to Korea, named after a spicy intestine stew he loved. That was also the year of his first CD, "Annyoung Hashi-mu-nika?" on Doremi Records, containing many covers of old Korean groups such as Shin Jung-hyeon and Sanullim.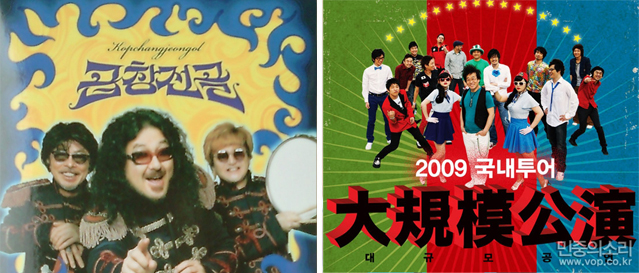 Sato Yukie released his first album with Gopchangjeongol in 1999 (left); the Kim Chang-wan Band toured Korea with Jang Kiha and the Faces, Crying Nut, and the Mimi Sisters in 2009 (right).

"When Korean people listen to Shin Jung-hyeon or Sanullim, they think 'Oh, I miss it,'" Sato says. "They may forget the name or song titles but when they hear the song they know it."

"I was surprised because nobody ever expected Japanese people would play Korean songs," says Shin Yoon-cheol. "Even many Korean musicians didn't play '70s songs at that time, but they made Korean musicians realize great music has survived."

Korean musician Choi Yoonseong was influenced in particular by Sanullim and singer Han Dae-soo when he created his band Stretching Journey. One of their songs even ended up becoming an unintended tribute to "Ga Ji Ma Oh" (Don't Go) by Sanullim.

"I didn't mean to tribute Sanullim in the song," he recalls. "We were so excited about the new song I started yelling "Ga ji ma oh"... it just came out by accident and it sounded good. I wanted to rise up against something but did not know what it was. I think the word "ga ji ma oh" became a substitution for that kind of feeling."

Choi's band also took part in a 2008 tribute album to Korean folk and rock singer/songwriter Hahn Dae-soo, in which twelve bands performed their own version of his song "Mool Jom Joo So" (Give me some water). Stretching Journey is on hiatus, as Choi has moved to the US for his studies, where he continues to spread the music of his homeland. "Here in the States lots of my friends happened to listen to Korean indie music by me and they loved it," he says.

Fascination with Korea's rock music continues to stretch beyond Korea and Japan. Tyler Brown, an American who travels to Korea on business frequently, says his favorite Korean musicians are Shin Jung-hyeon, Sanullim, the Pearl Sisters, and Kim Jung-mi. "One of the most interesting things initially was how the language sounded when sung," he explains. "Korean was not a language I had heard much of at all; especially in song. I find kind of a fluidity in it that translates in a very unique way."

When in Korea, he frequents a Hongdae bar called Gopchangjeongol, named after Sato's band, where vinyl records from the '50s through to the '90s provide the soundtrack. It's a popular hangout for Korean musicians, and at peak hours it's difficult to get a table. It's also not unusual for everyone inside to break out in song once one of the more memorable songs hits the turntable. It's become a hot spot for visiting musicians, having been visited by bands like MGMT, Das Racist, and Jeffrey Lewis while they were on tour in Korea.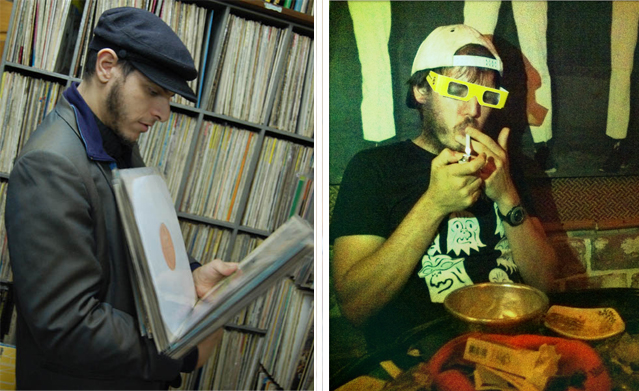 Vic Ruggiero of New York band the Slackers shops for vintage Korean records in Hwanghak Market (left); Jeffrey Lewis listens to vintage Korean music in Gopchangjeongol (right) (Photo courtesy of SuperColorSuper).
Sean Maylone, one of the organizers of SuperColorSuper (SCS), a booking organization responsible for bringing many foreign acts to Korea, delights in introducing visiting musicians to classic Korean groups. "The few people I've brought into Gopchangjeongol have gotten really stoked and surprised," he reports. "Every time, the bands and SCS people would be running to ask the staff what was playing to find later, but we could never find the tracks anywhere, which is why I want to help get them out there."


To that end, SuperColorSuper created G'old Korea Vinyl, a DJ party series and corresponding website to introduce foreigners to Korea's long-lost musical treasures. "It'd be good to put [Group Sound bands] out there to balance the big K-pop boom recently," Maylone adds. The website can be found here: http://goldkoreavinyl.com.


As well, American record companies are re-introducing Korea's Group Sound masters to modern audiences. Lion Productions, a small record company run out of Illinois, has re-issued old albums by Kim Jung-mi and Shin Jung-hyeon. In September this year, Light in the Attic Records released "Beautiful Rivers and Mountains," the first-ever anthology of Shin Jung-hyeon. You can find information on the release on their website: http://lightintheattic.net.

"Shin Joong Hyun's tale is personal, spiritual, and deep, not only reflecting the full spectrum of human emotions, but one that produced reverberating echoes of sound, some beautiful and life-giving, others restless and ungovernable," writes a press release from Light in the Attic. "For the first time outside of Korea, Shin's music will be readily available to music lovers the world over."

By Jon Dunbar
Korea.net Editor
http://www.korea.net/NewsFocus/Culture/view?articleId=89883
URL Copy
Department Global Communication and Contents Division, Contact Us