Korea in the world seen through statistics [2] Culture and Travel
Nov 18, 2011
The Korean Wave, which continues to captivate global audiences in Europe and North America through Korean pop music and its performers, has expanded its scope into tourism and culture exports of animation, films, broadcasts as well as online content and games. If the first major wave of Hallyu was driven by Korean TV dramas within the Asian continent, it has now spread beyond Asia, reaching as far as Latin America and the Middle East.
Korean Wave leads increase in inbound visitors and Korean product sales overseas
In July, the BBC featured coverage of the Korean Wave, referring to it as a national brand, which is gradually replacing the ranks of global Korean corporations like Samsung and Hyundai. The program analyzed how the Korean Wave has significantly contributed to Korean national exports.
Korean popular music, often referred as K-pop, and performers like Kara (left) and Girls' Generation (right) are leading the Korean Wave (Photo credit: DSP Media & SM Entertainment; courtesy of CJ E&M enewsWorld).
According to a report issued by Statistics Korea (KOSTAT) on October 30, the number of inbound visitors to Korea stood at 8.8 million last year, recording a 70.9% year-on-year increase from 5.15 million in 2001. This year's year-to-month figure until the month of August reached 6.19 million alongside a prediction of surpassing 10 million by the end of the year for the first time ever.
The report analyzed that the development of tourism packages played a key role in bringing more tourists, catering to the experience of both old and new of Korea alongside the new regulation on a double-entry visa issuance. This measure came into effect this April for nationals from eleven South Asian countries, who have become an important group for the Korean tourist industry, easing visa issuance process, while also enabling double-entry visa holders to freely re-enter the country within six months.
In recognition of the ever-growing attention in Korea as a travel destination, the Michelin Guide published the first-ever Korea edition of its green guide series this May. This comprehensive 450-page-long guidebook, which is known for some of the world's most trusted rankings of tourist spots, used its famed star ranking system to assess around 110 tourist sites in Korea. Michelin awarded its coveted three-star rating to 23 places throughout Korea, including Gyeongbok Palace and Changdeok Palace in Seoul.
In a survey of foreign tourists visiting Korea conducted by the Ministry of Culture, Sports and Tourism in 2010, overseas visitors showed enthusiasm for discovering authentic Korean culture and traditions as well. Among the many tourist attractions in Korea, foreign visitors picked Myeong-dong (28.5%), royal palaces (18.9%), and Dongdaemun Market (15.6%) as the most impressive spots, according to the survey. Noting the fact that both Myeong-dong and Dongdaemun Market are shopping areas rather than tourist spots, the UNESCO-designated royal palaces spread throughout the capital are the most popular tourist attractions in Korea.
Culture exports rising at a double-digit rate
As the Korean Wave has been reaching new heights, Korean culture exports have seen a steady growth with an annual average increase rate of 18.9%. The culture exports, which stood at USD $1.3 billion in 2005, have doubled to surpass 2.6 billion in 2009. The nationality of users continues to diversify, constantly increasing in North America (USD $387 million) and Europe (USD $217 million).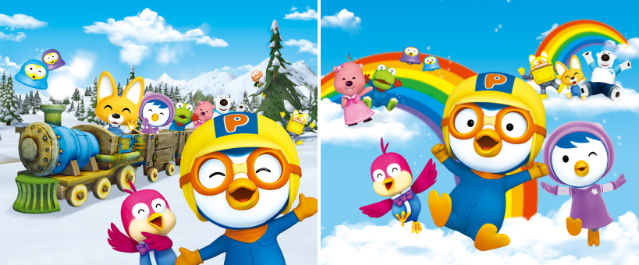 Pororo the Little Penguin ⓒICONIX/OCON/EBS/SK Broadband (Images courtesy of ICONIX Entertainment)
Korea's most famous animation,
Pororo the Little Penguin
is taking flight worldwide, selling to over 120 countries including France and the United Kingdom. According to the latest report from Statistics Korea, the cartoon displayed the highest ratings of 57%, when it hopped onto French TV screens through the national French TV channel TF1 in 2004. The successful Korean cartoon character allegedly earns an amount equivalent to 12 billion Korean won on a yearly basis through royalties with an estimated brand value of 389.3 billion won.
The gaming industry has begun to expand into a global market as well. With Korean online games gaining traction overseas, gaming industry exports have increased twelve-fold over the last decade, from USD $130 million in 2001 to 1.55 billion in 2010. The market share of Korean games has posted a steady growth in the global market.
The Korean gaming business continues to have bright prospects this year. Newly launched games have continuously earned positive reviews from gamers overseas. Korean games are showing a particular strength in the genre of massively multiplayer online role-playing games (MMORPGs). At this year's Penny Arcade Expo (PAX), -- one of the largest gaming festivals in North America, -- NCsoft-published MMORPGs
Guild Wars 2
and
Wild Star
garnered a raving response from gamers.
Smartphone games developed in Korea are rising quickly to the levels of the online games in popularity. The applications, such as
Ragnarok Violet
by NEO-CYON and social networking game
Rule the Sky
, are widely played in Japan and North America.

According to the Korea Creative Content Agency, G-STAR 2011 served as a platform for around 6,800 B2B consultations (Photos courtesy of the Korea Creative Content Agency).
The G-STAR (
www.gstar.or.kr
) exhibition, which wrapped up on November 13, is also growing as one of the major events in the global game industry. During the four-day run, it drew a record-breaking audience of over 290,000 spectators, with the participation of 266 companies hailing from 28 nations.
Meanwhile, Korean literature is continuing to gain momentum overseas. The success of the English translation of Shin Kyung-sook's
Please Look After Mom
marked a new milestone for the internationalization of Korean literature. Shin's bestselling novel, launched this April in the U.S. market, was selected for the Amazon Best Books of the Month list on the month of its official release and received the spotlight from literary critics in the American press including the
New York Times
and
Wall Street Journal
. The multiple translations of Shin's books are now available in bookstores in 28 different countries, reaching a wider audience.
Kuon Publishing in Japan has also published a new series dedicated to Korean literature with the arrival of Han Kang's Vegetarian in June this year, and is currently preparing for the publication of A by Korean novelist Ha Sung-ran. Among the novels currently being translated for international release under the auspices of the Korea Literature Translation Institute (
www.klti.or.kr
) are
Beauty Despises Me
by Eun Hee-Kyung and
Castella
by Park Min-gyu.
By Hwang Dana
Korea.net Staff Writer
Department Global Communication and Contents Division, Contact Us