New York office workers dine on free Korean lunch
Nov 28, 2011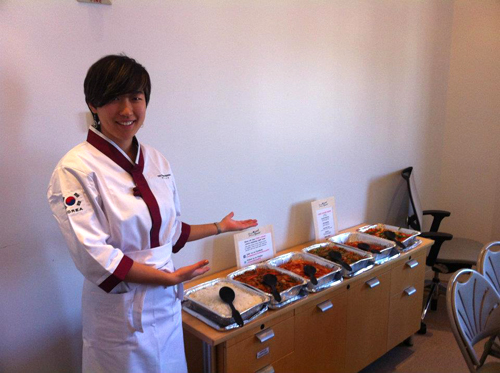 The Korean restaurant Kang Suh participated in the Free Lunch promotion (photo provided by the Korean Food Foundation).
Proving that there is such a thing as a free lunch, the Korean Food Foundation has been providing free Korean lunches for lucky office workers around New York. Under the banner of the Taste of Korea NYC program, the Free Lunch Program was offered for four weeks earlier this month, ending on November 23.

"We know that New Yorkers have many choices when ordering lunch at the office," said Yang Il-Sun, Chair of the Korean Food Foundation, which is part of the Ministry for Food, Agriculture, Forestry and Fisheries (MIFAFF). "Through this exciting program, we hope to showcase Korean food as a delicious and healthy alternative to the usual lunch options people have each day."

Hungry office workers entered the sweepstakes on the Foundation's Facebook page. Each weekday of the four-week period, one office with as many as 20 workers earned themselves a free lunch.

"Korean food is very healthy and diverse," said Yang. "With a range of menu options from bibimbap to bulgogi, Korean food offers a perfect combination for everyone's daily lunch menu." Other dishes offered included japchae, galbi, jeon, and Korean-style fried chicken.

Meals were provided by one of nine popular Korean restaurants in New York, including Mono + Mono, B-Bap Rice Bar, Do Hwa, Don's Bogam, Kang Suh, Kori, Kunjip, Miss Korea BBQ, and Franchia. Meals were prepared in the restaurant kitchens and then delivered to the offices by workers for the Korean Food Foundation.

"I think it's great that we're expanding Korean cuisine," said Terrence Segura, general manager of Korean barbecue restaurant Do Hwa. It's really big here in New York and I think that it's capable of crossing the whole country.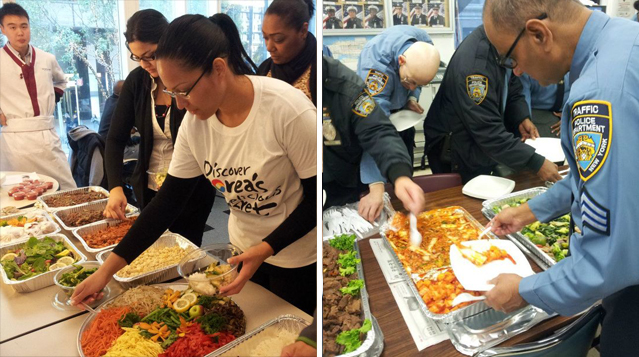 Lighthouse International (left) and the NYPD (right) were two of the lucky offices to win a Korean lunch.

The first recipient of the Free Lunch program was the office of gaming and entertainment website IGN.com. Other winners included PC Magazine, Time Warner, Inc., the American Indian Community House, volunteer organization New York Cares, and fundraising organization Broadway Cares/Equity Fights AIDS.
"They delivered the food and it was surprising how formal they were!" remarked Valerie Lai, a worker at parenting website Babble.com. Her office was catered by Korean/Japanese restaurant Kang Suh, which served seafood tofu soup, kimchi, japchae, rice cakes, and other dishes. "They gave us a lecture on Korean food and explained what the different dishes were, which ones were vegetarian, etc. My office really enjoyed it because many of my co-workers have never tried Korean cuisine. It was a bit of a show!"

As well as providing free lunches to office workers, the program also gets food to the truly needy. For every entry submitted to the Free Lunch program, the Korean Food Foundation donated one dollar to Action Against Hunger (ACF International) for its annual Restaurants Against Hunger campaign.
The Korean Food Foundation's mission is to promote authentic and contemporary Korean cuisine around the world. Earlier this year from April 18 to May 20, they launched the Hansik mobile kitchen campaign, serving free lunches to passersby on the street throughout New York. Visitors were treated to a variety of traditional and fusion Korean foods, from cucumber kimchi burgers to bibimbap. From their truck-based mobile kitchen they also offered information on ingredients, recipes, and Korean food culture.

By Jon Dunbar
Korea.net Editor
http://www.korea.net/NewsFocus/Culture/view?articleId=90092
URL Copy
Department Global Communication and Contents Division, Contact Us