Views from Korea's 52 Scenic Roads
Dec 07, 2011
The Ministry of Land, Transportation and Maritime Affairs (MLTMA) has released a promotional booklet and brochure showcasing Korea's most picturesque and culturally rich highways and roads. Titled Korea's 52 Scenic Roads, the publication is designed to help travelers find their way to popular destinations.

Each scenic road brings together natural vistas and cultural experiences, providing quiet places for travelers to rest and take in the regional sights and sounds. The 52 roads were selected not only for their aesthetic value but also for their cultural and historical value.


Scenes from the promotional booklet, "Korea's 52 Scenic Roads," published by the Ministry of Land, Transportation and Maritime Affairs (Photo Courtesy of the Ministry of Land, Transportation and Maritime Affairs).

The 52 routes were selected by the MLTMA, one for each of the 52 weeks in a year, so that travelers could choose from a wide array of destinations. In order to ensure fairness in the selection process, regional offices recommended local spots that were subsequently reviewed through field studies and expert evaluations.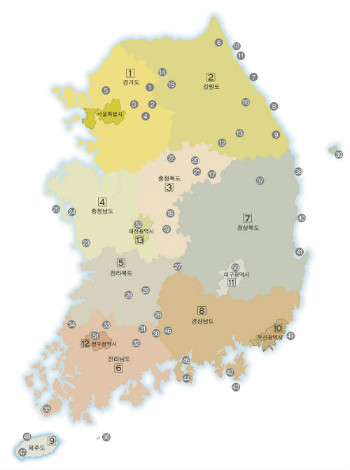 The publications introduce roads that line the coast and wind around lakes, rivers, and cultural and historical sites. They also include information on famous local festivals, landmarks, and cuisine, allowing for a more comprehensive understanding of each place. MLTMA expects that the production of these materials will help to foster regional development and bring attention to lesser-known communities.

On the occasion of this promotion, the MLTMA will also seek to expand its road restoration project, which first began in 2010, to make travel more convenient and accessible for locals and foreigners alike.

In addition to the MLTMA, other public organizations have created programs for the preservation and promotion of Korea's diverse trails. The Ministry of Culture, Sports and Tourism began its Storytelling Eco-Trail program (www.koreatrails.or.kr) in 2009, helping to bring attention to Korea's diverse walking trails.

The trails outlined in the program include oceanside trails, riverside trails, historical trails, southern coastal trails, and themed trails. The program ties together both the natural habitat and the cultural history of each location through a story, inviting travelers to imagine themselves as characters in the settings of their favorite novels or key players in historical scenes. Travelers can tailor the program to suit their individual tastes and preferences.

The Ministry of Environment (www.eco-tour.kr) has also operated a similar program since 2008 that focuses on Korea's budding eco-tourism industry and introduces local and international travelers to the country's nature reserves. The trails offered include reservoir trails, river trails, local village trails, forest trails, coastal trails, and bicycle trails.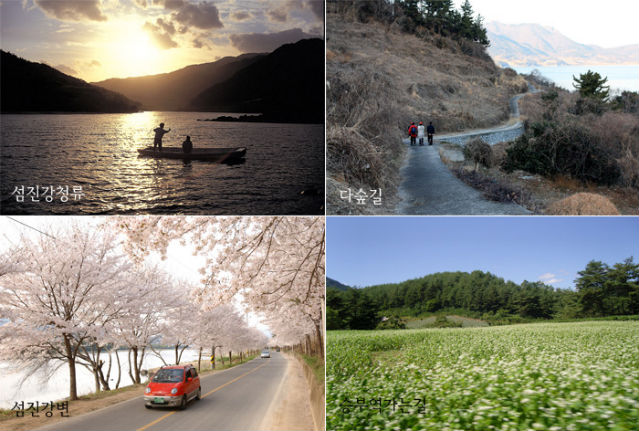 In 2009, the Ministry of Culture, Sports and Tourism introduced its "Storytelling Eco-Trails" program (Photos courtesy of the Ministry of Culture, Sports and Tourism).

The Seoul Metropolitan Government also opened an official city-wide trekking course in 2010 that connects the mountains in the northern part of the city to those in the southern part. The course encourages city-dwellers to take advantage of Seoul's natural scenery and has attracted widespread popularity since its opening. Renovations on the course have not yet been completed, and are scheduled to finish in 2014.

More information on Korea's 52 Scenic Roads can be found at the MLTMA website: www.mltm.go.kr (Korean, English).
From "Korea's 52 Scenic Roads" (
Courtesy of the Ministry for Land, Transportation and Maritime Affairs)
Province

No.

Location

Route No.

Length (km)

Theme

Gyeonggi-do

1

Gapyeong-eup, Gapyeong-gun:

Daljeon-ri à Geumdae-ri

Local Rd

No. 391

11.9

Romance and Reminiscence by Bukhan River

2

Cheongpyeong-myeon, Gapyeong-gun:

Samhwe-ri à Goseong-ri

Local Rd

No. 391

21.2

Daybreak over Cheongpyeong Lake

3

Namyangju-si: Jinjung-ri (Joan-myeon) à Geumnam-ri (Hwado-eup)

Nat'l Rd

No. 45

12.5

Sounds of the River and Mountain Birds

4

Yangpyeong-gun: Yangsu-ri (Yangseo-myeon) à Suip-ri (Seojong-myeon)

Nat'l Rd

No. 391

11

Riverside Road of Dreams

5

Paju-si: Jori-eup à Munsan-eup

Nat'l Rd

No. 1

24

Unification Road: Looking Towards a Green Future

Gangwon-do

6

Ganseong-Eup, Goseung-gun:

Heul3-ri à Jangsin-ri

Nat'l Rd

No. 46

10

A Stroll through the Woods

7

Gangneung-si: Sandaewol-ri (Sacheon-myeon) à Jumun-ri (Jumunjin-eup),

County

No. 11

15.4

Old Oceanside Market Road

8

Donghae-si:

Mukho-dong à Mangsang-dong

Jongno

2-18 (City)

4.7

A Beachside Path for Lovers

9

Samcheok-si: Wolcheon-ri (Wondeok-eup) à Gungchon-ri (Geundeok-myeon)

Nat'l Rd

No. 7

24.3

Home Sweet Home by the Oceanside

10

Ganghyeon-myeon, Yangyang-gun: Jeonjin-ri à Mulchi-ri

Nat'l Rd

No. 7

5.1

Welcoming the Sunrise and New Hopes

11

Yangyang-gun: Yeounpo-ri (Sonyang-myeon) à Josan-ri (Yangyang-eup)

County Rd

No. 5

10.3

The Simple and Regal Beauty of the Coast

12

Yeongwol-gun: Deokpo-ri (Yeongwol-eup) à

Samok-ri (Yeongwol-eup)

County Rd

No. 13

8.5

Be Swept Along the Donggang River Currents

13

Jeongseong-gun: Deokcheon-ri (Sindong-eup) à Yongtan-ri (Jeongseon-eup)

County Rd

No. 6

20

Exploring the Donggang Riverside Village

14

Chuncheon-si: Ui-am-ri (Sindong-myeon) à

Sinmae-ri (Seo-myeon)

Samchun Sunhwan

15

A Trail for Culture and Excitement

15

Ganpyeong-ri (Jinbu-myeon, Chuncheon-si) à San-ri (Seongsan-myeon, Gangneung-si)

Local Rd

No. 403

12.5

Alighting Hopes on 'Marathon Road'

16

Ganpyeong-ri (Jinbu-myeon, Pyeongchang-gun) à San-ri (Seongsan-myeon, Gangneung-si)

Local Rd

No. 456

30.3

A View of the Mountains

Chungcheongbuk-do

17

Danyang-gun: Bangok-ri (Daegang-myeon) àJikti-ri (Daegang-myeon)

County Rd

No. 1

8

Between the Wolaksan and Sobaeksan Peaks

18

Boeun-gun: Jangnae-ri (Jangan-myeon) à Jungpan-ri (Songnisan-myeon)

Local Rd No. 505

12.6

Seowon Stream Eco-Road

19

Okcheon-gun: Sojeong-ri (Gunbuk-myeon) à Jeongbang-ri (Annae-myeon)

Nat'l Rd

No. 37

8

Drink in Nature's Fragrance

20

Jecheon-si: Multae-ri (Cheongpung-myeon) à Guryong-ri (Geumsung-myeon)

Local Rd

No. 82

11

The Charms of Cheongpungho Lake

21

Jecheon-si: Susan-ri (Susan-myeon) à Gyo-ri (Cheongpung-myeon)

County Rd

No. 2

22

Where Namhankang and Cheongpungho Meet

22

Chungju-si: Anrim-dong à Danam-ri (Angseong-myeon)

County Rd

No. 28

38.4

Namhankang's Green Road

Chungcheongnam-do

23

Seocheon-gun: Janggu-ri (Jongcheon-myeon) à Sinhap-ri (Seocheon-myeon)

County Rd

No. 5

17.7

Catch the Glow of the Setting Sun

24

Taean-gun: Jungjang-ri (Anmyeon-eup) à Jeongdang-ri (Anmyeon-eup)

Nat'l Rd

No. 77

11.5

An Island of Pine

25

Taean-gun: Seungeon-ri (Anmyeon-eup) à Changgi-ri (Anmyeon-eup)

County Rd

No. 14

11.1

Sandy Beaches, One After another

By Kwon Jungyun
Korea.net Staff Writer
Department Global Communication and Contents Division, Contact Us