K-Pop World Festival 2011 takes off in Changwon
Dec 09, 2011
K-pop enthusiasts from across the globe showed off their talents at the K-Pop World Festival 2011 in Changwon, Gyeongsangnam-do (South Gyeongsang Province) on December 7. Organized by KBS TV and Changwon City in partnership with the Ministry of Culture, Sports and Tourism and the Presidential Council on Nation Branding, the event brought young performers from 16 countries together to share the stage and spotlight at the Changwon Velodrome.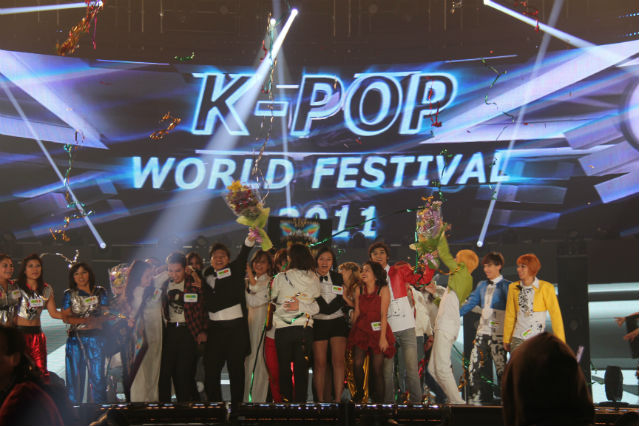 The participants celebrate as the prizes are announced (photo: KOCIS).
Popular acts such as T-ara, Infinity, Secret, SiSTAR, K. Will, Boyfriend, MBLAQ, and CNBLUE joined in the festivities with guest performances. Over 10,000 fans filled the stadium for the event, breaking into excited cheering when the participants joined the pop stars on stage for group performances.

From among the 21 teams invited to Korea, all of whom were selected through regional preliminaries held by overseas Korean Culture Centers, ten teams went on to compete in the final round in Changwon. The contestants hailed from all over the world, including Vietnam, Argentina, Peru, England, and Japan, and during their five-day stay in Korea they had the opportunity to participate not only in the contest but also a variety of cultural programs.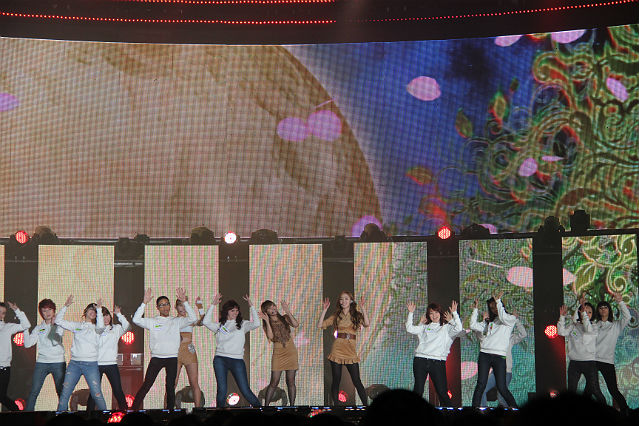 The participants share the stage with K-pop group Secret (KOCIS).
On December 6, SiSTAR and K. Will met with the contestants in a recording studio in Seoul for a mentoring session, sharing performance tips, giving encouragement, and engaging in plenty of singing and dancing together. The contestants, who greeted their mentors with eager cheers, showed no shortage of energy throughout the day.

Over 30,000 K-pop fans worldwide auditioned to be a part of the K-pop contest. In Japan, due to the overwhelming number of submissions, the country's six Korean Culture Centers held separate preliminary contests that were followed by a final round in Tokyo. The Korean Culture Center in Argentina, with participants streaming in from 14 Central American countries, also divided their contest proceedings into two rounds.

An additional 1.6 million people participated in the K-Pop World Festival 2011 online promotional event, which ran from November 8 to December 7. Visitors to the site could leave messages for their favorite contestants and share their predictions for who would come away with the prize.

A two-hour recording of the event will be broadcast in Korea on December 30 at 6 p.m. (Korea time) on KBS2, and will be aired in eleven countries overseas at a later date through KBS World and Arirang TV.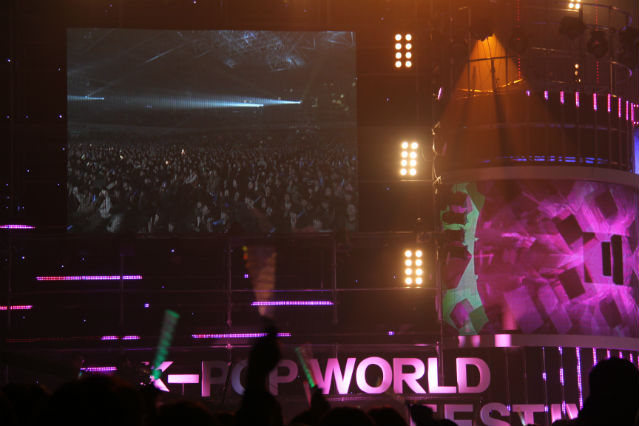 Over 10,000 people filled the Changwon Venodrome for the K-Pop World Fesitval 2011 (photo: KOCIS).
With the success of this event as a starting point, K-pop fans can look forward in the coming years to a greater variety of programs and events designed to encourage their interaction with K-pop, with the broader Korean culture, and with one another.

A list of the winning teams at 'K-pop World Festival 2011' follows:

Grand Prize
(Vocal) Karla Carreon
(Philippines) / "Star" by Yumi
(Performance) "JAM" (Kazakhstan) / "Ring Ding Dong" by SHINee

First Prize
Tran Thi Quynh Mai, Tran Trung Hieu, Bui Huong Linh, Le Hue Thuong (Vietnam) / "Love, My Love" by DaVichi
Special Award
"WE: FIGHT" (China) / "Clap Your Hands" by 2NE1
Excellence Prize
Sweet Heart (Russia) / "Pray" by Sunny Hill

Honorable Mention
"NYE Boys" (Indonesia) / SHINee + Secret
María Florencia Acosta (Argentina) / "Audition" by Younha
"STEP UP" (Peru) / "I am the Best" by 2NE1

Popularity Award
Cherelle Joy Thompson (England) / "I'll Back Off So You Can Live Better" by G.na
"Joa Joa" (Japan) / "Back It Up" by Jewelry

By Kwon Jungyun
Korea.net Staff Writer
Department Global Communication and Contents Division, Contact Us