Latest volume of the K-Culture series now available
Dec 20, 2011
Korea's rising classical musicians have continuously brought triumphant news home throughout the year of 2011, scooping up prizes at some of the most prestigious classical music competitions. In the International Tchaikovsky Competition, Korea produced five prize winners this year alone, as well as the first Asian soprano to ever win at the Queen Elisabeth Competition in Belgium, Hong Hae-ran.
In light of the increasingly widespread attention towards Korea's arts and culture alongside its artists and performers, the Korean Culture and Information Service unveiled a new publication,
K-CLASSICS: A New Presence on the World's Musical Stage,
on December 19.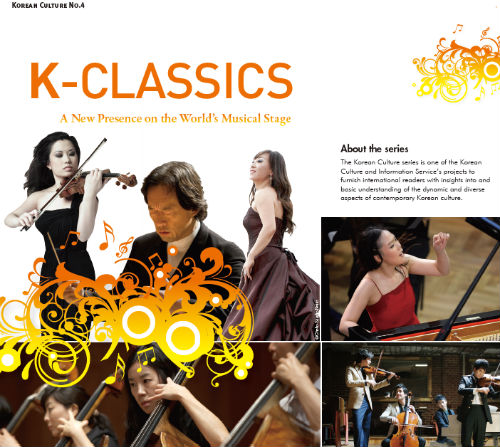 K-CLASSICS, the last volume in this year's K-Culture series, was published on December 19 (photo courtesy of the Korean Culture and Information Service).
The fourth and latest volume of the annual K-Culture series,
K-CLASSICS
captures the essence of Korea's classical music scene, which has grown tremendously over a very short period. The newly published book features a general introduction on Korea's orchestras, its performers and major venues, as well as its history and music education infrastructure.
The publication offers in-depth coverage with lively images on three leading masters of classical music in Korea, maestro Chung Myung-whun, pianist Paik Kun-woo, and soprano Jo Sumi (Sumi Jo).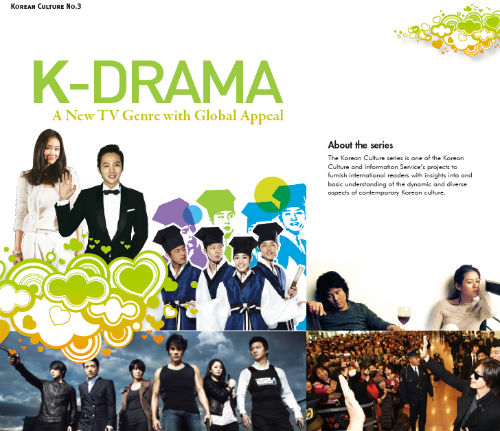 The publication K-DRAMA (photo courtesy of the Korean Culture and Information Service)
Earlier, on December 12, KOCIS released
K-DRAMA: A New TV Genre with Global Appeal
, the third volume in the K-Culture series, to introduce Korean dramas, revealing how these "soppy soaps" have reached greater foreign audiences beyond Asia, spreading out across the world as far as Africa and Latin America. The book also examines the appeal of K-drama with a section dedicated to the top K-drama stars.
KOCIS intends to promote contemporary Korean culture overseas through the K-Culture series, uncovering unique aspects of Korean culture and culture producers. The first volume,
The Korean Wave
, was unveiled in September this year, followed by the release of another volume on K-pop in November. The organization also published a set of the four copies bound into one volume.
The K-Culture series was distributed for display on the shelves of the Overseas Korea Centers and diplomatic establishments abroad to nurture the public's understanding of Korean contemporary culture, while also fostering cultural exchanges. The series is also available online in PDF format for download from the Korea.net Library at:
www.korea.net/library/main.html
(English only).
The Korean Culture and Information Service is set to release the second batch of the K-Culture series in the upcoming year, exploring other aspects of Korean culture, including movies, food, and traditional culture.
By Hwang Dana
Korea.net Staff Writer
Department Global Communication and Contents Division, Contact Us