Korea emerges as medical tourism hotspot
Dec 22, 2011
More and more foreign patients are crossing borders to receive medical treatment and take in Korea's culture and sights. As Asia is emerging as a market with great prospects, the medical tourism industry is enjoying increasing popularity.
Continued economic growth and advancements in IT and logistics have improved the speed and ease of information exchange, raising overall standards of medical care in Asia. According to a report released by the Korea Institute for International Economic Policy (KIEP), the new term "Medical Standard Convergence" was created to express the phenomenon of the gap in standards between western and Asian countries gradually reducing in the medical sector. Providing high-quality medical service at an economic price has become the major factor making Asia competitive.
Especially, Southeast Asian countries such as Thailand and Singapore benefit from their language skills. The fact that they are able to communicate in English helps more foreigners from English-speaking countries choose Southeast Asia as a medical tourism destination. Using these advantages, the nations have been taking steady steps to become the medical hub of Asia. Singapore placed itself in the top position through superior techniques on complicated operations such as stem cell transplants. Their excellent skills attracted a great number of foreign patients who had long waits to get treatment or high medical expenses in their own nations. Also, Thailand, the country known as the Spa Capital of Asia, made the most of its national brand to enhance the domestic medical tourism business. Various kinds of packages that combine treatment and a spa recovery program are sold in Thailand.
Kalkaba Malboum, a council member of the International Association of Athletics Federations (IAAF), visited Korea for the 2011 Daegu World Championships and stopped by to get a medical check-up (photo: Yonhap News).
Korea also has been increasingly popular as a medical tourism Mecca. News on foreign medical tourists is continuously reported in the media. A few patients from China received plastic surgery in Daegu and took a trip to tourist attractions in Gyeongsangbuk-do (North Gyeongsang Province), and others from Mongolia and Russia visited Ojukheon House in Gangneung after treatment.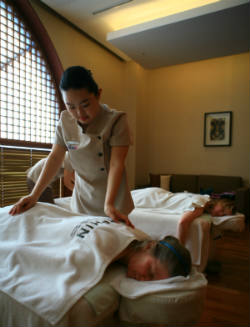 In addition to the popularity of Hallyu inspiring fans to take an interest in Korean cosmetic make-up and surgery, Korean advances in medical techniques are attracting an increasing number of overseas patients. In light of the trend, the Korean government and medical institutions agreed to create a co-operational consultative committee at the end of 2006 to boost the medical tourism industry.
Regional governments are also coming up with new marketing strategies. Busan invited Russian representatives of the medical tourism sector to Korea for an exchange in June and August, and launched a large-sized advertisement banner in the middle of a major street in Vladivostok. The six-meter-long and three-meter-wide banner contains the logo of Busan City, photos of tourist attractions and medical centers, and the webpage address (www.bsmeditour.go.kr) where one can find useful information on Korean medical tourism written in Russian. In addition, the 2011 Busan International Medical Tourism Convention took place in September and the municipal government provided treatment for children with heart disease free of charge in November.
Jeollanam-do (South Jeolla Province) plans to develop a "medical complex town" in Dogok-myeon, Hwasun-gun, as a one-stop destination for medical tourism complete with a medical center, a health resort, and spas. Jeollanam-do is reported to be investing around 50 billion won.
Russian medical tourists receive spa therapy in Korea (photo: Newswire).
The Gangnam District Office, in partnership with the Korea Trade Investment Promotion Agency (KOTRA), will be holding a China Medical Service Roadshow in Shanghai and Hangzhou from January 20 to 24. In addition to providing information and promotional programs, the show will offer free medical consultations and personalized business consultations. As Chinese patients have shown a marked interest in skincare and cosmetic surgery, various institutions in the skincare, cosmetic surgery, and traditional herbal medicine industries will be present at the event.
According to the Ministry of Health and Welfare, approximately 4,015 Chinese tourists arrived in Gangnam last year to receive medical services, the second highest number after the 5,766 people who came from the United States. The expansion of overseas marketing can be expected to bring about a gradual increase in these numbers.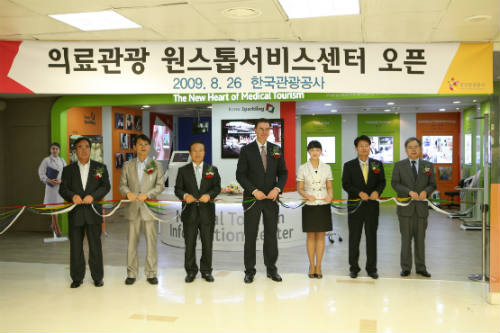 The KTO opened the Medical Tourism One-Stop Service Center in 2006 (photo: Newswire).
The Korea Tourism Organization (KTO) set their aim for 2012 to attract 150,000 foreign medical tourists. The KTO said that it will focus on expanding overseas marketing, one-stop services, herbal medical care, and other programs, in order to boost the competitiveness of the medical tourism industry.
By Lee Seung-ah
Korea.net Staff Writer
Featured Topics
http://www.korea.net/NewsFocus/Culture/view?articleId=90431
URL Copy
Department Global Communication and Contents Division, Contact Us