Artists' exhibitions go online
Dec 23, 2011
Korean contemporary artists, having established their presence at world-renowned auction houses such as Sotheby's and Christie's as well as international museums like the Guggenheim, are continuing to expand in new realms: this time into cyberspace.
The virtual museum Korean Artist Project opened on December 5, offering online exhibits so global audiences can appreciate some of the most inspiring artwork produced by Korean artists from the comfort of their own home, without having to visit the country's art neighborhood or museums.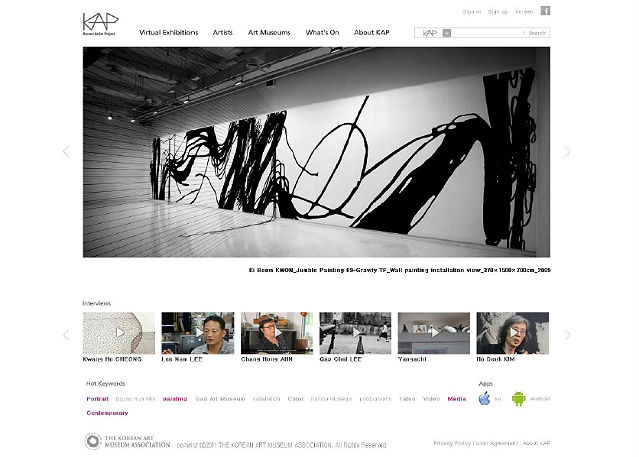 Korea Artist Project virtual museum homepage
The Ministry of Culture, Sports and Tourism and the Korean Art Museum Association have joined hands to materialize the online Korean Artist Project. With the participation of curators from the Association's member museums, the website is the venue to showcase the latest artwork of Korean artists practicing in diverse mediums within the genre of contemporary art.
Along with the recent opening, the Korean Artist Project is set to lead a three-year plan spanning from 2011 to 2013. This year, art professionals and critics selected 21 Korean artists for the official launching. Curators representing the 13 private art museums were involved in organizing the virtual solo exhibitions of participating artists including Kim Joon, Kang Hyung-koo, Lee Lee-nam, Cheong Kwang-ho, and Jung Yeon-doo.
Visitors are invited to the website anytime, anywhere, when they need to fuel their creativity by viewing different kinds of exhibitions through just a few clicks.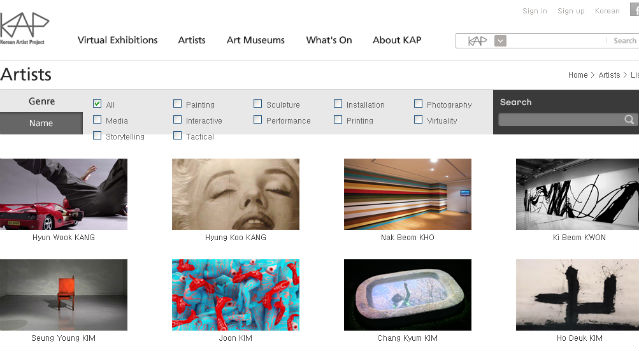 KAP Artists' digital archives
The online virtual museum provides digital archives and interviews to facilitate exploration. Also available on the website is a brief introduction of the participating museums.
The KAP website was built to introduce a diverse spectrum of Korea's contemporary art, and ultimately aims to serve as bridgehead for Korean artists in support of extending their reach towards a broader international art scene. For more information, please visit the official website at:
www.koreanartistproject.com
(Korean and English).
By Hwang Dana
Korea.net Staff Writer
Department Global Communication and Contents Division, Contact Us