Two keywords to make Korea known in FITUR: K-Pop and Korean food
Jan 27, 2012
FITUR (Feria Intenacional de Turismo), a kind of world tourism fair, opened on January 18 and continued until January 22 in Madrid, Spain. The Korean booth that prepared a K-pop dance performed by Spanish youngsters and an in-flight meal from Korean Air captivated a great number of visitors.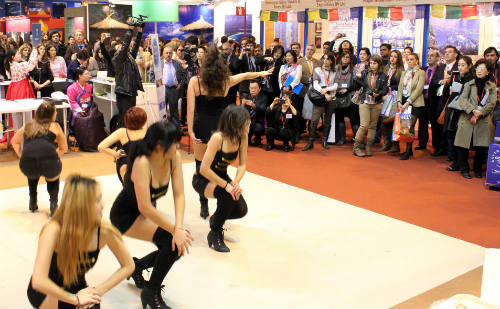 The K-pop dance team consisted of young Hallyu fans of Spanish origins showing dynamic dance skills at the Asia Pacific Hall on January 19 who came to the center of the public spotlight. The group of six Spanish youngsters performed seven K-pop songs for 30 minutes. Their dance skills were so great that the audience applauded loudly when each song ended.
The demonstration of the in-flight menu, bibimbap and rice topped with bulgogi, also garnered attention from a lot of visitors. Charles Muther, an executive chef for Korean Air, wittily described the origin and recipe of the in-flight meals and cooked them for on-site visitors. It was so popular that the meals prepared to accommodate 400 people disappeared in a split second.
Bibimbap, one of the typical traditional dishes, consists of steamed rice mixed with bean sprouts, fresh vegetables and herbs, fried egg, a touch of sesame oil, ground beef, and red pepper paste. The popularity of bibimbap is on the rise with the dish introduced as an in-flight meal on major Korea airlines. The demonstration of bibimbap cooking by Korean Air first started at an international tourism fair held in Germany in 2009. The dish's popularity has increased, being recognized as a representative Korean delicacy on the global stage, since visitors showed a great deal of interest in the taste as well as its recipe.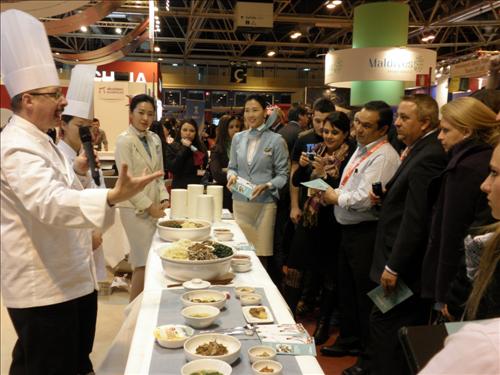 "Visitors flocked to the Korean booth as soon as the event started and during the fair I felt a need to demonstrate the excellence of Korean food more often on the international stage," said a staff member of Korean Air.
The Korean booth was crowded with visitors during the fair. Park Jae-sok, Director General of the Paris office of the Korea Tourism Organization (KTO) said in an interview with Yonhap News that the KTO made a careful plan with Korean travel businesses for FITUR, the world's second largest tourism fair. "I hope that FITUR will serve as an entryway for Korean culture to reach not only Spain but all of Europe," he said.
The 32nd FITUR this year brought together workers in the tourism industry to provide an opportunity to make connections so that they can analyze the rapidly changing market demand and form strategic partnerships. Last year, 210,000 visitors from 166 countries attended the fair. For more information about FITUR, visit the
official website
.
By Lee Seung-ah
Korea.net Staff Writer
Department Global Communication and Contents Division, Contact Us