Food alleys: Uijeongbu Budae Jjigae Street
Feb 21, 2012
Many of Korea's finest culinary inventions hide humble origins. For example, Chuncheon dakgalbi, which was spotlighted in the first installment of this series, was once nicknamed "seomin (commoners') galbi." Like dakgalbi, many of Korea's best-known dishes were created during times of scarcity, then continued to develop as societal conditions improved around them. Perhaps the best example of this is budae jjigae, or "army base stew."

The origins of budae jjigae date back to end of the Korean War, when the country was beginning the long process of recovery and rebuilding. Due to food shortages, the people ate whatever they could get, and surplus army food from U.S. bases was common in areas like Uijeongbu, Songtan, and Munsan where there were many U.S. bases. One of its original nicknames was "Johnson tang," combining then-President Lyndon B Johnson with "tang," a Korean word for soup.

"I feel like the food gives character to Korean cuisine because it has a real, traceable story to it," says Jacob Verville, who first came to Korea in 2005 with the U.S. Army, serving in Camp Red Cloud in Uijeongbu. "It also seems to highlight the fact that many Koreans lived in very hard times but they made the best of it even coming up with a delicious food incorporating what we often view as 'low grade' meats."

Still today, budae jjigae is considered a staple of Uijeongbu cuisine, where foodies can discover the city's dedicated food alley. Found right next to Jungang Station on the soon-to-open Uijeongbu LRT Line, Uijeongbu Budae Jjigae Street boasts a collection of restaurants specializing in this delicacy. It's a small stretch of road featuring not more than ten specialty restaurants, and it can be hard to find. Owners stand outside their shops inviting passersby to enter. Most restaurants have floor seating only, prompting diners to take off their shoes to sit down. Many of the restaurants display posters on the wall detailing the humble roots of their signature dish.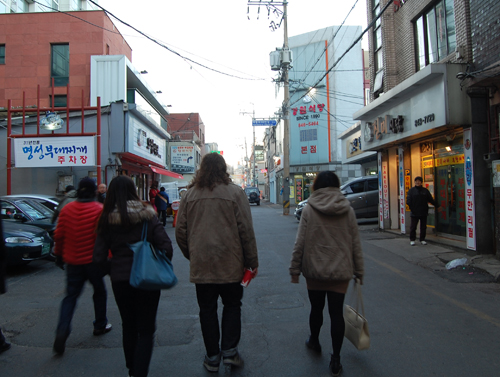 The connection with the American military can still be seen in the ingredients in budae jjigae, including distinctly American ingredients such as hot dogs, Spam, and bacon -- which at the time were called "budae gogi," or "army base meat." Add to the mix more processed and canned American foods such as baked beans, macaroni, and sliced American cheese. In the postwar era, this was the first introduction for most Koreans to these processed Western foods. They may have seemed too salty or greasy for Korean tastes, so they were sliced up and boiled.

Over the years as food supplies stabilized, more distinctly Korean ingredients have been added to the recipe to enhance its flavor for Korean palates. It's now common to have budae jjigae with tteok (rice cakes), kimchi, red pepper paste, and various types of noodles including both ramen and cellophane noodles.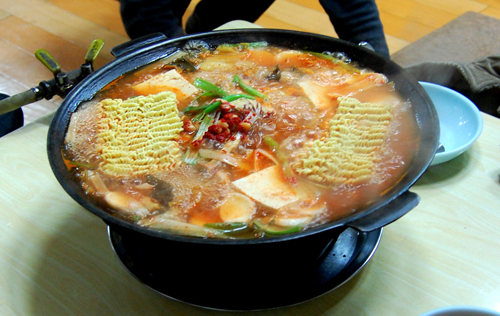 While the idea of eating a mixture of such vastly incompatible ingredients might be unsettling to most Westerners at first, budae jjigae attains a very comfortable balance of flavors. Despite its many American ingredients, budae jjigae is a distinctly Korean culinary invention.

Although sometimes referred to as Korea's first fusion dish, the foreign ingredients are reinterpreted in ways entirely alien from their original form. For instance, hot dog wieners are sliced into diagonal segments, and are far removed from the experience of eating an American-style hot dog.

And Spam -- usually considered a budget food in Western countries -- enjoys a far greater reputation in South Korea. Introduced to the postwar Korean public as a black market item, it found its way into numerous Korean delicacies, including Spam kimbap and rice dishes, as well as budae jjigae. Unlike the canned preserved meat available in the '50s, the Spam available in modern-day Korea is made with high-quality ingredients and is considered a luxury item. However, many budae jjigae restaurants in Uijeongbu continue to import Spam from the U.S. to preserve the authentic flavor of the dish.

Of course, Korea has come a long way since the days when budae jjigae was invented. And still, Koreans continue to eat and love it despite its dark origins. Yet to some Koreans, budae jjigae is a reminder of those days. Mrs Ko, who was born shortly before the outbreak of the war, avoided it her entire life for this reason. She finally broke down and tried it in 2009, and to her surprise it was actually pretty good.

In an attempt to distance itself from its origins, the City of Uijeongbu once tried to change the name to "Uijeongbu jjigae" to remove its wartime connotation. However, very few restaurants have followed suit, with even the arch over the entrance to the city's budae jjigae alley proudly boasting the name "Uijeongbu Budaejjigae Street."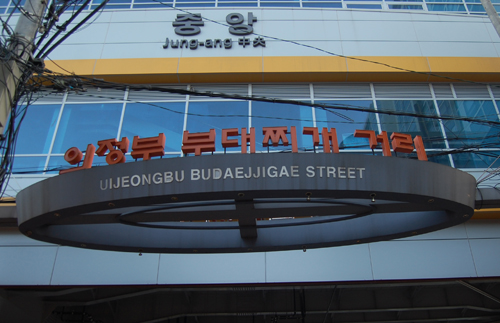 Today, people still flock to Uijeongbu to sample this delicacy, despite the fact it's available across the country. Even the popular singer Rain, now serving his mandatory term in the Korean military, stopped by Uijeongbu Budae Jjigae Street for his last meal as a civilian before enlisting.

"Budae jjigae is the best food in the world on a cold Friday night for when you haven't seen someone a while and want to eat a delicious soup in an intimate environment and feel full and warm," says Verville, who returns to Uijeongbu occasionally to relive his time in the army. "It is delicious, filling, and it makes me feel like it really is a humble person's food without sacrificing any of the taste."

Budae jjigae remains a symbol of the impoverished country that Korea once was, as well as the tremendous spirit of the Korean people that helped them to rebuild their country.

By Jon Dunbar
Korea.net Editor
Department Global Communication and Contents Division, Contact Us