Korea's fusion sageuk
Mar 12, 2012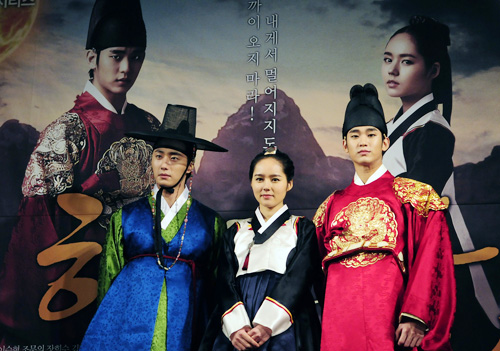 The MBC drama
The Sun and the Moon
is now all the rage throughout the country. The drama is based on the best-selling novel of the same title. It tells a love story set during the Joseon Dynasty (1392-1910) of a fictional king, played by Kim Suhyeon, and the heroine, played by Han Ga-in. The drama, which first aired in January, immediately won over viewers and critics for its tantalizing plot, lively characters, and well structured story. The last viewing ratings by AGB Nielson and TNMS, two major audience measurement firms, reached 40 percent and are still rising.
The Sun and the Moon
is on its way to becoming one of the most popular fusion sageuk dramas in Korean television.

Sageuk vs Fusion Sageuk

So, what is sageuk, and what is fusion sageuk? Sageuk dramas are period dramas with historical background. The settings are usually elaborate, and the characters use language that is stylized and laced with archaic vocabulary and expressions. Most stories depict actual historical events or the lives of great men in history such as kings or generals. The Koreans have always been ardent fans of sageuk dramas ever since they first appeared on black and white television decades ago.
Many sageuk stories were about political conflict and intrigue within the royal court or during war. This naturally made the dramas very masculine and rough, and they were especially interesting to the older generations for that reason. Sageuk dramas weren't particularly popular among young television viewers until a sageuk called
Damo
aired in the summer of 2003, marking the advent of fusion sageuk.
Damo
is a fictional drama about the tragic love and actions of a police woman. Set in the Joseon period, it is a mixture of creative imagination, elaborate settings, and real martial stunt action. This new genre of sageuk, which was soon to be called "fusion sageuk" as it was sageuk infused with a modern touch, was very different from the previous sageuk dramas, which very much had the character of history text-books.
Damo
sparked a sensation among Korean viewers and was especially a big hit among the younger generation. After the airing of
Damo
, more fusion sageuk were produced with wider themes with touches of romance, action, fantasy, and the like.
Why is fusion sageuk so popular? We can find several major reasons. Young viewers can easily relate to the contemporary storyline that is merged into the colorful historical backdrop, creating a unique blend of old and new. The main characters are young, good looking pin-up actors who are celebrated stars in the entertainment industry. Actors who performed in modern dramas and movies are featured to bring freshness to fusion sageuk. And the melodramatic storylines of love, friendship, and sweet romance bring new charm to the settings.


International Fame

As fusion sageuk has gained nationwide popularity in recent years, they are being licensed to foreign broadcasters and have attracted a large foreign following. The first fusion sageuk that became popular in Asia was Dae Jang Geum, or Jewel in the Palace, featuring the actress Lee Young-ae as a talented palace chef who later became the first ever female chief physician to the king. The drama first aired in Southeast Asian countries and spread across the world to Europe, the Americas, and even to the Middle East, where Korean culture was not yet well known, to become a big part of Hallyu, or the so-called Korean wave. Countless foreign fans of Dae Jang Geum have travelled to South Korea to experience Korean cuisine and palace culture. In effect, the drama established a new line of cultural tourism themed on traditional royal cuisine and culture.

Soon afterwards, major broadcasting stations began investing much more in the creation of fusion sageuk. They were given incredible casting, scenes of cinematic proportions, lush costumes, and amazing soundtracks. Due to the international popularity of fusion sageuk, the main actors and actresses have become a new generation of Hallyu stars in countries where they have been seen. The actress Han Hyo-ju, the leading lady in Dong Yi, another fusion sageuk of MBC, was hailed as the next Lee Young-ae in China, and the actor Kang Jihwan joined the line of beloved Hallyu stars in Japan after the success of the KBS fusion sageuk Hong Gil Dong in 2008.

Well-made fusion sageuk dramas have received overseas recognition and favorable reviews. The KBS miniseries Hwang Jin Yi starring the actress Ha Ji-won advanced to the main competition of the 2007 Monte Carlo TV Festival. Last year, the actor Jang Hyuk was nominated for the 2011 International Emmy Award for his performance in Chuno. The drama also won the Best Drama Series award in the 2010 Asian TV Awards and was nominated for the 2011 Monte Carlo TV Festival.

*Article from Korea Magazine (March, 2012)
Department Global Communication and Contents Division, Contact Us