Korea bloggers, Korea's cultural ambassadors
Mar 23, 2012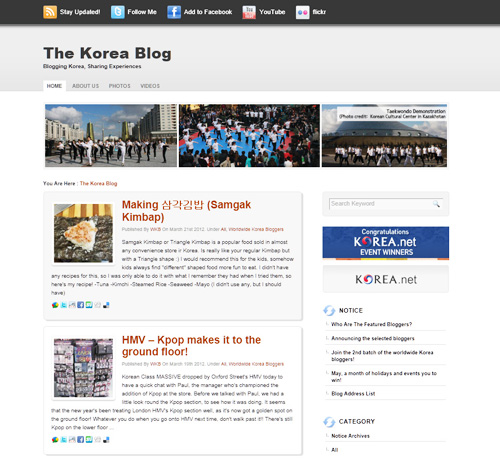 The Korea Culture and Information Service (KOCIS) admitted a new team of contributors for the Worldwide Korea Blog (WKB) with a welcoming ceremony on March 23.
The blogging team, consisting of foreign bloggers residing in Korea or overseas, contributes pieces to the official blog of KOCIS,
The Korea Blog
, and introduces Korean culture to the world through social media services.
The bloggers living in Korea were invited to the welcoming ceremony for a report on the activities of the WKB team last year and received a certificate of appointment from Woo Jin-young, director of KOCIS. Then, the group visited the National Museum of Korea where they got a look at national treasures such as a thinking Buddhist image and a golden crown from the Silla Dynasty and tried their hands at Korean folk painting.



In December last year, KOCIS released an online recruitment ad for global reporters and selected a total of 50 bloggers to join this year's team. The members represent a variety of nationalities and backgrounds, coming from countries as diverse as the U.S, Hungary, the Philippines, and Brazil and working as students, lawyers, actors, and journalists. Now, the bloggers write posts about Korean cultural events taking place overseas and general information about Korean culture on their own blogs.
KOCIS selects the best pieces from the individual blogs for publication on the Worldwide Korea Bloggers category of the Korea Blog. The most active contributors will be rewarded at the end of the year.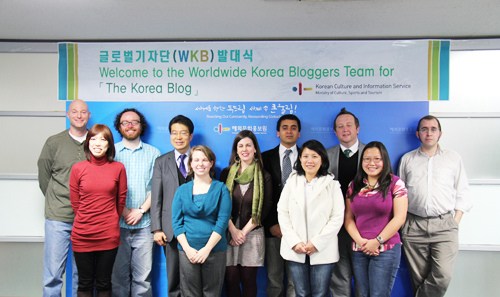 "It is great to collect content produced from foreigners' perspectives and provide information to Internet users interested in Korean culture across the globe," said Park Nark-jong, the director of the Global Communication and Contents Division of KOCIS.

First launched in January 2011, the Korea Blog has drawn 480,000 visitors, and the number is constantly on the rise. KOCIS posts new updates on a daily basis and strives to deliver diverse and in-depth information about Korea.

By Lee Seung-ah
Korea.net Staff Writer
Department Global Communication and Contents Division, Contact Us