Come and stay in Hanok
Mar 28, 2012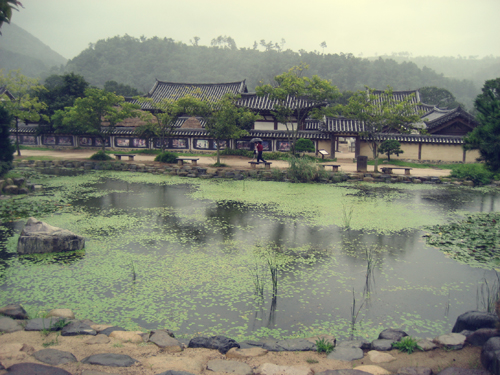 "Wow, it's beautiful!" exclaims Ms. Shiau- Pei after putting on a Hanbok (Joseon Dynasty-style Korean costume), marveling at the delicate, mysterious colors.

She assays the challenge of tying the goreum (ornamental strings of the upper garment) and starts pacing to and fro with an air of a top model on an imaginary runway straddling the daecheong maru (wooden floored hall) and the anbang (main room for the host). She does not forget to pose for the camera to keep herself in this traditional costume of elegant textures and lines. Hanbok and Dado is a popular program for foreign travelers staying at Hanok in which visitors try on Hanbok and sample the Korean traditional way of drinking tea.

Ms. Shiau-Pei and her group of friends and family came from Malaysia on vacation. This being their first visit to Korea, they had thoroughly planned their trip and especially considered where to stay.

"The website of the Korea Tourism Organization said we could stay at a Hanok, and after discussion, we decided to stay at a Hanok to experience Korean culture more intimately," explains Ms. Shiau-Pei, adding, "But it wasn't easy to get enough information on Hanok, so I exchanged more than 30 emails with an owner of Hanok."

How does she rate her two-day stay at a Hanok?

She appreciates that she was able to have a deeper experience with Korean culture than she would have if she had stayed at a hotel. In particular, sleeping on the ondol (the floor of a room heated from below) rather than in a bed was totally novel. She also appreciates the layout of the Hanok as the rooms were connected to the daecheong maru (wooden floored hall and front porch), which allows for closure of small spaces for privacy or their opening into a single big shared space.




Stay at Hanok, Sleep on Ondol, and Savor Hansik

Seoul is an international tourist city that welcomes millions of foreign visitors every year. Some 9.8 million tourists visited South Korea in 2011 alone. More different types of accommodations are offered every year as tourism thrives. Some of them provide experiences that are very unique to Korea. For example, you can stay at a traditional Buddhist temple (temple stay) or at a Hanok (Hanok stay). Both are strongly preferred options by those who want a more unique and deeper experience of Korean culture.

Most homestay Hanok in Seoul are downtown in Bukchon. This area is called Bukchon Hanok Village and is one of the hottest destinations for foreigners visiting Seoul, but few foreigners know that they can stay at one of the quaint Hanok there. A Hanok is beautiful to see, but you need to stay at one in order to realize its true value.

The Jongno-gu Office of Seoul devised the Hanok homestay program called Hanok Homestay in 2010 in order to centralize and rationalize the management of Hanok stays. A total of 48 Hanok households including those in Bukchon Hanok Village are members of this program. They are not professional accommodation facilities, but a type of homestay, as the name suggests.

During a Hanok stay, you can enjoy what a traditional Hanok looks like and live with a real Korean family. Then, you will hear, feel, and understand the concept of jeong, which is the way the Koreans feel and express their warm and generous affection toward others. So, if you would like to know how Koreans live at home, closely experience their lifestyle and culture, and feel their jeong, then Hanok stay is the best option for you.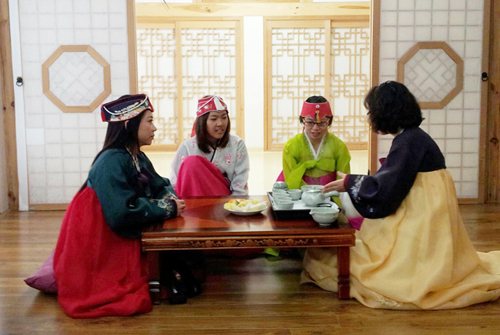 Each Hanok stay host has their own activities. Some play traditional games like yut; some teach their guests how to write Korean in Hangeul, the Korean alphabet; and others make such Korean foods as Kimchi and tteokbokki together with their guests. Your host may also want to drink makgeolli (Korean-style rice wine) with you.

Not only is staying at a Hanok fun, but it is cheaper than a hotel. The charge per day ranges from KRW 30,000 to KRW 70,000 per person (app. USD 27-64 per person). For more details, please visit the website of the Hanok Homestay program at homestay.jongno.go.kr.

Jeong and Family Culture

Ms. Itoki, a Japanese lady, stayed in the house of Ms. Lee Sun-yeong with her family during the lunar New Year holiday. Knowing that Ms. Lee's family was going to administer the traditional ritual called charye on lunar New Year's Day, Ms. Itoki requested to stay at her home specifically to see the ritual. She left a comment about her homestay with Ms. Lee's family on the website of the Korea Tourism Organization.

The traditional ritual was impressive. In particular, the way they cherish and respect their ancestors was amazing. I hope this beautiful tradition will remain for a long time. Thank you for the kindness you showed me when I was there.

The Korea Stay program of the Korea Tourism Organization is intended to plant a positive image of Korea in the minds of foreign tourists by arranging homestays for them marked with kindness and comfort and thereby helping them feel at home in this foreign land. The program certifies qualified homestay providers and lets them use Korea Stay as a brand. It is a sort of Korean version of the Western bed and breakfast. Korea Stay-certified households are quite evenly distributed throughout the country. The host families can speak foreign languages and, therefore, tell you about Korea and guide you to tourism destinations. They all passed tough screening by the Korea Tourism Organization, so you can be assured of a quality experience.

Through the amendment to the Enforcement Decree of the Tourism Promotion Act on December 30, 2011, households that provide homestay services became eligible for government support. This change is expected to raise the quality of homestays in South Korea even further. For more information on homestay, please visit the website of the Korea Tourism Organization.

Other types of accommodations

If you prefer to exchange information with other travelers in a natural setting and save money, hostels and guest houses may be the answer. The options for accommodations used to be relatively limited in South Korea: besides hotels and motels, other options were far and few between. Today, the situation is rather different. More and more hostels and guest houses are opening. Cheap, clean, and cozy with services offered with the greatest kindness, guest houses are popular among young travelers. In Seoul, two areas in particular are home to many guest houses and other places to go and enjoy: Garosugil in Sinsa-dong, Gangnam and the Hongdae area in Gangbuk.

Wimdu Korea provides information on individuals who operate detached houses and apartments as guest houses and other small accommodation operators and receives reservations on their behalf.

*Article from Korea Magazine (March 2012)
Department Global Communication and Contents Division, Contact Us