[Contribution] Yeosu Expo joins the global Spanish language fiesta
Jul 09, 2012
On June 23, visitors to the
Yeosu Expo
may have wondered why Yeony and Suny, the Expo mascots, were sporting bright red T-shirts reading "Corea también habla español" (Korea also speaks Spanish). Or why the grounds of the Expo were spotted with balloons with Spanish words like "océano" (ocean) or "pasión" (passion) written on them.
For anyone that day, it was clear to see that Yeosu was celebrating the International Day of the Spanish Language, or E Day.
Spanish Language Day (E Day)
E Day
was launched in 2009 by Instituto Cervantes (IC), a Madrid-based organization with 77 centers in 44 countries devoted to promoting the Spanish language and the culture of the Latin world. The celebration takes place each year on the Saturday closest to the summer solstice.
Worldwide, E-Day 2012 featured activities like
My Favourite Word
, in which high-profile celebrities who act as E Day ambassadors chose their favorite Spanish words, a Twitter-based short story contest, and performances in multiple cities, like the open block party with Latin folk music organized by IC New York, to name a few.
In Korea, this year's E Day took place entirely at the Yeosu Expo and was organized by the Spanish Embassy, Instituto Cervantes, and the state-run Spanish culture promotion agency
Acción Cultural Española
, with the cooperation of the other Spanish-speaking countries represented at the Expo: Argentina, Chile, Colombia, Dominican Republic, Ecuador, Equatorial Guinea, El Salvador, Honduras, Mexico, Nicaragua, Panama, Paraguay, Peru, and Uruguay.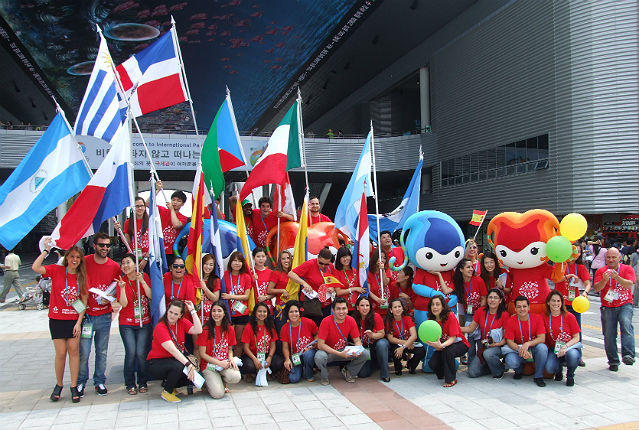 The activity-packed day started with a flag parade with Yeony and Suny, followed by a round of speeches by ambassadors, cultural attachés, and representatives of the participant nations. At the same time, on the 218-meter long LED canopy of the Expo Digital Gallery (the world's largest LED screen), each country displayed the Spanish word that best describes its national character. Colombia chose "pasión" (passion), Nicaragua "calor" (warmth), and Spain "cultura" (culture).
During the day, visitors to the Expo could enjoy flamenco, tango, and folk music performances, as well as a number of hands-on workshops. The most popular ones were ten-minute express Spanish language lessons for all ages, flamenco workshops led by skilled Korean masters, and a mini Latin sing-along party at the Atlantic Ocean Pavilion, delighting kids and adults alike.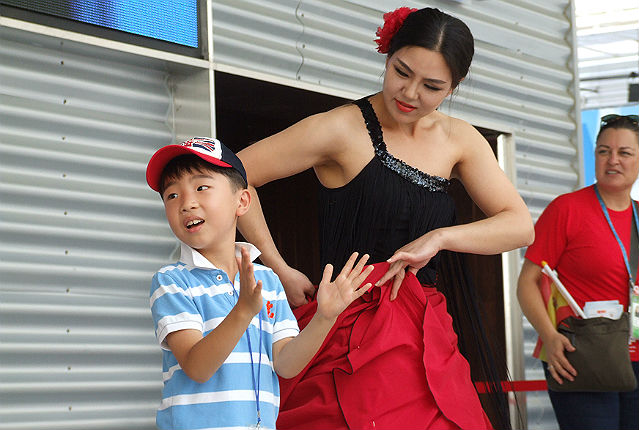 A language on the rise
E day and the Spanish language are becoming bigger and more global each year. Over 490 million people worldwide speak Spanish and 21 countries have it as their official language. It's the second most widespread language of the world in terms of number of native speakers, and its presence in classrooms, on the internet, and on other media is rising at a steady pace.
In Korea, Spanish is the second most widely studied European language after English. The number of students that take the exam for the official Diploma of Spanish as a Foreign Language (DELE) in Korea continues to increase, in 2011 reaching 2,469 candidates, the largest figure in Asia. The interest in Spanish among Korean educational institutions is also growing, with 28 high schools and 22 universities having Spanish language departments in 2011.
Despite this upward tendency, Instituto Cervantes doesn't have its own center in Korea yet. The institution representative in the country is Isabel Iglesias Blanco, who coordinates all IC activities in Korea from a small
Cervantes seminar room
(Aula Cervantes) at Kyung Hee University Global Campus. "Seoul is one of IC's top priorities for a new center," she says. But she quickly points out that the demand for Spanish in Korea continues to be significantly low when compared to English, Chinese, or Japanese, the major business languages for Koreans abroad.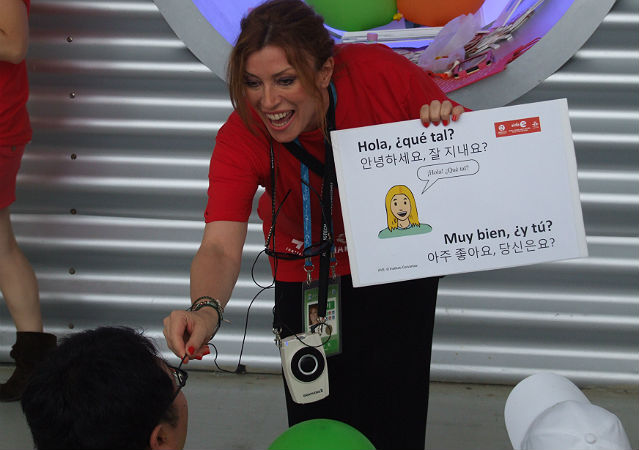 However, this situation may soon change, given the steady economic development of Latin America and the fact that Korea has effectuated Free Trade Agreements with Chile (2006), Peru (2011), and Colombia (2012). In addition, in 2011, Seoul and Brussels launched the Korea-EU FTA that will lift barriers between Korean and Spanish markets.
If Korean companies continue to expand into Spanish-speaking economies, they will require human resources with a good command of the language and a fair understanding of the social and cultural makeup of Latin countries. In that scenario, events like E Day will have even more relevance in years to come.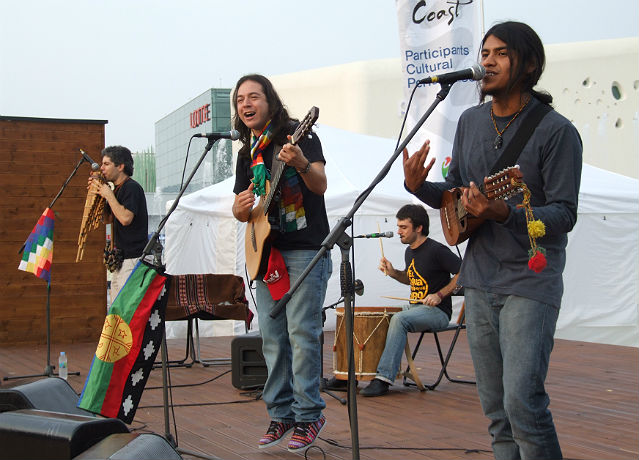 For those that missed all the fun of E Day, there will be more opportunities to celebrate the national days of Spanish-speaking countries at the Expo. This Sunday, July 8th, Colombia's National Day will feature the multicoloured Carnival of Barranquilla. Honduras will celebrate its national day on July 13 with a performance by Honduran singer-songwriter Guillermo Anderson. Uruguay will be honored on July 18, and among the guest starts that day is Candombe percussionist Daniel "Tatita" Márquez. Spain will have its day on July 25 with a live flamenco show by renowned bailaora Rafaela Carrasco.
-By Eduardo Moreno
Department Global Communication and Contents Division, Contact Us