Dasan rediscovered: a glance at Joseon's prominent scholar
Jul 05, 2012
One of the most prominent thinkers in the late Joseon Dynasty, Jeong Yak-yong (1762-1836, penname Dasan), earned several epithets. He was known as the renowned theorist of Silhak (practical learning), author of Mongminsimseo (The Mind of Governing the People), architect of the
UNESCO-designated World Cultural Heritage
site
Suwon Hwaseong Fortress
, and inventor of the geojunggi (heavy stone lifter), among many others.
Still an exemplary role model among generations living today, the life of Dasan, his achievements, his compassion for the plight of the lower classes, and his pursuit of sustainable development continue to resonate in Korean society.
Dasan's intellectual and spiritual influence in the history of philosophy is on a global scale. At
UNESCO
's 36th General Assembly held last October, Dasan's 250th birthday in 2012 was submitted to the list of
Celebration of Anniversaries
in recognition of the significance of his philosophical contributions in line with UNESCO's main pillars.
The event marked the first Korean individual's anniversary added to the UNESCO list since its introduction in 2004. Among the latest additions adopted by UNESCO were the 300th anniversary of the birth of Jean-Jacques Rousseau (2012) and the 50th anniversary of Martin Luther King's "I Have a Dream" speech (2013).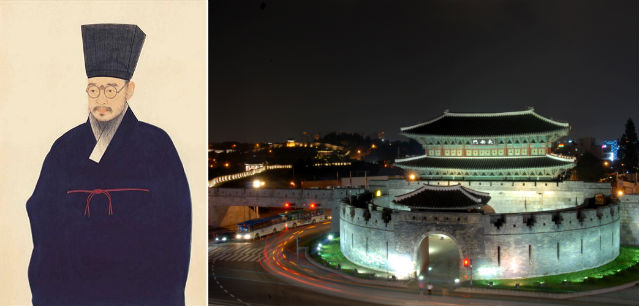 Marking the 250th birthday of the great Korean Confucian scholar, a series of major commemorative events and academic conferences are being held throughout this year to pay tribute to the virtue and practical spirit of Silhak, or the Realist School of Confucianism, allegedly known to have been advocated by Dasan.
Heritage of Humanity: Dasan's Schematics for a Livable World
The Korean philosopher was an unquestionable polymath. He was revered for his ingenuity as a noted poet, painter, architect, engineer, scientist, educator, and prolific writer, who best epitomized the 18th-century Silhak, a Korean Confucian social reform movement. A close confidant of King Jeongjo (ruled 1776-1800), Dasan was a social reformer who actively engaged in his assertion that an open-door policy of benevolent statecraft and the heritage of pragmatism would lead to national prosperity. Not only had he devised geojunggi to build Suwon's Hwaseong Fortress incorporating architectural elements of both the East and the West with the latest construction technology, but he also molded the old to shape the new in the making of East Asian Confucianism.
Amid an ever-growing academic fervor on re-illuminating the accomplishments of one of Korea's most distinguished theorists, an international conference is taking place from July 5 to 7 in Seoul. Hosted by the
Tasan Cultural Foundation
(following his penname Tasan in the older romanization), the conference brings scholars and specialists together to exchange insights and provide an academic platform reflecting his message in the contemporary context of the globalized age of the 21st century.
"Dasan crated a brand-new trend in Confucian though by synthesizing the learnings of his East Asian Confucian heritage with the Catholicism that he encountered," said Chun-chieh Huang, Dean of the
Institutes for Advanced Studies in Humanities and Social Science
, at the opening keynote on July 5. "In the making of East Asian Confucianism, Dasan poured new wine into old wineskins, paving a new way toward future development."
"In this age of rising globalization, the treasure of Dasan's learning, his intellectual legacy and spiritual resources -- especially his practical thesis that 'affairs precede principles' and his advocacy of using cultural values to transform and transcend the impact of national political and military affairs -- can all play a vital role in the building of a more just world order for the 21st century and beyond."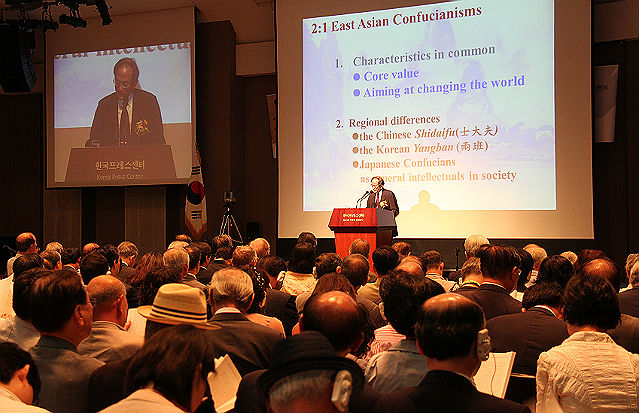 Professor
Donald Baker
of the University of British Columbia, who was the first non-Korean national awarded the Tasan Prize in 2008, regards Dasan's pragmatic values as timeless and spaceless, in the context that it guides an individual to responsibility as a component of a community. Also in attendance was Professor Boudewijn Walraven of Leiden University, who likened Tasan to famous Renaissance Man Leonardo Da Vinci.
Over the three-day run, over 30 authorities in the field from both home and abroad provide valuable insights on Dasan studies and the practical nature and mindedness of his thought, while assessing its future implications. International panels featured at the forum include Professor John A. Tucker of East Carolina University and SOAS senior lecturer Anders Karlsson, among other experts and local academics such as Professor Jung Min of Hanyang University and Honorary Professor Ahn Byung-jik of Seoul National University.
Special exhibitions shed light on Joseon's thinker Dasan Jeong Yak-yong


Throughout the summer, a series of special exhibitions shedding light on Dasan's life, oeuvre, and new intellectual trends which helped East Asian Confucianists critique and think beyond the scope of Zhu Xi's learning will run at Seoul Arts Center and the Museum of Silhak in
Namyangju City
, Gyeonggi-do (Gyeonggi Province).
Until July 22, the Seoul Calligraphy Art Museum inside
Seoul Arts Center
presents the special exhibition Dasan Jeong Yak-yong featuring an exquisite treasure trove of about 150 books, pictures, drawings, and relics. Visitors can also view the copy of Mongminsimseo (The Mind of Governing the People -- a book on how to serve as an effective ruler) owned by Dasan.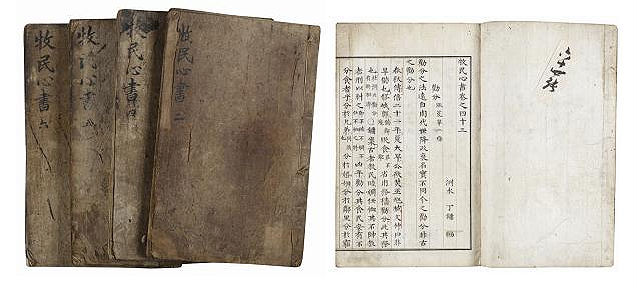 "It is the first time we have gathered the relics and remains of the Dasan legacy on such a nationwide scale," said Chair Professor Kim Young-ho, giving a congratulatory address at the opening. "I hope the exhibition will project the spirit of Dasan into our contemporary society."
From July 28 to August 5, the 250th anniversary celebration will travel to
Gangjin County
in Jeollanam-do (South Jeolla Province), where Dasan lived as an exile for 18 years. The exhibition will be unveiled in conjunction with the 40th
Gangjin Celadon Festival
at multiple venues including the county's kiln sites, which are on the
UNESCO world heritage Tentative List
.
Another exhibition is currently on view at the
Museum of Silhak
located in Namyangju, the hometown and birthplace of Dasan, until September 9. Named
Dasan, His Life and Ideal at Han River
, the exhibition displays a rich selection of Dasan's books, pictures, drawings, and relics, portraying his thoughts and studies and tracking the scholar's achievements and footprints along the Han River, where he was born and buried.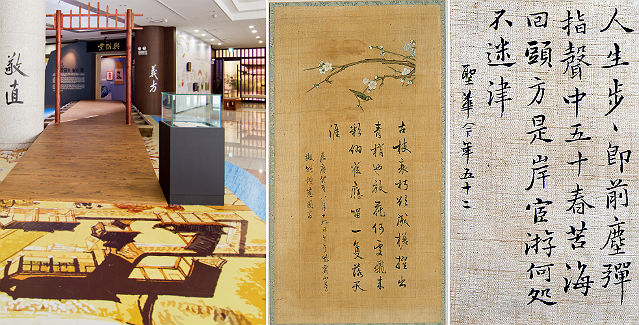 Visitors may enjoy a number of hands-on activities tailored for families and children. On his actual lunar birthdate slated for August 4 and 5 this year, a traditional feast is also planned.
Meanwhile, the relay of commemorative events will continue through this autumn. Commemorative traditional music concerts are scheduled in August and September at
Namsangol Hanok Village
and the
National Gugak Center
. In October, a formal compilation of all Dasan's works handed down through diverse copies of his manuscripts is set to be published. For more information, visit the official website of the Tasan Cultural Foundation at:
www.tasan.or.kr
.
By Hwang Dana
Korea.net Staff Writer
Featured Topics
http://www.korea.net/NewsFocus/People/view?articleId=101118
URL Copy
Department Global Communication and Contents Division , Contact Us