Stephen Epstein: Korea's indie rock scholar
Feb 22, 2013
Korea has changed greatly in the 25 years since Stephen Epstein first came to Korea. The country became a full-fledged democracy, hosted both the 1988 Summer Olympics and the 2002 World Cup, transformed into a high-tech powerhouse, and emerged as a leader in the global community. But to Epstein one of the most interesting changes occurred in Korea's music scene.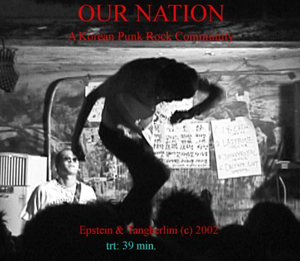 Epstein, now an Asian Studies professor at Victoria University of Wellington in New Zealand (VUW), has watched Korea's music scene grow, mature, and become more cosmopolitan over almost three decades, and he used his academic talents to chronicle the burgeoning indie music scene, lecturing and writing numerous academic articles and even co-producing the documentary film
Our Nation: A Korean Punk Rock Community in 2001
.
"Coming here in the late '80s was such a fascinating time," he recalls. His first Korean residence was a homestay near Yonsei University, where he attended classes for nine months in 1989-90. "It was such a great year for me, but I couldn't stand the music that was playing ambiently. In the 1980s there was just bland Korean pop and Western soft rock. Regardless of what you think of K-pop now, it's come a long way."
Epstein, who came of age in the '70s, discovered punk music on his first trip abroad to London in 1977, and played in two bands in the '80s as a grad student at UC Berkeley, and the Korea of the late '80s was a musical desert to him. "If I'd had like-minded people to play with I probably would have joined a band," he admits. "If an [indie music] scene had existed then and I could have taken part, I might never have left."
He's returned to Korea many times over the years, most frequently for short visits, including a two-week stint as a distinguished visiting professor at Seoul National University. "A sabbatical three months here and three months there," he explains. "Maybe if you took total passport entrances, I'm getting up to 70, perhaps 75." In 1998 he became a citizen of New Zealand, and in 2000 he married a Korean.
1998 was also the year that he connected with kindred spirits in Korea's music community. Following a tip from a friend, he made the long trek -- the first of many -- from the Academy of Korean Studies in Seongnam up to Hongdae, one of Seoul's many nightlife districts, to find Korea's legendary live music club, Drug.
"It was a long trip," he recalls, "an hour and 45 minutes, to get to Drug. But the first night I was there -- and I still remember the first night -- it was Gum, 18Cruk, and Crying Nut, and as soon as I walked in I felt like I'd finally found my spiritual home in Korea. [Everyone] was just so friendly, and I felt immediately made welcome."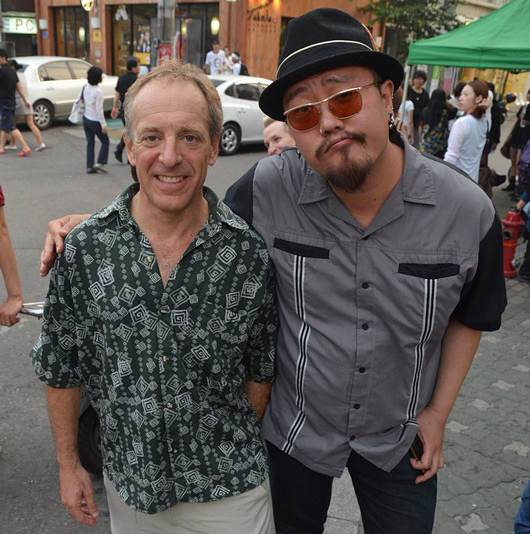 Stephen Epstein meets with Kim Insoo of Crying Nut in 2012, 14 years after their first time meeting.

The members of this fledgling musical movement referred to their sound as "Chosun Punk," reflecting its inherent Koreanness while still exploring foreign musical genres.

"The whole time I was there, I was thinking this is so fascinating -- how did punk rock get to Korea when eight years ago I couldn't even imagine that there would be anything like this?" he says. "I have a strong sense of how rock music developed chronologically having grown up with it, but [in Korea] it got thrown into a blender. Imagine listening to pop music for your whole life, and then suddenly over the course of a year, somebody introduces you to Nirvana, the Sex Pistols, Green Day, Led Zeppelin, all at once. What kind of music are you going to make?"

As Epstein got to know the people and the bands, he began writing about the musical community he'd discovered in Korea. Soon he had the idea to create a documentary movie on the young music scene. He called up his old friend Tim Tangherlini, a professor at UCLA who also teaches Korean studies, as well as one of Epstein's closest friends and former bandmates from grad school, and they teamed up to make the documentary.

They filmed in June 1999, collecting 17 hours of interviews and performances. He managed to interview some of the top rock and Chosun punk bands of the day, including Crying Nut, 18Cruk, and Korea's first all-girl punk rock band Supermarket. He also interviewed Drug's owner, Lee Seok-mun, who was nicknamed Ajeosshi, as well as MTV VJ Sung Ki-wan, better known these days as the lead guitarist of acclaimed indie band 3rd Line Butterfly.

The rough cut wasn't ready until the end of 2000, and the final version wasn't finished until 2001, being officially released in 2002. By that time, Korea's music scene had already changed dramatically and the documentary's relevance had faded.

It's been shown in over a dozen film festivals around the world, but didn't raise much interest domestically. "In 2001 and 2002 people who knew something would say, 'you know these guys are representing something that is really dated,'" he admits. "And then by 2002-2003, I was feeling more embarrassed about it."

But now over a decade removed from its subject, its significance has grown in Epstein's eyes. "I realize now we weren't trying to make a definitive statement that 'this is the Korean scene' or anything like that, but what we did do was capture a slice of June 1999," says Epstein. "So now when I look back at it, it's to me this great historical document that I'm grateful for, because it gives a sense of Korea at a different phase of its development."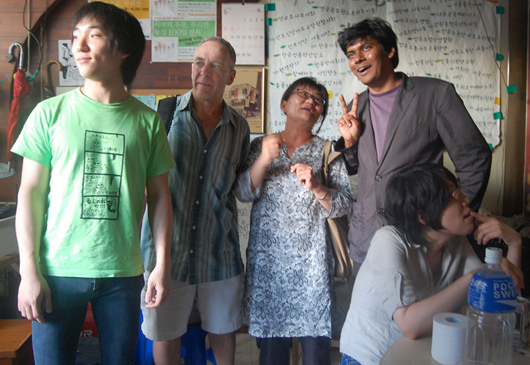 Stephen Epstein (middle left) arranged for a screening of "Our Nation" in 2011, where he met Bamseom Pirates guitarist Jang Pyha (left), Korean film studies scholar Kim Soyoung (middle right), and Mahbub Alamm, star of Bandhobi, a director, actor, and migrant activist (right).

In 2011 he teamed up with Tangherlini to work on a sequel documentary. "What we want to capture in the new documentary is how Korea is becoming more transnational," he explains. "In the late '90s there was a sense of early discovery, a desire to indigenize [musical genres] like punk, with the idea of Chosun punk. But now the important thing is being international."

He conducted interviews with five bands, including a follow-up with Crying Nut, whose fame has risen considerably since the first documentary. They've also gotten older. Three of them are married now, and the drummer has a ten-year-old daughter, Epstein discovered.

He also did a second interview with Sung Ki-wan of 3rd Line Butterfly, as well as interviewing straight-edge hardcore band The Geeks, "kimchibilly" band The Rocktigers, who have strived to bring rockabilly to Korea, and punk band …Whatever That Means, fronted by American guitarist Jeff Moses with his Korean wife on bass, who goes by the nickname "Trash."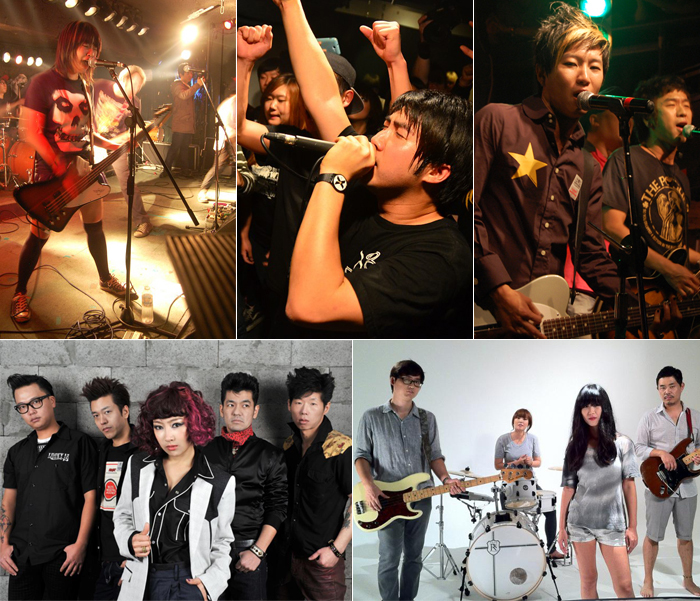 The five main bands Stephen Epstein interviewed for his new documentary (from top left, clockwise): ...Whatever That Means, Geeks, Crying Nut, 3rd Line Butterfly (photo courtesy of 3rd Line Butterfly), and The Rocktigers (photo copyright The Rocktigers).

"All five of those bands have toured internationally," Epstein points out. In fact, since the 2011 interviews, each of the featured bands has scheduled another international tour. Crying Nut and 3rd Line Butterfly toured North America last year through the SeoulSonic tour. The RockTigers toured Japan and North America. …Whatever That Means toured America's west coast before spending a year living in Pennsylvania while Jeff earned a Master's Degree in Secondary Education/Social Studies. The Geeks toured the Philippines and are preparing to play SXSW in Texas next month, one of eleven Korean bands flying over there.

This increasing global connectedness is all evidence that things have changed fundamentally since the '90s. "There's been an evolution in the relationship of indie music to Korea," says Epstein. "We have to look at indie music as a separate musical strand that is developing concurrently with the global rise of K-pop, one of the most striking mainstream pop cultural phenomena of the last decade."

And like everything else in Korea, he admits that Korean indie music has fundamentally changed in light of the viral success of PSY's "Gangnam Style."

"These corporations were putting money into these idol bands, and then the single greatest success of Korea on the global stage came out of nowhere," he says. "Nobody was thinking anything about this, and then PSY has 1.3 billion hits. And so the government has been thinking maybe we should start fostering people like Jang Kiha and the Faces and Busker Busker, these other people who've been successful who are been doing it on their own, coming out of another groove."

Epstein's new documentary, still untitled, is projected to be completed this year. He recently returned from academic leave in Korea to New Zealand to resume his lecturing at VUW, and his wife and six-year-old daughter will join him in March, but nobody doubts that he will return to Korea before long to resume his research on the Korean music scene.

By Jon Dunbar
Korea.net Editor
Featured Topics
http://www.korea.net/NewsFocus/People/view?articleId=105795
URL Copy
Department Global Communication and Contents Division , Contact Us