Cho Yong-pil, K-Pop legend
Jun 03, 2013
American music magazine
Billboard
praised Korean singer Cho Yong-pil as "the Michael Jackson of Korea" in an April 28 article titled "
Cho Yong Pil Knocks PSY From No. 1 on K-Pop Hot 100
."
Starting with "The king is back," the article introduces the 63-year-old singer by saying "If anyone was going to go head to head with PSY in native South Korea, then it needed to be Cho Yong Pil." As Elvis Presley has been called the "King of Rock and Roll," Cho has earned his own nicknames, first "National Singer" and then "King of K-Pop."
His 19th album Hello, his first release in ten years, has been garnering rave reviews from both home and abroad. The long-awaited album was made possible with the participation of 23 foreign musicians from America, Sweden, Thailand, Britain, and Japan, which is quite different from the way his previous albums were produced.
A series of mixing and mastering works done in the five countries in a year-and-a-half timespan were needed to complete his new album.
The most attention has been showered on the track "Bounce," whose cheerful and lively sounds tickle the listener's ears. The King of K-Pop, who marks the 45th anniversary of his debut this year, didn't hesitate to change his musical style for his new album.
When asked about the change in an interview, he was quoted as saying "There was a certain sentiment dominating 1980s music. The trends existing at that time now have disappeared. Likewise culture is changing.
"The American music of the '50s and '60s is quite different from the musical styles dominating American music now," he spoke in a local press interview of the reason why he had to change his singing style and moderate his emotions in the lyrics of his new songs.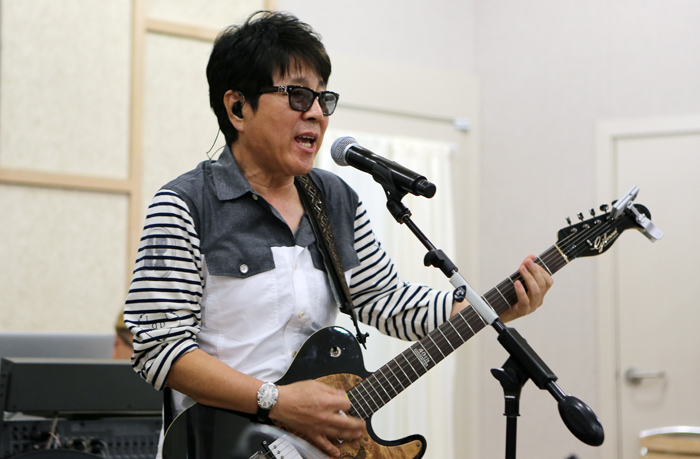 From unknown to legendary


Cho Yong-pil was the sixth born of four sons and three daughters in Hwaseong, Gyeonggi-do (Gyeonggi Province) in 1950. He graduated from Kyungdong Middle and High schools where Korea's acclaimed actor Ahn Sung-ki was one of his classmates. Inspired by Ahn's musical talents and band experiences, Cho started playing the guitar with him.
Although his parents constantly asked him to focus on getting accepted into a prestigious university, he never took his fingers off his guitar, and even ran away from home in pursuit of his musical dreams.
His musical journey started off with experiences at clubs around the 8th U.S. Army base and moved onto stages in Busan, which has now become his second home.
He had remained unknown until 1976 when one of his songs caused a worldwide sensation. His song "Please Return to Pusan Port" struck a chord with people from all around the world. The sensational song started getting attention exactly two years after its 1973 official release. Its LP sales shot to over 100,000, setting a milestone in the Korean music world. The emerging of the singer in the port city caused a "cultural innovation" throughout the nation, instead of being limited to Seoul.
The song even impressed France's pop legend Paul Mauriat so much that he arranged the song for his new album at the end of 1978.
There seemed no end in sight to his accomplishments. His first full-length album titled
The Woman Outside the Window
hit a record-breaking 1 million sales in 1980. Cho was awarded a "Golden Reel Award" presented by American electronics company Ampex for the highest album sales.
His popularity spread into a country across the sea, Japan. Japanese people started singing "Please Return to Pusan Port," surprisingly in Korean, at bars and parties.
A music forum attended by five Asian nations which took place at Shibuya City Hall in 1982 brought him more opportunities to advance in the Japanese music scene. After that, he had his first Japanese concert in May 1983, leading him to join the ranks of global stars. The concert attracted 7,500 fans, the largest ever as a soloist.
Cho was also the first Korean singer to hold a solo concert in Beijing, China in 1988, four years before diplomatic relationship between the two countries was established. The first concert in the communist country helped to tear down the walls of the Cold War.
To many people's surprise, "Wǎnqiū", the Chinese version of his song "Friend," had already become popular before his first concert there.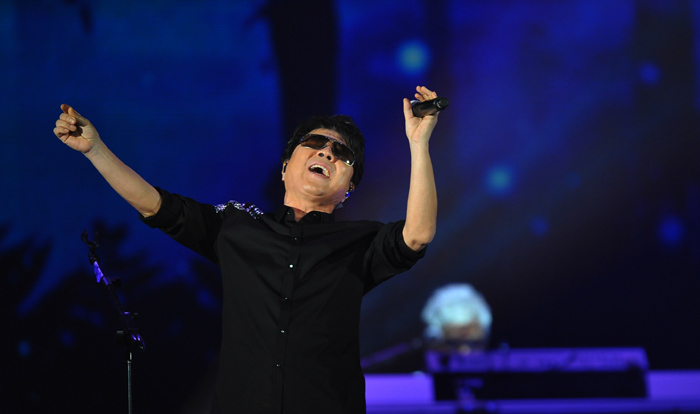 His songs hold realities of life

Cho Yong-pil has communicated with the public through his songs for over 45 years. His mid-1980s song titled "Heogong" ("Vanity") brought the despair of those engaged in the May 18 Democratic Uprising.
Another song "Morning of a Friend" released in the late 1990s reflected the difficult times during the IMF crisis, when massive layoffs and large-scale restructuring were quite common to see.
His newly released 19th album is also a mirror of today's social aspects marred by the low growth and increasing socio-economic gaps. The song "On My Way Back" (unofficial translation) on the new album reflects on the lives of the baby boom generation born during the post-Korean War baby boom between 1955 and 1963.
The idea of its theme came from a conversation sociology professor Song Ho-geun of Seoul National University had with a taxi driver on his way home. This song composed by Cho and written by Song embraces the sorrows of the baby boomers who, now in their 50s, have endured fierce competition, financial difficulties, and early retirement.
The lyrics (unofficial translation) for On My Way Back go like this:
White flowers bloom alone along my way back.
Along the dark path lie the lonely streetlights.

I have to leave behind my youth full of glowing memories.
Fear grows in my heart from the pain of parting.

The valley of my youth remains full of unachieved dreams,
and the memories of my broken love which will never come back still stay on the path...

"This song is the most moving and amazing song in his new album," said Tony Maserati who worked on the mixing for the new album.
Despite a ten-year hiatus, Cho Yong-pil still enjoys popularity among people of all ages.
"I will face challenges head on and will see what happens, whether my head or the wall before me breaks," he said in a press conference. "I have no other option but to do that to compete with so many brilliant and great musicians."
Written by Wi Tack-whan
Translated by Sohn Ji-ae
whan23@korea.kr
Featured Topics
http://www.korea.net/NewsFocus/People/view?articleId=108635
URL Copy
Department Global Communication and Contents Division, Contact Us