From 0 to 8,848: Mountaineer achieves Korean 1st on Everest
Jun 14, 2013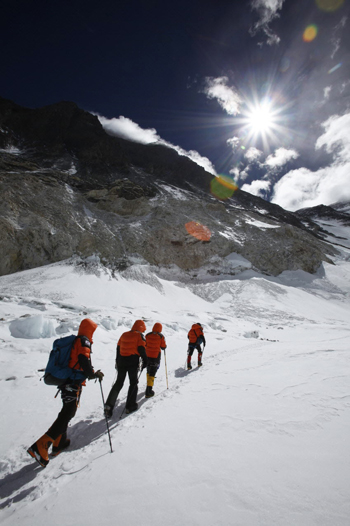 A Korean has set yet another mark in mountaineering. Kim Chang-ho, 44, on May 19 conquered Mount Everest and became the first Korean to scale the world's 14 tallest peaks without the aid of breathing equipment.
Challenging human limits
Mount Everest, the tallest mountain in the world, is 8,843 meters high. Mountaineers are known to normally require 30 breaths per step when reaching a height of 8,000 meters. Despite the extreme situation, Kim insisted on climbing without supplementary oxygen, saying, "I wanted to show that it was reachable solely through human power."
In addition, Kim is the 17th mountaineer in the world to conquer the top 14 peaks without the use of supplementary oxygen equipment.
What makes his latest trip more remarkable is that it started at sea level with no help from vehicles. His expeditionary group that included Seo Sung-ho, 33, and Seok Sang-myung, 55, are known to have left Korea March 11.
Setting off from the Indian port of Kolkata in the Bay of Bengal, the group kayaked 156 kilometers along the Ganges River for five days and biked 893 kilometers in 18 days. For another two weeks, they rode in a caravan for 162 kilometers to reach the base camp.
First encounter: the Himalayas
Kim discovered mountaineering by accident after joining his university's mountaineering club in 1988. Five years later, he climbed the Great Trango (6,283 meters), one of the symbolic rocks of the Himalayas. He said his first impression of the world's tallest mountain range lingered in his mind and made him want to visit again and again.
"Endless glaciers under my feet make my heart throb," Kim was quoted as saying. "I feel like I should discover every corner of the Himalayas."
In his spare time, he said he avidly studies mountains and glaciers, with his shelves overflowing with books on the Himalayas. He reportedly owns rare books that are 100 to 200 years old and worth from KRW 50 million to 100 million.
Kim has strived to break mountaineering records in Korea perhaps as a result of his study of mountains. In addition to being the country's first to conquer Kache Blangsa (5,560 meters), he discovered a number of unknown routes, including Peak (5,500 meters) and Shikhar (5,928 meters).
In the summer of 2008, Kim scaled Batura II (7,762 meters). His eight journeys to the Himalayas between 2000 and 2008 spanned 1,700 days.
"I feel truly alive when I find new mountains and glaciers," he said.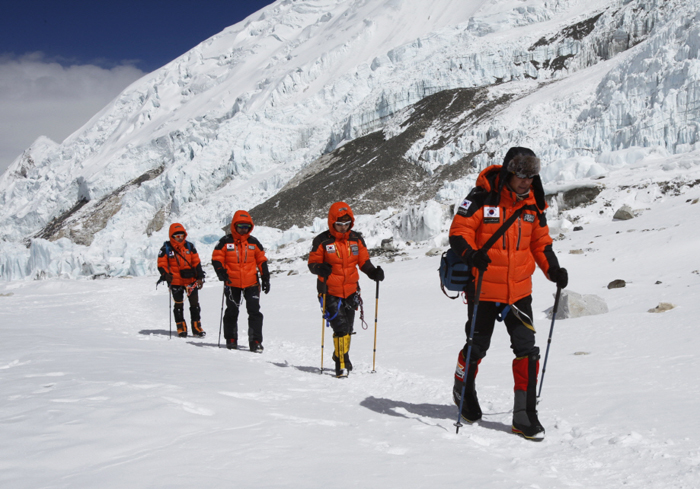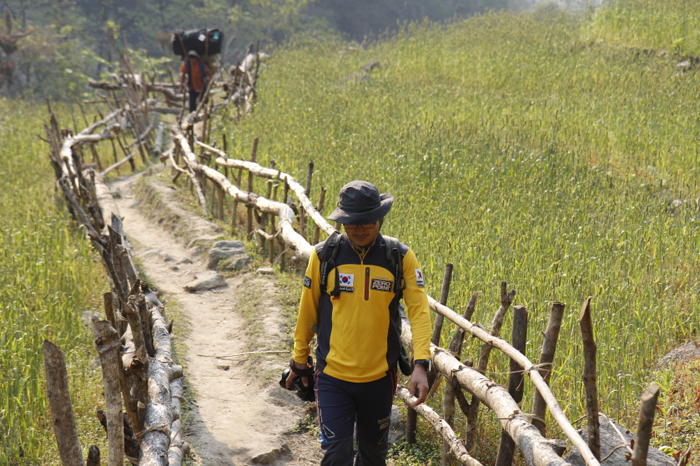 (Photos courtesy of Montbell)
By Lee Seung-ah
Korea.net Staff Writer
slee27@korea.kr
Featured Topics
http://www.korea.net/NewsFocus/People/view?articleId=109101
URL Copy
Department Global Communication and Contents Division, Contact Us