Last night in Korea 1953: a war vet's story
Jun 26, 2013
Like many coming to Korea for the first time, Jean Pierre Van Eck had no idea what to expect. But his time in Korea greatly influenced the trajectory of his long life. Today, he sits as president of the 21st unit of the Korean Veterans Association of Canada, and he has returned to Korea twice to see the country that his own sacrifice helped form.

Van Eck first came to Korea in 1952 aged 18, at the height of the Korean War. "I didn't even know what Korea was back then," he recalls. "I didn't even know it was by China. Nobody knew anything about Korea. I knew there was a war but what kind of war I had no idea."

Following World War II, a young Van Eck faced military duty. All Dutch college students at the time were required to give three years of service. "Automatically you have to go to the officers' school," he says, "and I was a playboy, I was not really into it at that time. And I said well, why don't I go somewhere else, be a soldier or something. They said 'Well you could go to Korea if you want to.' And so I ended up in Korea."




He joined the 2nd Infantry Decision (2ID), a formation of the U.S. Army nicknamed Indianhead. Van Eck was one of 3,000 Dutch soldiers assigned to 2ID between 1950 and 1954.

"I don't like to talk about it, because you know the first day that I got into the line, my friend got his head shot off, right here," he says, pointing to a spot on his right temple. "A piece of steel or something, a grenade or something, and it took his head right off. And you know, I don't like to talk about it."

Van Eck says he was literally sick for weeks following that. He told Canadian newspaper the Edmonton Journal that he won't even visit the Rocky Mountains, because it reminds him of his days in Korea climbing mountains every day.

He brings up some of his own memories of the war, including what it felt like to be shot. "I only got shot once through and through in my arm," he recalls, showing the fading scar in his arm. "It was nothing -- you don't even feel it really because it goes through."

His memories of encountering minefields echo that sense of detachment from the dangers. He recalls running into a minefield to help rescue three Americans who'd been injured by an exploding mine. "I wasn't really thinking about it," he says. "I just ran into the field to get the guys out. For some reason you don't think about it."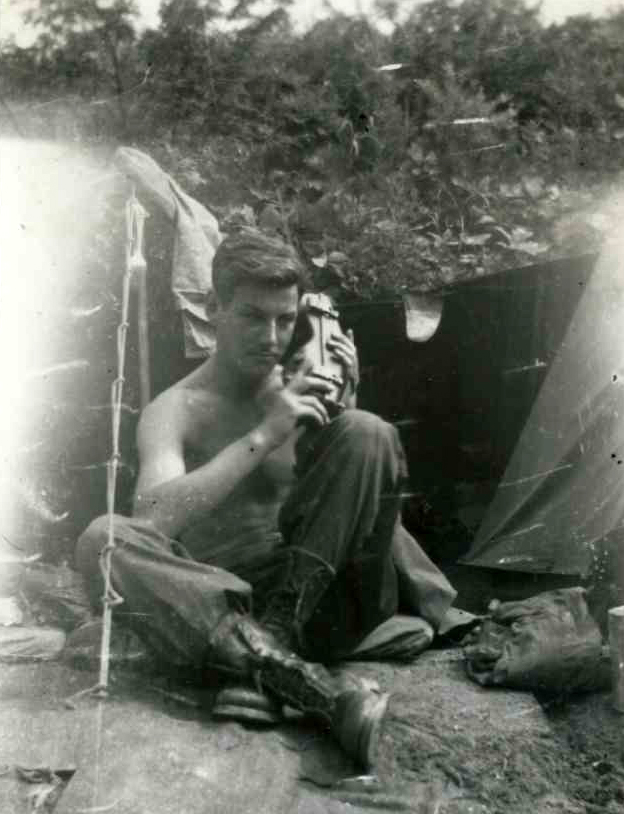 But his memories of this part of his life aren't all dark times. "There's a lot of friendship in the army," he says. "I protect you and you protect me and that's the way it was in Korea. It's the first time that I saw that there were similarities between black people and white people, because they bleed the same way as I do."

Van Eck served as a machine gunner and had a KATUSA assistant (Korean Augmentation to the United States Army). He recalls the KATUSA sometimes made Korean food for him, and he remembers trying very spicy kimchi.

"We were isolated from the [Korean] people really," he says. "The only [Koreans] that we met was my helper who was Korean. And the people, we really didn't know -- we were never in the big cities."

He was in Korea during the ceasefire, which went into effect a year after his arrival, and he spent half a year in the country following the cessation of hostilities. As his return to the Netherlands approached, he found himself longing to experience the country he had fought for over the past year.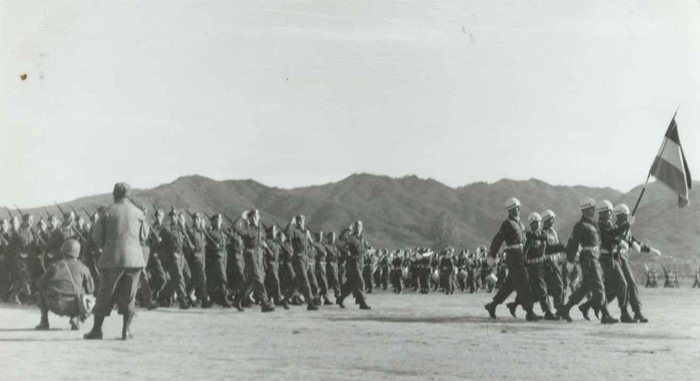 "We were on the last day in Korea and they decided to put the officers at the gates so they had to work overnight," he recalls, "and I thought 'jeez this is my last night in Korea and we haven't seen anything yet -- how in the world am I going to get out of here?'"

What happened next sounds like something out of the American movie/TV drama M*A*S*H, set during the Korean War.

"I had two guys with me -- one of them died now -- and I said 'jeez you know for the last day in Korea we have to get out, we have to get out of this camp here,'" he reminisces. "So, lucky that we went to the kitchen down there and they were loading all the garbage into a truck. And I told this Korean guy, I said 'you put us under the bench down there, you put a tarp over us, you put the garbage over us, and we get the hell out of there.' Never thinking about how we get back again; that's another story. That's how we got out of the camp and it was the last day in Korea and we really hoofed it up. M*A*S*H was nothing compared to what we pulled."

After a night of living it up in the city, the Sun was rising and Van Eck realized it was time to sneak back on base. But the gate was still guarded by Dutch officers.

First, he thought to ask an American guard if they could sneak over a shared section of fence, and the guard threatened to shoot him in the head. "And I said 'Holy Toledo, how the hell are we gonna get back now?'"

Their scheme to get back on base took them to a nearby Korean black market. Van Eck has vivid memories of the Korean black markets running outside the bases, where one could buy shoes and clothes and military surplus gear -- essentially anything except firearms themselves.

"So what we did, we went to the black market and we bought American hats and clothes," he explains. They waited for a Jeep to come by with a Korean driver heading for the base, and bribed him with cigarettes to drive them back on base disguised as Americans. "I said 'Okay, you get to the gate, we will salute, and you take off as fast as you can.'

"All the Dutch officers were standing at the gates. They saluted us because we had the caps over our eyes so they thought we were Americans. The guys were surprised when we walked into the barracks. They jumped out of bed and saluted us. We took our caps off and they finally saw who we really were."

After he returned home, Van Eck joined the reserve police force and attended university for a degree in engineering. "I had a lot of money saved up and I was really hoofing it up, you know, with my friends with parties and all that stuff and I paid for everything," he says.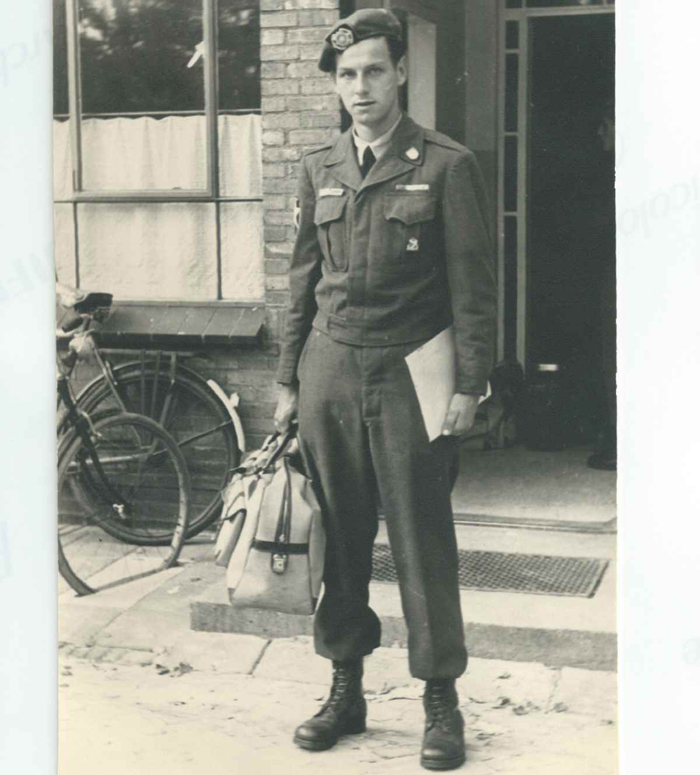 He moved to Canada in 1958, settling in Edmonton. He married a Greek woman and they have two daughters.

For the past six years he's served as president of the 21st unit of the Korean Veterans Association (KVA) of Canada. On June 8 he was awarded a certificate of commemoration from the Korean government for his work with the KVA, presented by Korean Ambassador to Canada Cho Hee-yong.

"I'm the president for the last six years now because I'm the youngest guy of the group," he explains. "All the other guys are over 80, so I'm the only guy that's left...76, 78 -- I should say 78."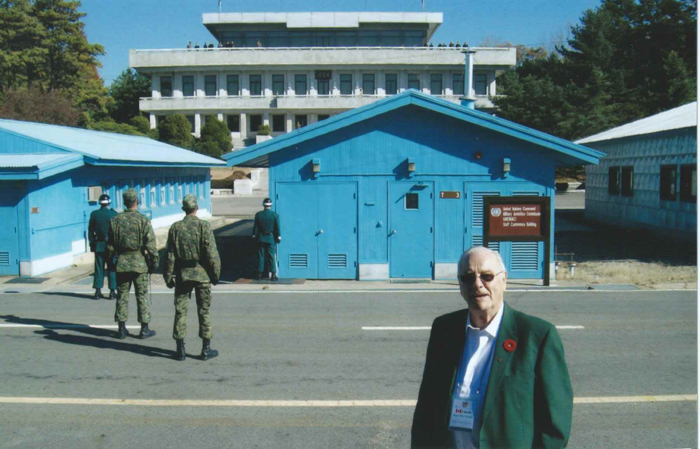 Van Eck is the first non-Canadian to serve as president of a Canadian unit of the KVA, but he said the KVA welcomes Korean War veterans from anywhere, including America and the Philippines. "We're all in Canada and we were all down in Korea and we all fought the same war," he explains.

These days membership in the organization is shrinking each year, with around 75 members left now. They hold monthly meetups as well as an annual Christmas party, and they see each other at remembrance ceremonies and other functions. They also volunteer at a local casino, raising funds to be given away to cadets, schools, and university students.

Since his legendary caper on his last night in Korea in 1953, Van Eck has returned to Korea twice. He was invited to Busan by Mayor Ahn Sang-yeong for the 50th anniversary of the start of the Korean War in 2000. During his stay he visited the graves of Canadian and Dutch soldiers killed in action. He also befriended the mayor, who accepted his invitation to visit him in Canada.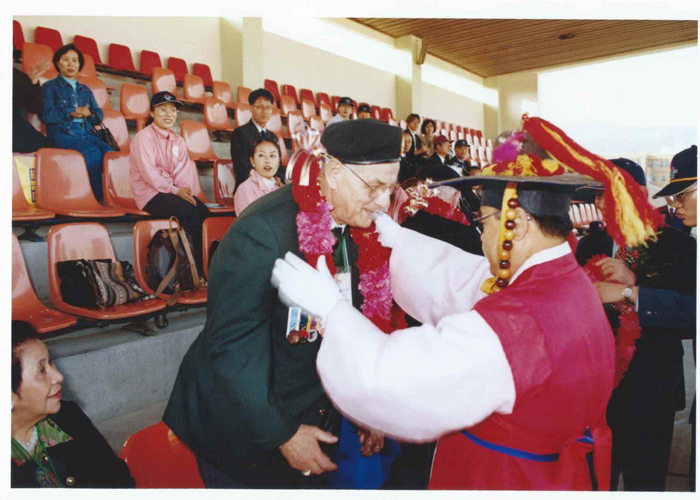 He returned again in 2010 for the 60th anniversary of the outbreak of the war, during which he met with Canadian Prime Minister Stephen Harper in conjunction with the 2010 G20 Seoul Summit. He also visited Gapyeong, the site of the decisive 1951 Battle of Kapyong where Canadian and Australian soldiers held off the advancing communist forces long enough to evacuate Seoul, saving thousands.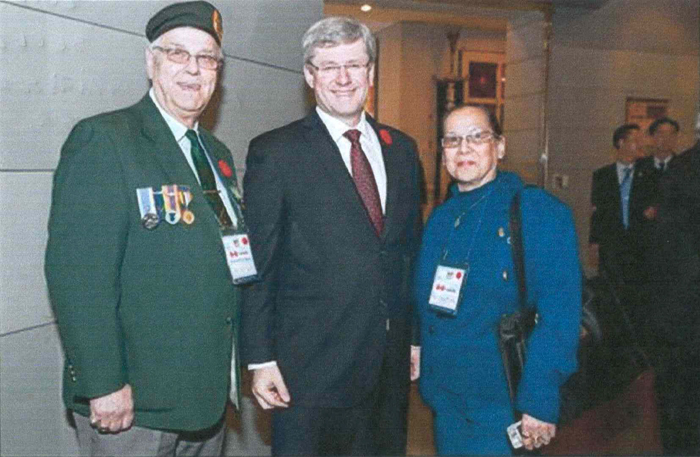 "The people are so thankful," he recalls with pride. "They keep shaking hands with you at the airport. They really appreciate it having the old-timers around. Even the kids they shake hands with you at the airport."

Van Eck is proud to see the country that South Korea has developed into, excelling into an economic and technological power. "Koreans the way they are now, they make more money than every country that was in the war," he says.

Although he struggles to recall some of the details and names from his times in Korea, Van Eck still lives with his very personal connection to Korea. "Before, I could write a book," he laughs. "I can't forget it, but the older you get..."

By Jon Dunbar
Korea.net Editor
Featured Topics
http://www.korea.net/NewsFocus/People/view?articleId=109475
URL Copy
Department Global Communication and Contents Division, Contact Us