Englishman introduces kimchi to Londoners
Dec 06, 2013
"What comes up to your mind when you think of Korea?" asks a brown-haired young man who walks around central London holding a microphone labeled "Englishman" in Korean.
"Have you tried kimchi before?" "How do you say 'hi' in Korean?" "Can you say 'annyeong?'" he asks.
It is Josh Carrott (24) who crisscrosses the streets of London and interviews passersby. Carrott has been uploading Korean-language videos titled "Korean Englishman" on YouTube since August, which have been getting more and more attention. He offers Londoners a taste of kimchi and introduces London's major attractions and English foods. With only around ten videos on YouTube, the number of hits has passed well over 1.5 million, with 80,000 subscribers. Carrott speaks fluent Korean and uploads the videos he produces with his friend Ollie.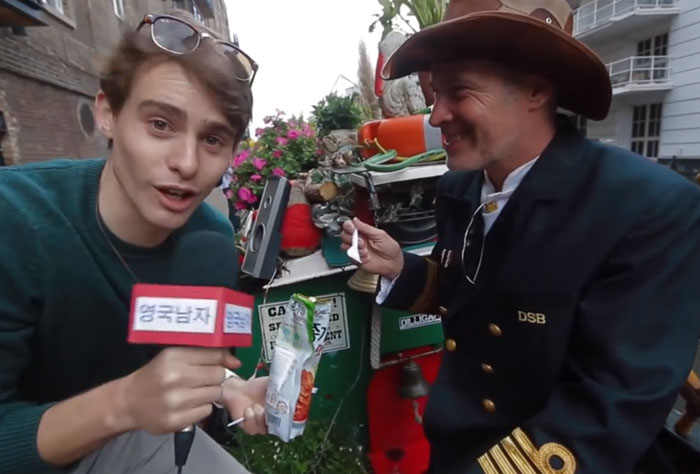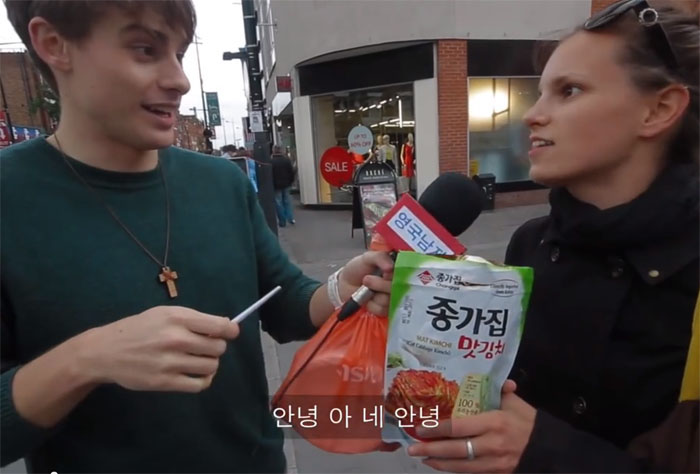 "I have had amazing experiences in Korea," he said. "I wanted to introduce Korean culture to Brits and British culture to Koreans."
Carrott describes Korea as a country where he could order chicken at any time. "I have a real passion for Korean culture, and also for London and the unique culture that is here too," he said. "We found that while there was some mutual interest, so many English people knew so little about Korea, and the other way around as well! We decided that this could be a good opportunity to do something fun on YouTube. I also wanted to show my Korean friends the sights of London."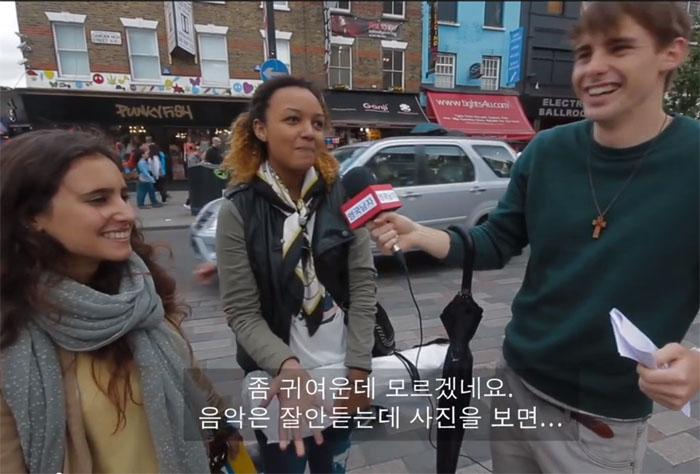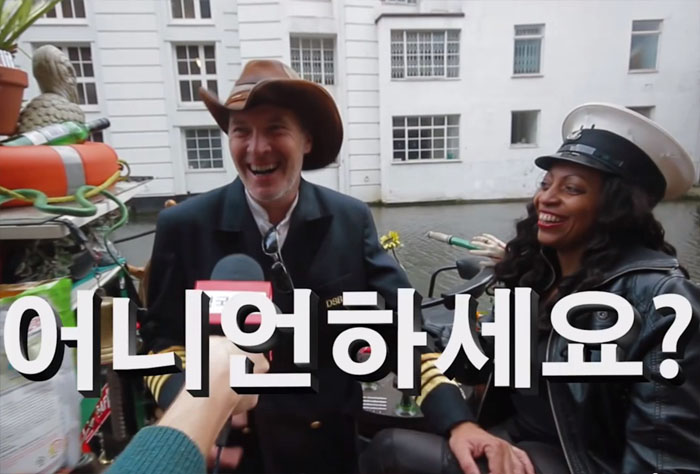 Carrott majored in Korean studies while attending the School of Oriental & African Studies (SOAS), University of London. He enrolled in an international school in China at twelve where he met Korean friends, gaining interest in Korean culture.
While he was in the SOAS, he attended Korea University as an exchange student for one year in 2008 and experienced Korean culture. He ate samgyeopsal (pork belly) and drank makgeolli and fell in love with Korean culture.
With the popularity of his YouTube videos, he has gained a lot of fans. Korean fans asked for his address, and a few days after revealing the address of his friend's office he received dozens of presents. Carrott said he wanted to open his gifts but he is waiting to film the gift-unwrapping, to be uploaded onto YouTube.
Carrott still shoots YouTube videos from time to time on weekends while working during the week. He said he still has many ideas for future videos.
"I was surprised that reactions were quick and hot after we uploaded our first video in August," he said. "If I have a chance, I would like to introduce jjimjilbang (Korean-style sauna), noraebang (Korean-style karaoke) and PC rooms, cultures that only exist in Korea. And I also want to broadcast on YouTube around the clock someday."
Josh Carrott corresponded with Korea.net to answer some questions about his video series.
Q: Why did you start the YouTube broadcast on Korea?

A: Firstly, I have a real passion for Korean culture, and also for London and the unique culture that is here too. My friend Ollie who makes the videos with me came out to visit me while I was in Korea, and he really loved it out there too. But we found that while there was some mutual interest, so many English people knew so little about Korea, and the other way around as well! We have always loved making videos together and so we decided that this could be a good opportunity to do something fun on YouTube, and see what reaction it gets. We never expected there to be such a good reaction so quickly!
Also I know how hard it can be moving to a new country, and if it wasn't for the support of my Korean friends I would've really struggled and had a hard time adjusting when I first moved out there. So we wanted to make videos that gave information and helped introduce life in London to Koreans who were thinking about coming over here too. Above all we wanted to make fun videos that share our lives and bring together two cultures that we love (Korea and the U.K.) and that people enjoyed watching!
Q: Why do you broadcast only in Korean?

A: As to why we broadcast only in Korean, well there are already some really good channels and resources for anyone who wants to find out about Korea in English. Then there are foreigners like "Eat Your Kimchi" as well, but we couldn't find any resources in Korean done from a foreigner's perspective -- linking the two cultures.
Q: What do Brits know about Korea? What do they think of Korea?

A: To be honest Brits know very little about Korea. Korean pop culture is definitely on the rise, but that's a very small minority. Korean food is very fashionable in London right now, but people still know very little about the culture and country itself. What do they think of Korea? Well in the words of one of the Londoners we interviewed in one of our videos... "Korea-Japan World Cup 2002, banging food!" I think the initial reactions that we've had have been mostly good.
A lot of people are unaware that Samsung, Hyundai and LG are Korean brands, that Gangnam District is actually a place, and that there's a difference between gimbap and sushi, but they are happy to be enlightened! For those who I'm able to introduce more of Korea's unique culture to they express a lot of interest!
Q: How did you pick up Korean so fast since you only stayed in Korea for one year?


A: I'm not entirely sure! I suppose if I had to pin it down to something in particular then it would be complete immersion in Korean culture. It's incredibly easy to go all the way there and then spend all your time with other foreigners if you want to, but if you do that then you miss out on so much!
When I went to Korea, I think for the first six months all of my friends were Korean. At first it was mostly Koreans who could speak English (my Korean was very basic) but after a while I started making friends with people who couldn't speak English, and I was forced to rely on my broken Korean to get by. I didn't spend much time watching Korean dramas or listening to K-pop, although I'm sure that can help -- I just surrounded myself with only Koreans so that I was constantly hearing the language and trying to speak it/text it.
I like to think that I studied quite hard as well, and Korea University's language study program is fantastic. I couldn't recommend it more. But if I hadn't gone out and actually spent all of my time putting in to practice the things I was learning in class then I probably still wouldn't be able to hold a conversation. And let's face it, who wants to spend time learning vocabulary in your gosiwon, rental rooms where students prepare for government exams, when you can be out having chicken and beer and going to noraebang with Korean friends?
Q: What did you know about Korea before you came to the country?

A: I knew a few things about Korea before going since I actually had quite a few Korean friends beforehand. To tell you a little secret, I actually went to middle school and high school in an American international school in China, so I met a lot of Koreans there. I knew that I loved Korean people. I knew that I loved Korean barbecue, although it took me a little longer to develop a taste for kimchi! And I knew that Hangeul, or Korean alphabet, was much easier to learn than Chinese characters. That was enough for me!
Q: What did you especially like about Korea?

A: Ha. As I just mentioned, the people -- the respect that they have for each other, and just how friendly everyone is. The food -- it's just so, so good. And now that I can speak a bit of it, the language -- I love the way it sounds. I also love Seoul -- the city never sleeps! And Busan... and all of Korea!
Q: How do you think Korea can promote its culture and let the world learn about it?

A: Korea has a very strong identity, and it's just that people don't know about it! I'm sure that there are many things that Korea can do to promote its culture, but a great way to start is for all of us who know about Korean culture to just be open about it and share it with our friends! All of my close friends know how to say at least a few things in Korean and I love teaching them and showing them my favorite Korean food and films and everything else that I love about Korea. There is a huge population of Koreans living abroad, and I think if they all reached out to the communities around them then I think that would be a good start.
By Limb Jae-un
Korea.net Staff Writer
jun2@korea.net
Department Global Communication and Contents Division , Contact Us