Michael Elliott, Master of the Korean Language
Mar 05, 2012
The Korean language is receiving growing attention on the international stage. This is evident in the increasing number of Korean educational institutions and the growing number of registrants for Korean language proficiency tests. Foreign residents in Korea are no exception. Domestic language schools are so busy that it can at times be hard to reserve a seat.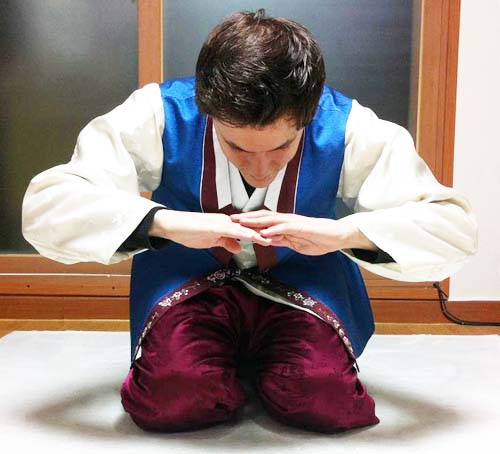 Some foreigners team up to share their language-learning strategies. Among them is Michael Elliott, who has been hard at work learning Korean since long before it was a fad and is now mentoring beginners. He shared his Korean love story with Korea.net.
"Largely influenced by my grandfather who was fluent in Spanish, I had a deep interest in languages early on. I learned my first Korean words from Korean friends I met at school."
In the middle of a college degree in 2003, Michael suddenly decided to put his academic work on hold and come to Korea to study the language. As he was not teaching or working, he spent the whole day studying Korean, taking three different levels of Korean classes every day. This was all in hopes of achieving his new goal of becoming one of the best foreigners at speaking Korean. "I was confident in the lower level classes and struggling to catch up with the others in the advanced classes," he confided.
After studying in that manner for two years, he returned to America to continue his undergraduate degree, but was back a few years later. Fortunately or not, he thought he had been hired as an English editor at a media firm but some surprises awaited him. Michael's boss had judged from his interview that he was competent in Korean and now Korean-to-English translation requests were piling up on his desk. Keeping the deadlines and grasping the high-level vocabulary used in publications was a tall order but through it he discovered the political, economic, scientific, technological, and entertainment aspects of Korea. He managed to translate news on all these unfamiliar topics. Despite the challenges and stress of the job, he knew that he stood to gain much experience if he could stick with the job and his resilience helped him refuse to give up.
"I never wanted to say, 'I can't do this,'" he said.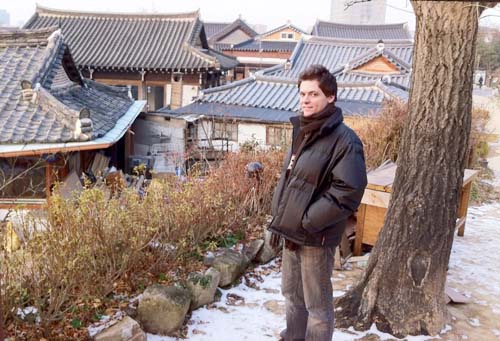 However, the secrets behind his success at learning the language were neither the translation work nor his studying at the institution. It was his habit of thinking in Korean. He kept asking himself one question -- 'How do I say this in Korean?' -- when riding the bus, walking on the street, eating, and engaged in any thought.
He has been using this trick for ten years now and he rarely has trouble making himself understood in the Korean language. "We never can learn a language unless we are enthusiastic about the process of studying itself. If you don't enjoy the process, you will never be fluent in another language," he said firmly.
On the other hand, Michael found out why many Koreans find themselves at a loss when it comes to speaking English. Korean people are good at reading and have strong vocabulary skills since they begin memorizing lots of words and taking English tests early on. But despite this, they find difficulty expressing themselves in their daily lives. Expressions that Koreans use every day in Korean including "I'm really fed up" or "I'm so stressed out" don't come as naturally as they should in English.
He had never taken an interest in education before, but he wanted to give a hand to the Korean people, so he launched EnglishinKorean.com and began offering materials and his video and audio lectures free of charge. The podcast provides useful lessons in situational topics such as drinking, dating and breaking up, frequent mistakes made by Koreans when speaking English, and many more. Over 50,000 fans of his podcast ask questions on the website and he leaves replies for them. He also runs another site, KoreanChamp.com, which offers effective Korean language-learning strategies based on his ten years of know-how.
It is hard for foreigners to successfully assimilate into Asian society. Michael admitted that it was not that easy.
"As Koreans take great pride in being a single-race nation, people who look different are treated like outsiders, no matter how long they have lived here or how well they speak Korean," he explained. "At first, I thought that if I improved my language skills enough and became fluent, I would be accepted as an insider. But it was just a dream." For foreigners who seek to become permanent members of Korean society, he recommends they not be disheartened by the tendency of Koreans to treat all foreigners like people who just came to Korea yesterday. "In time, Korean society will recognize that it's not one's appearance but one's love of Korean language and Korean culture that determines if one is a true Korean at heart."
By Lee Seung-ah
Korea.net Staff Writer
Department Global Communication and Contents Division, Contact Us