Welcoming Korea's first mass-produced electric car
May 04, 2012
The Ministry of Environment (MOE) has announced a goal to deploy an additional 2,500 electric cars by the end of 2012. To commemorate the kickoff of this and related policy initiatives designed to encourage electric vehicle deployment throughout Korea, the MOE held a ceremony on April 17 at the Gwacheon Government Complex in Gwacheon, Gyeonggi-do (Gyeonggi Province).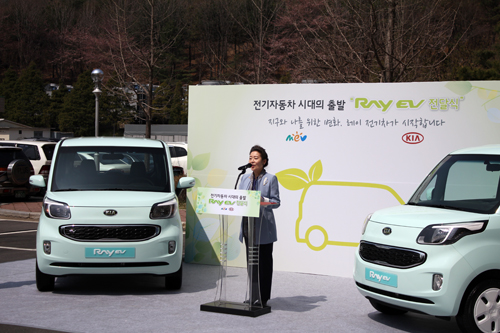 The ceremony also celebrated the launch of Korea's first domestically mass-produced electric car, the Kia Ray, with Kia Motors President and CEO Lee Sam-ung presenting Minister of Environment Yoo Young-sook with the first prototype of the Ray EV. Prior to the presentation and test drive, Minister Yoo outlined the details of the ministry's 2012 electric vehicle deployment project.
The price for the Ray EV, which can travel up to 135 kilometers on a single charge with a top speed of 130 km/h, has been set at 45 million won, to be offset by a per-vehicle 15 million won financial subsidy and 8.8 million won electric vehicle infrastructure tax credit. Lower-speed electric vehicles will sell for 21 million won with a 57.8 million won subsidy and the same 8.8 million won infrastructure tax credit. Qualified buyers will also be eligible to receive up to 42 million won in additional tax credits.
The ministry also plans to strengthen coordination with the eight cities that have been designated as Korea's electric car hubs, including Seoul, Jeju, Yeonggwang, Gwangju, and Changwon. The trial run of an electric car test driving program on Jeju Island will open during the second half the year, with additional opportunities to try out electric vehicles to follow.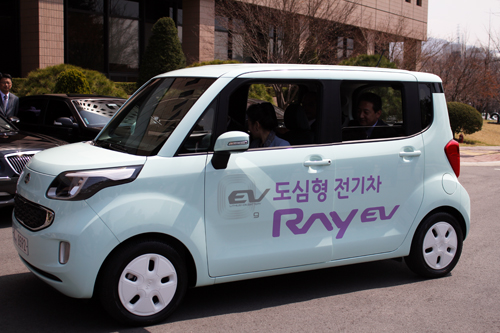 Long-term goals to expand the deployment of electric vehicles include the construction of emergency charging stations and the development of a nationwide network of high-speed charging stations. An official website and a smartphone application providing the locations of charging stations in addition to other relevant information on services for electric vehicles are scheduled for release in May.
"The adoption of electric vehicles, which produce zero greenhouse gas emissions, is an essential part of responding proactively to climate change issues," said Yoo. "We will continue to support wider use of electric vehicles as a means to minimize greenhouse gas emissions and bring a new vitality to our national industries."
By Kwon Jungyun
Korea.net Staff Writer
Featured Topics
http://www.korea.net/NewsFocus/Sci-Tech/view?articleId=100270
URL Copy
Department Global Communication and Contents Division, Contact Us