Arirang 3 in space
May 19, 2012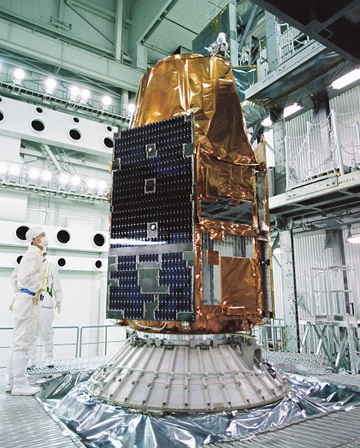 Korea successfully launched its third multipurpose practical satellite on May 18 at 1:39 a.m. from the Tanegashima Space Center in Japan.
"The Arirang 3 has deployed its solar panels, and begun operations in earnest, communicating with a ground station," announced the Ministry of Education, Science and Technology and Korea Aerospace Research Institute (KARI) on May 18 in an official statement about the successful launch of the satellite.
The Arirang 3 was contained in the rocket H2A which also carried three Japanese satellites. Among the four satellites in the rocket, the Arirang 3 was the first to separate from the rocket, at an altitude of 676.35 kilometers over the ocean southeast of the Philippines. After it separated, it began a five-minute procedure to deploy its three solar panels and at 2:18 a.m. successfully made contact with the satellite ground station Trollsat. Its second contact was made with the Svalbard Satellite Station in Norway.
The satellite is in orbit 685 kilometers above the Earth's surface. It will complete one orbit around the Earth every 98 minutes, which is 14 times a day.
The satellite is equipped with an optical camera with a resolution of 70 centimeters, which is the highest current resolution for civilian cameras used in observing environmental, meteorological, and maritime phenomena. If taking a black-and-white picture, the satellite camera recognizes objects of 70 by 70 centimeters as one dot, explains KARI At that level, it can be used for identifying types of vehicles or direction marks on a road. (The Arirang 3 attached to the rocket, photo courtesy of the Ministry of Strategy and Finance.)
The Arirang 3 will observe the Earth including the Korean Peninsula for the next four years, enabling Korea to make 3-dimensional maps and survey damage or monitor situations in the event of natural disasters.
Thanks to the successful launch of the Arirang 3, Korea became the fifth country that possesses a sub-meter-level Earth-observing satellite following the U.S., Russia, France, and Israel.
The development project of the Arirang 3 began in 2004, co-supported by the Ministry of Education, Science and Technology and the Ministry of Knowledge Economy along with the participation of related companies such as Korea Aerospace Industries, Korean Air, Hanwha, and Doowon Heavy Industrial.
Currently, Korea operates three satellites including the multipurpose satellites Arirang 2 and 3, and the communications, ocean, and meteorological satellite Cheollian, along with privately operated satellites the Mugunghwa-5, Olleh 1, and Hanbyul.

By Jessica Seoyoung Choi
Korea.net Staff Writer


Featured Topics
http://www.korea.net/NewsFocus/Sci-Tech/view?articleId=100434
URL Copy
Department Global Communication and Contents Division, Contact Us