Korea's vertical farms envision a greener future
Nov 28, 2012
Imagine a skyscraper inhabited not by people but by plants, where robots monitor spaces that have been technologically equipped to mimic a natural environment. From sunlight to carbon dioxide levels, the meticulously adjusted indoor environment allows for continuous plant growth regardless of the conditions outside.
Experimentation on these so-called vertical farms, designed as a possible solution to the issues of limited arable land and possible food shortages, has been well underway in Korea since 2010. The possibilities behind Korea's vertical farm technology (as well as the prospects for future exports) were a recent topic of interest on Qatar-based English-language news channel Al Jazeera English.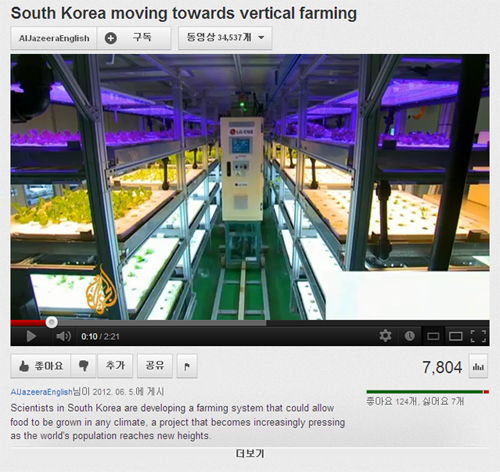 In a June 5 report entitled "South Korea moving towards vertical farming," Al Jazeera's Wayne Hay described the scene at a vertical farm in
Gyeonggi-do
(Gyeonggi Province).
"Machines are growing food," said Hay, pointing out how the "completely sealed-off artificial environment" includes LED lights acting in place of the sun (which reduce harvest times by half) and controls for temperature, humidity, and supplies of oxygen and carbon dioxide.
A key benefit of the system is its versatility, continued the report. Once the technology is perfected, vertical farms could be built in any number of settings, and as the report hinted, even in harsh climates like the Middle East.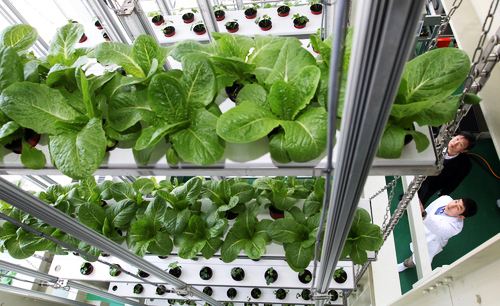 In actuality, Governer of Gyeonggi Province Kim Moon-soo and a delegation of provincial officials visited the office of the
Qatar National Food Security Programme
in Doha on October 28 to meet with Chairman Fahad Al-Attiya. The
Maeil Business Newspaper
reported that representatives from companies that provide the technology for Korea's vertical farms also attended the meeting, where both sides discussed the possibility of opening a jointly managed pilot plant in Qatar.
Yet as the Al Jazeera English report pointed out, the vertical farms in their current form still require a considerable amount of resources for upkeep. The primary task ahead will be to develop ways to make the vertical farms more affordable and sustainable.
The full Al Jazeera English report can be found at the station's official Youtube channel:
http://youtu.be/y09vuzwg6Lk
.
By Kwon Jungyun
Korea.net Staff Writer
Department Global Communication and Contents Division, Contact Us