First Korea-Latin America IT forum held in Seoul
Oct 18, 2013
Representatives from Latin America and the Caribbean arrived in Seoul for the first Ministerial Forum for Broadband Development in Latin America and the Caribbean on October 15.
Over 70 ministers and vice-ministers from 11 countries took part in the forum, as well as representatives and experts from information and communications technology (ICT) firms. Korea shared with the participants its ICT development policies and there were discussions on how the two sides could cooperate to expand broadband service in Latin America.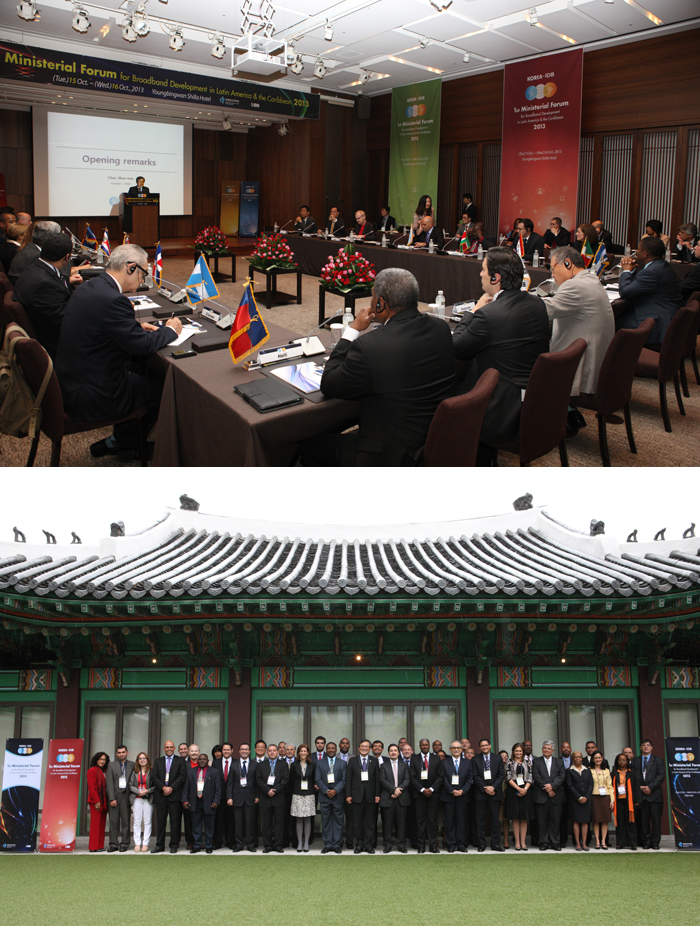 In recent years, Korea and Latin America have maintained a very cooperative partnership. In addition to Korea's training programs, offered to Latin America in the hopes of developing ICT experts, Korea has provided policy consultants to help with broadband, information security, radio wave control and other aspects of ICT.
During the forum, the two sides agreed that broadband can play a critical role in promoting social integration and improving productivity. Participants agreed to launch an ICT Education Center early next year to train public officials from Latin America.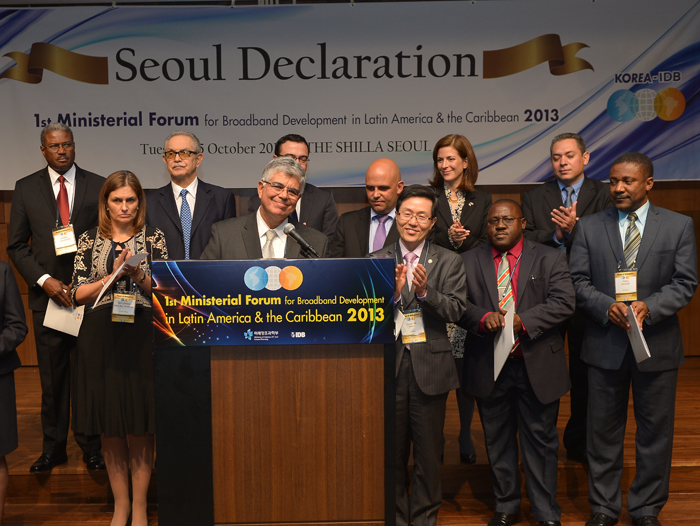 At the forum's close, the government representatives released the Seoul Declaration, agreeing to hold the ministerial forum once every two years.
1st Ministerial Forum for Broadband Development in Latin America and the Caribbean Seoul Declaration
Oct 15 & 16, 2013

Government representatives from Latin America and the Caribbean (hereinafter LAC region), and the government of the Republic of Korea who have gathered on October 15, 2013 in Seoul hereby:

1. Agree that telecommunications in general and broadband in particular are a strategic sector for the promotion of social integration, economic growth, and improved productivity. According to the research conducted by IDB for the LAC region, the countries that have expanded the broadband service by 10% have witnessed an increase of their GDP and productivity by 3.19% and 2.61% respectively.

2. Point out that investing in infrastructure, developing stable and predictable regulatory frameworks that promote investment and effective and sustainable competition, and developing public policies that accompany national broadband plans are fundamental tools for bridging the social and technological divide of the LAC region while promoting South-South trade and integration.

3. Recognize that fostering competition at national, regional and international levels is crucial to achieve the universality and affordability of broadband services.

4. Agree that the present broadband penetration levels at the LAC region entail two challenges. First, there is an urgent need to expand access, backhaul and backbone broadband infrastructure within the next years. Second, there is a need to develop public policies in health, education, security, banking and government that favor, through broadband democratic and affordable usage, an improvement of living standards of LAC region citizens.

5. Agree to continue to pursue social inclusion in national and regional integration projects while continuing to support the ongoing efforts of IDB and the institutions of the Republic of Korea in bridging the social and digital gaps in the LAC region.

6. Acknowledge the need for coordinating regional actions through public policy dialogues that allow sharing lessons learnt and best practices.

7. In light of the previous points declared, agree that there is a need to have regional summits such as the one that is occurring within the framework of the 1st Ministerial Forum for Broadband Development in Latin America and the Caribbean periodically, once every two years. Those summits need to provide an environment where participants can discuss openly and informally key aspects that allow advancement toward broadband universality and affordability.

Belize, Costa Rica, Dominican Republic, El Salvador, Haiti, Jamaica, Mexico, Nicaragua, Paraguay, Suriname and The Republic of Korea


By Lee Seung-ah
Korea.net Staff Writer
slee27@korea.kr
Department Global Communication and Contents Division, Contact Us