Korea goes multicultural
May 08, 2012
Overcoming differences through cultural activities
More than 45 million people left and entered South Korea in 2011 alone, and the number of foreigners staying in Korea topped 1.4 million. Yes, Korean society is rapidly going multicultural. Of these 1.4 million, 1.1 million are long-term immigrants, representing 2.2 percent of the Korean population. Nearly 49 percent of them are Korean Chinese who moved back to their ancestral fatherland, followed by Americans at 9.5 percent, Vietnamese at 8.3 percent, and Japanese at 4.2 percent. This surge in foreign settlers in Korea can be attributed to increases in the numbers of migrant workers, marriage immigrants, children born to multicultural families, Korean nationals returning from abroad, and North Korean defectors to South Korea. As South Korea becomes racially and culturally more diverse, the national, local, and municipal governments have been devising new policies to embrace them as members of Korean society.
Cultural activities to form shared understanding

The public and private sectors alike are keen to support activities and events that bridge cultural differences between Koreans and foreigners living in South Korea. Singing groups, festivals, and sporting events represent the most common means of bringing culturally distinct groups closer together. The Rainbow Chorus of the Center for Multicultural Korea (CMCK) stands out among them.
The Rainbow Chorus is the first-ever multicultural children's chorus in South Korea and comprises children from families with ten different nationalities including Japanese, Filipino, Russian, Iraqi, and Thai. Professional musicians teach the chorus members free of charge, and they are invited to special events. They even sang before the top leaders gathered for the G-20 Seoul Summit, and serve as PR ambassadors for multiculturalism. The chorus is vitally important to its members—such innocent children who freely mix with one another regardless of nationality and physical features—and provides valuable opportunities for its audiences to better understand what a multicultural society is like.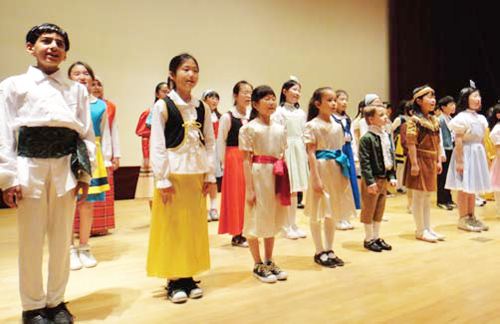 These special activities and events help people understand the value of living together in diversity. The annual Global Village Festival, a program of the Hi Seoul Festival in downtown Seoul, brings together foreigners from across the globe now living in Seoul. The annual Global Village Festival is the largest urban multicultural festival in South Korea and features performances by artists from foreign cities in sister relationships with Seoul. Foods, crafts, and costumes from around the world are all featured at this event. It is a joyful time for people with open hearts to have fun and experience different cultures.
Opportunities to make dreams come true

Foreigners living in Korea who hold degrees from prestigious universities or with exceptional talents often give up their careers as professionals: they are simply too busy earning a living. Financial security is essential for people to develop their talents and invest in their long-term careers. The intercultural, transnational chorus Montant is notable in this regard. Its full-time members are covered by the four major social insurances (employment insurance, industrial accident compensation insurance, national pension, and national health insurance) and come to work just like other salaried men and women in South Korea.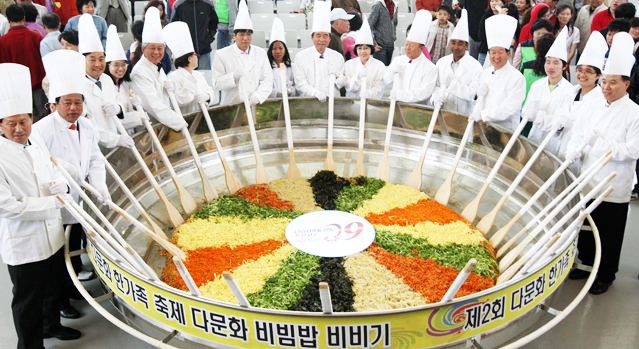 Singer Insooni grew up as a mixed race child in South Korea and is now an acclaimed R&B diva and Montant's art director. Montant's members are immigrants from nine countries including Monaco, Tibet, and Indonesia. The name, Montant, sounds similar to the Korean word monttang, which means "all and every." The name signifies that the members can sing all songs in the world. The founders of the chorus hope that it will grow as a socially responsible business and are devoted to the cause of providing full-time jobs for its members.
Few young people in South Korea choose to live in rural areas. This is especially true of young women. As a group, they are averse to living as farmers' wives. As a result, the average age of the people living in the countryside has increased, but the trend is beginning to reverse thanks to an influx of foreign women marring Korean men. Some of them become heads of women's societies in their local communities and even heads of the villages they live in.
They acquire knowhow about living in South Korea and accumulate experience as foreign brides, mothers, daughters-in-law, and neighbors. At first, they start their new lives as recipients of assistance, but later they become donors and assistants. In particular, they assist other foreign women who come to Korea to marry and their children. Rather than hiding in their homes as migrants, they go out and function as full members of their local communities, gradually bringing their Korean Dream to fruition.
Forward-looking Policy

The increasing diversity of South Korean society was even evidenced in the recent general elections. Lee Jasmine, a naturalized Korean citizen, was elected to the National Assembly of the Republic of Korea by proportional representation, which indicates that South Korea is indeed embracing foreigners as members of society.

As more and more foreigners firmly settle down in Korea, the central and local governments formulate new policies to support their children. Children from multicultural families naturally tend to melt into Korean society in a seamless way. Their parents hope they will not lose their own national identities, and this concern is addressed in government policy.
One example is the multicultural school run by the Seoul Metropolitan Government where bilingual education, education in special talents, and education for parents are provided. Children can learn their parents' mother tongues including Chinese and Mongolian and receive lessons in arts and physical education. Parents can learn how to educate their children at home and how to raise their children bilingually. They can also learn Korean by singing and experiencing Korean culture.
The South Korean government announced a 2012 action plan for policy to help foreigners on January 27 of this year.
The plan shows that the government is keen on bringing in foreign workers to meet the needs of business, run multicultural classes to effectively help foreigners settle in Korea, and have more schools provide courses on multiculturalism.
*Article from Korea Magazine (May 2012)
Department Global Communication and Contents Division, Contact Us