Korea goes multicultural [2]
May 10, 2012
Multicultural streets with respect for differences

The South Korean government's policy on multicultural issues is basically designed for homogenization of society, but it also respects the identities and diversity that foreign people bring when they become members of Korean society. They naturally form their ethnic enclaves where their unique cultures thrive. Among these are Yangkkochi Street (Street of Mutton Skewers) in Gwangjin district, Seoul; Damunhwa Street (Multicultural Street) in Ansan in the province of Gyeonggi; Muslim Town in Itaewon, Seoul; and Mongol Street in Gwanghui-dong in the Dongdaemun district, Seoul. These streets and towns are not only frequented by foreigners but also Koreans and serve as venues for multicultural experience and communication.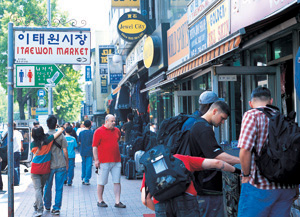 Seoul is a microcosm of the global Republic of Korea. In all four cardinal directions are multicultural towns. Among them, Itaewon in Yongsan district is now called the First Avenue of Multiculturalism. English-speaking people long occupied Itaewon and are being rapidly replaced by people from the Middle East and Africa, who have been forming Muslim Town and Africa Town. Roughly 500 Muslims live near Korea's largest mosque in Itaewon.
"I live in Seongnam, but come to Itaewon because the mosque is here," says Farhad Hussein from Pakistan. "Many of my Muslim friends live in Itaewon, and I feel at home here because I can eat halal foods, which are prepared as required by the Koran."
Most of the denizens of Africa Town are Nigerian. About a half of them are Muslim, and for this reason, Muslim Town and Africa Town intermingle to a great degree.
In Dongbuichon-dong, a neighborhood in Yongsan District, is a village called Little Tokyo. Plain and peaceful, the apartment forest is home to over 12,000 Japanese. They get together once a year when the Seoul Japan Club, an association of Japanese who live in Korea, holds a Christmas charity concert where Japanese choruses and students from Japanese schools in Korea sing songs. The concert also features dancers and other artists from Japan to give a glimpse into traditional Japanese culture.
Koreans are part of them
Seorae Maeul, a village in Banpo, Seoul, is called a small France in Korea. Some 70 percent of the residents are French. The Seorae Global Village Center in Seorae Maeul offers a unique cross-cultural experience in addition to lectures in Korean and French. Director Marie- Pierre Allirol of the center says, "During the French school semester, there are more French people, so we arrange more programs for that period." Koreans also participate in the activities of the center. In fact, more than 400 Koreans are registered with the center, nearly double the number of French. There is also a German community in Seoul that is located near the German school in Hannam-dong, a neighborhood in Yongsan District.
A Central Asian community is in an area of downtown Seoul with alleys named Mongol Street, Uzbekistani Street, and Russian Street. In Garibong-dong in Guro District and Daerimdong in Yeongdeungpo District are Korean Chinese towns. About 470,000 Korean Chinese live in South Korea, and they account for almost one percent of the entire population of the country. In other words, one out of 100 people in South Korea is Korean Chinese.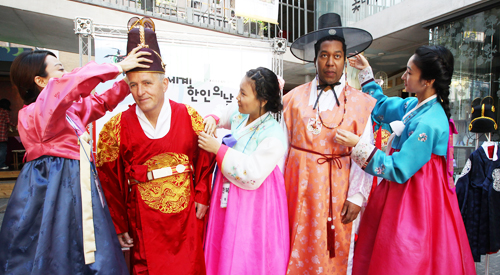 They used to live together in Yeongdeungpo and Guro, which are crowded with factories and plants, but as the number of Korean Chinese people has risen over the past few years, many have relocated to other parts of Seoul including Bongcheon-dong, Seongsu-dong, Sinseol-dong, and Jayang-dong. And Jayang-dong in Gwangjin District is especially notable because of the socalled Yangkkochi Street (Street of Mutton Skewers). A line of more than 100 restaurants serving Chinese mutton skewers, or Chinese shish kebab, stretches about one kilometer along the street originally called Dongil-ro Gil 18. Word-of-mouth about the unique mutton skewers has spread, and half of the customers are now Korean. The district of Gwangjin District is seeking a way to take advantage of the situation to boost the local economy.
If you would like to experience Filipino culture, go to the Philippines town located in Hyehwa-dong. Every Sunday, there is a long Filipino market in front of the cathedral where a wide selection of Filipino foods and everyday goods are bought and sold. The weekly street market is especially popular among women who came to Korea for marriage. They not only buy things but share news from their hometowns and nostalgic stories of their own.
Multiculturalism leads to new tourism offerings
Multicultural towns are not unique to Seoul. They are increasingly becoming a nationwide phenomenon. Multiple foreign cultures comingle in Wongok-dong, Ansan City, Gyeonggi Province. There, you may feel as if you are walking down a street in Thailand, the Philippines, or China. It was designated as a multicultural special district in 2009 and has since become an important tourist attraction. The very moment you step into the Wongok neighborhood, your sense of smell is stimulated by exotic scents. Stores are full of tropical fruits such as mangosteen, durian, and pitaya; streets are lined with stalls that sell foreign street foods that compare to Korea's tteokbokki, gimbap, and sundae (not the ice cream dessert as many westerners would think).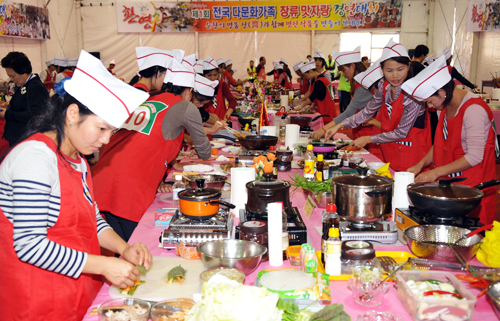 Along the Wongok multicultural street are some 150 restaurants where foreigners cook and sell their traditional foods. Untamed to the Korean palate, the foods attract more attention from Koreans, especially those who have gone on extended backpacking trips to other Asian countries including India.
Down south on the Korean peninsula there is a village called the "Itaewon of Gimhae," in Seosang-dong, Gimhae city, south Gyeongsangnam province. The city designated Seosang-dong as a foreigners' street to develop it as a tourist destination.
Further southward is Korea's second biggest island, Geoje. The island is the center of South Korea's shipbuilding industry. It is home to Daewoo Shipbuilding & Marine Engineering (DSME) and Samsung Heavy Industries (SHI). These behemoths hire numerous foreigners, and foreign ship owners and ship class agencies dispatch many expats to this area. Many of them are from Norway, a global leader in shipbuilding, and the island now has a Northern European town.
More and more local and municipal governments are exploring ways to tap foreigners' towns to bolster their local economies. Their efforts generally involve holding multicultural festivals.
*Article from Korea Magazine (May 2012)
Department Global Communication and Contents Division, Contact Us