From Prague, a look at Korea's changing image
May 11, 2012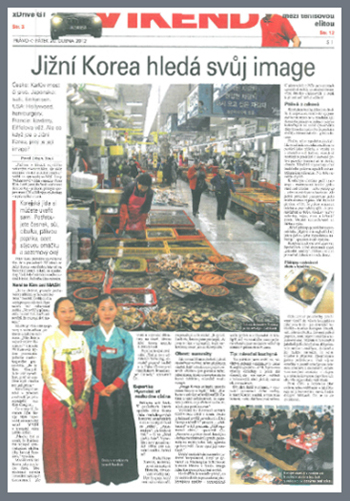 The April 20 edition of the Czech national daily
Pravo
featured an article on the elements that define Korea today. Entitled "South Korea is Seeking its own Image," the piece written by reporter Pavel Urban examined the unique challenges that face Korea as it turns its attention from nation-building to marketing.
"There's been a major image shift," said Cho Hyun-jin of President Lee Myung-bak's foreign media team, looking back to the portrayal of Korea as a war-torn country in the '70s television series MASH. "Now it's Samsung products, Korean pop bands, and the Manchester United midfielder Park Ji-sung."
The article identified the 2010 G20 Summit as a key turning point in Korea's transition from a follower to a leader in the international arena, citing the 17% increase of worldwide awareness of Korea following the event as well as the subsequent show of increased influence as host of the 2012 Nuclear Security Summit.
"Korea's image is improving, because Korea is improving," said Simon Anholt, publisher of the global annual research report Anholt-GfK Roper Nation Brands Index. "Not only is Korea getting richer and more self-confident, it is also starting to understand that reputation is something earned and not only proclaimed."
Urban offered his own ideas of what would best represent the national brand, recounting how he visited a nuclear plant on the eastern coast of the peninsula and became enchanted by the local markets and restaurants.
"There were tubs of fish in the street, and restaurants with low tables around which customers sat cross-legged without their shoes, feasting around the gas cookers in the center of their tables," recalled Urban, who was invited to eat with a group at a nearby table in what he called "a great experience."
Identifying Korean cuisine as a unique element of the national brand, Urban described in great detail the spices and ingredients that create distinct Korean flavors. Explaining the appeal of kimchi, bulgogi, and bibimbap, as well as the abundance of healthy vegetables in Korean dishes, Urban included tips on how to prepare Korean seasonings with commonly found ingredients.
"The adoption of a national brand works best when consumers themselves decide what they consider iconic," wrote Urban, quoting the advice of Fiona Bae, a marketing manager at Hyundai. "The key to branding Korea is to let people outside Korea decide for themselves what they like."
By Kwon Jungyun
Korea.net Staff Writer
Department Global Communication and Contents Division, Contact Us