Behind Korea's economic success story
Jun 22, 2012
Recent reports by major international news and media outlets have focused new attention on the factors behind Korea's impressive economic growth over the last two decades.
"The approach taken by Korea to the 1997 Asian financial crisis effectively transformed a serious crisis into a tremendous opportunity," wrote reporter Zhang Qianye in the June 17 edition of the Hong Kong-based international affairs newsweekly
Yazhou Zhoukan
.

"From smartphones and shipbuilding to chemical engineering, Korean industries now rival those of Japan, the United States, and European countries," continued Zhang, who reported that Korea is expected to become the seventh country in the world to join the "20-50 Club," with a per capita income exceeding $US 20,000 for a population of over 50 million people.
Expertise and strategy key strengths
The article spotlighted the success of Samsung and LG, in particular, as prominent examples of the technology-driven growth that has fueled Korea's transformation.
"The technological expertise that has steadily accumulated at Samsung since it began manufacturing semiconductors in the 1980s is the company's key asset and a significant barrier to would-be competitors," explained Zhang. Citing LG's success in China, Zhang attributed the strength of Korea's R&D sector to the funding and policies that encourage continuous innovation.
The June 8 edition of Hong Kong's
Oriental Daily News
also published an article examining Korea's tremendous pace of growth and recovery after the blow of the 1997 crisis, referring to the IMF's recent prediction that Korea's per capita GDP will exceed $30,000 by 2016.
"A key factor in Korea's post-crisis success was the willingness to take the risk of forging a new path and developing new brands in order to increase national competitiveness," wrote the article, which asserted that Korea's brands rank today with those of the United States, Japan, and Europe, and are loved and sought out by consumers worldwide."
"In a sense, the 1997 crisis and Korea's response to it was the moment of opportunity that has brought the country to its place today as one of Asia's four major economic powers," stated a May 24 editorial in French daily
Le Figaro
.
A legacy of sustained achievement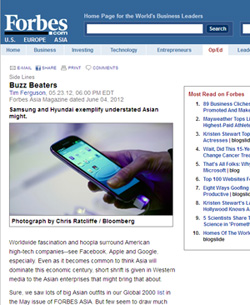 "By 1999, there were clear signs of recovery, with continuing exports to Europe and the United States," continued writer Sébastien Falletti. "The IMF cites Korea as an exemplary model of financial stability following the 2008 crisis. Today, as national debt among countries in the EU reaches levels as high as 80% of the GDP, the level in Korea amounts to only 33.3% of the GDP."
Tim Ferguson of
Forbes Asia Magazine
also named Samsung Electronics and Hyundai Motor Company as examples of Asian enterprises that "may not meet our criteria for sales and profit growth -- in part because they are so big already or are spending so much on innovation -- but are world-beaters nonetheless" in a June 4 article entitled "Buzz Beaters."
Describing the success of both companies in their respective industries, Ferguson described Samsung as likely to gain "category leadership" with sales of smartphones, and Hyundai as "the most stellar in the mainstream market." He identified several factors behind "such sustained Korean achievement," including "a hardworking culture, engineering prowess, [and] customer focus," all of which have made the enterprises worthy competitors for more talked-about companies such as Google, Apple, and Facebook.
By Kwon Jungyun
Korea.net Staff Writer
Featured Topics
http://www.korea.net/NewsFocus/Society/view?articleId=100892
URL Copy
Department Global Communication and Contents Division, Contact Us