[Interview] Chinese bloggers explore Korea
Jun 29, 2012
On June 25, Korea welcomed a unique team of 15 Chinese professional and amateur writers, journalists, and bloggers to take part in a six-day tour of the country.
In addition to journalists from prominent media outlets such as CCTV, Xinhua News Agency, and Global Times, the group also included several "power bloggers," each of whom boast over 800,000 regular readers. Six of the visiting team were students and professionals from other industries, selected as finalists in an online writing contest organized by Global Times and the Embassy of the Republic of Korea in China.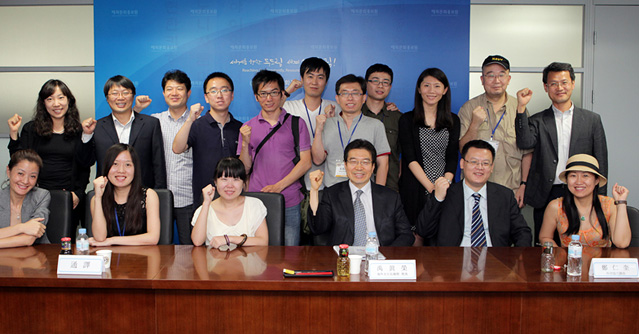 On June 26, three members of the visiting group – popular travel writer and photographer Chen Ting, Xinhua journalist and power blogger
Tang Shizeng
, and feminist writer Chu Zihan -- sat down together for an interview with Korea.net at a popular pork cutlet restaurant at the bottom of Namsan.
Getting to know Korea, the Korean way

As the writers wait for their orders to come out, they pour each other glasses of Korean beer. Their interpreter explains that the group tried Korean beer for the first time the day before, and enjoyed the taste. Having been taught the Korean tradition, they receive their full glasses with two hands, reminding each other that "you don't pour your own beer in Korea!"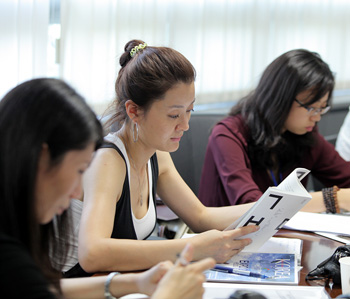 Chinese bloggers and journalists read about Korea during a visit to the Korean Culture and Information Service.
When asked if this is their first trip to Korea, Chen speaks up first, saying, "This is my sixth time." Chen, who once worked for a Korean company in China, intersperses clearly-pronounced Korean phrases with her answers.
"It's my third time," says Tang. "I've seen a lot of the well-known sights on my previous trips, I've been to N Tower [on Namsan] and learned how to make Korean food, like Kimchi. But one place I haven't been to, that I hope to see one day, is
Panmunjeom
." Tang, who majored in international relations at Peking University, explains that his primary interest when it comes to Korea is the Korean war.
"A lot of Chinese tourists who come to Korea are interested in shopping, or they come because they like the dramas and television," continues Tang. "Me? I want to understand what life is like for the Korean people, beyond the surface image that you see from the outside. This includes understanding better how the war has shaped this country, and what kind of impact it continues to have."
Chen also expresses interest in touring inter-Korean border sites, mentioning Dorasan Station, the northernmost station on the Gyeongui Railroad Line that once connected North and South Korea.
"I want to experience firsthand what Korea is really like," remarks Tang, with Chen and Chu nodding in assent. As Tang begins talking about the importance of writing that is based on direct interaction with people, the conversation turns to the topic of culture – its definition, its value, and the resulting implications for the future of Korea-China relations.
True cultural exchange: valuing authenticity, appreciating differences

"Culture is custom and tradition," asserts Chu, whose book on gender relations and women's issues has been translated into Korean and featured in several local newspapers. "The concept of culture encompasses a way of thinking and a way of life. I am very interested in seeing
Hanok
and visiting the traditional folk villages in Korea. I want the stories that I write and share with others [about Korea] to be based on a foundation of my own personal experience with the culture."
"Authenticity is very important," adds Chen. "What interests me, what I want to see, is how Korean people live, what they spend each day thinking about, what they eat on a regular basis, what they look like when they're just resting at home. I want to learn about how they carry on with their normal lifestyles in their normal environments."
"We went to the
Trilateral Cooperation Secretariat
yesterday," says Tang, in reference to the international organization established in Seoul in 2011 and operated with equal involvement and support from the governments of the Republic of Korea, the People's Republic of China, and Japan. "It was a very interesting experience. It became clear right away that the groups that make up the organization are very different, inasmuch as they represent three different countries."
"The speakers [for the day's meeting] often used the same words, to talk about a similar theme," he continues. "But in different languages, especially in Chinese, Japanese, and Korean, the same word can contain very different meanings and connotations. This is the reality of cultural differences and varying cultural backgrounds, the fact that the same words can be interpreted in different ways."
The changing role of the Internet and social media

When asked about the growing popularity of blogging in both Korea and China, the writers agree that online platforms such as Twitter, or the popular Chinese Weibo platforms, may sometimes reflect popular opinion or major trends, but not always.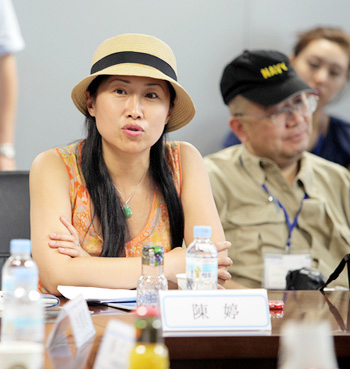 Popular travel writer and blogger Chen Ting expresses her interest in Korean culture during a visit to the Korean Culture and Information Service.
"The issues that are talked about in great detail on blogs are not always what matters most to the public," explains Chen. "For example, if a blog talks about some issue in Korea or in the Korea-China relationship, it is not necessarily the authority for how the rest of the population feels about the issue. Issues are discussed on platforms because there aren't really other spaces where this kind of conversation can take place."
"This is why it's become more and more important to have firsthand experience," comments Tang. "Because there is so much information out there, and so many views, people will not believe sources that they don't deem reliable. And firsthand experience, which can be proved by photos and such, is an important part of what makes sources reliable."
Shared issues: widespread social change

When asked about what Korea and China have in common, the writers identified rapid and widespread social change as a key issue.
"Korea and China both have strong family values," remarks Chu. "But the social norms are changing, and divorce is much more common nowadays. Another similarity is the situation that women face in Korean and Chinese society, the expectations regarding marriage and suitability for marriage."
"Social change has come extremely quickly in both countries," says Tang. "If there is a kind of natural pace or sequence of events that unfolded in other places in the world, our countries didn't really follow that. Change has come much quicker and following a different kind of order." He went on to mention climate change as an example of a pressing issue that will have to be tackled by both countries, and likely together, in the years ahead.
"There are big things, but there are little things too that we share," continues Tang, looking thoughtfully at the two women sitting across from him. "The key to identifying these common threads is learning how to convey effectively and truthfully what is already there."
By the time they return to China, the visiting group will have traveled together to key sites in Seoul, including the Trilateral Cooperation Secretariat, Changdeokgung, Arirang TV, and Samsung Delight, as well as Expo 2012 Yeosu Korea and Incheon's vibrant Chinatown.
The month-long contest that selected the six finalists to participate in this week's trip was held in commemoration of the 20th anniversary of diplomatic relations between Korea and China. Internet users on ten of China's major online portals were invited to submit contribution pieces on the topic of "Promoting Korea-China Relations," and finalists were chosen in June on the basis of content, style, view count, and number of comments. Articles written by the team about their trip to Korea will be published on the
Global Times website
within the next week.
By Kwon Jungyun
Korea.net Staff Writer
Featured Topics
http://www.korea.net/NewsFocus/Society/view?articleId=101011
URL Copy
Department Global Communication and Contents Division, Contact Us