Now playing, films on multiculturalism
Jul 10, 2012
As of 2011, over 1.4 million non-Koreans have come to call Korea their home. On June 27, the fourth annual Multicultural Film Festival, organized since 2009 to spotlight the themes of
multiculturalism
and diversity that have emerged in Korean society in recent years, kicked off at CGV Daehangro.
Sponsored by CJ CGV and Movie Collage, the first theater dedicated to indie films in Korea, the 15-day festival will screen 15 movies at CGV Guro and Incheon in addition to the Daehangro branch.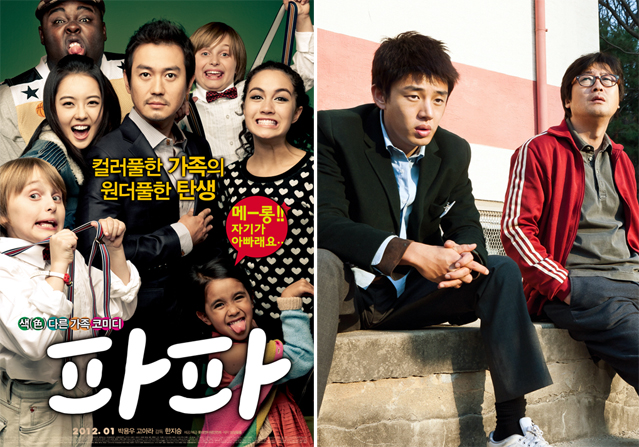 The event has been divided into three sections, with the first several days featuring Korean films such as
Punch
(2011),
Leafie, A Hen into the Wild
(2011), and
Papa
(2012), whose main actor Park Yong-woo was named the honorary ambassador for this year's festival. Other films include The Visitor, Lost in Beijing, and other not-yet premiered films that feature multiculturalism among their main themes.
"Multicultural society in Korea is no longer a future choice but rather a present reality," said actress and congresswoman Jasmine Lee at the festival's opening ceremony. Lee, who also starred in last year's
Punch
, expressed her hopes that this year's festival will encourage dialogue and exchange among viewers so that more and more people will embrace the value of diversity.
The second part of the event will feature a special collection of films from Vietnam, and the third part will move the screenings to Hongcheon County, Gangwon-do (Gangwon Province) for a free "traveling cinema" event for residents of outlying areas with little access to movie theaters.
"In the years since we started the festival, we have been able to see how multiculturalism is becoming an integral part of our daily lives," said Kang Ki-myeong, director of CJ CGV's film diversity team. "This year's lineup is notable in that it includes, for the first time, mainstream Korean movies that depict multiculturalism in our society. We hope that the festival will help to expand interest in these issues and encourage greater communication among audiences."
More information on the festival and screening times can be found on the
CGV homepage
.
By Kwon Jungyun
Korea.net Staff Writer
Related Contents
News Focus
News Focus
News Focus
Department Global Communication and Contents Division, Contact Us