1950-1970: Korean summers remembered
Aug 01, 2012
For this next month, the
online portal
for the National Archives of Korea, which is operated by the
Ministry of Public Administration and Security
, will be featuring a collection of photos and videos that give a glimpse into summertime in Korea during the 1950s to 1970s.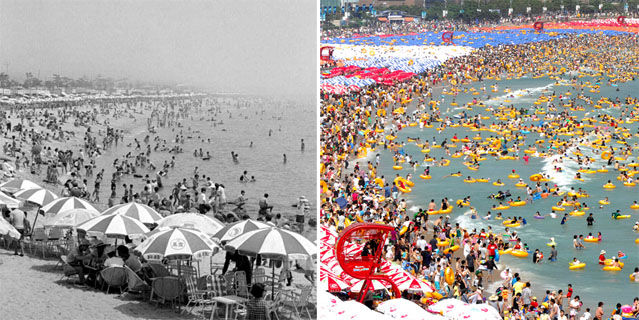 The 30 pieces in the media collection depict typical summer scenes in Korea's recent history. Captured on film are vacationing families flocking to nearby mountains, rivers, creeks, and beaches in search of respite from the sweltering heat of
Sambok
, or the three hottest days in Korea according to the lunar calendar. Despite the difficult lifestyles of most Koreans in
the decades following the war
, the images of families enjoying summer leisure and taking breaks together from their work are not too different from the kind of enjoyment that is seen in the present day.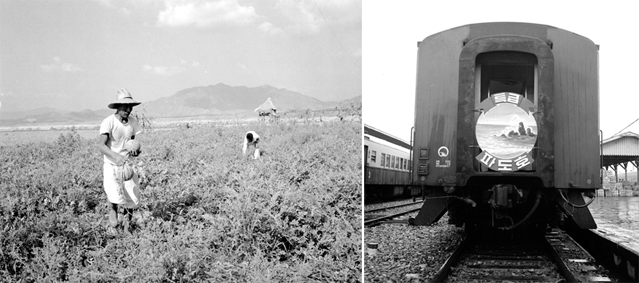 The collection shows footage from the late 1950s of junior high to college-aged student volunteers heading to the countryside to help rural families with their farming, provide free medical services, and teach local children. One scene from this time shows people crowded by the
Han River
for a community event of the kind that was held to offer consolation in the form of entertainment and performances to the citizens of the still-recovering country.

Scenes from the 1960s show families gathered for the opening of a children's pool in Seoul, the trains that whisked people off to their vacation destinations, zoo animals lounging through record temperatures, and a group of policemen outfitted in summer uniforms to perform patrols of
Ttukseom
along the Han River. Scenes from the 1970s show a group of female college students volunteering in the fields and another performing Jeonseon
Arirang
for locals in a country village as part of a cultural education program.

Also included in the collection are videos and images of efforts to address the flooding from heavy summer rains, include the opening of a temporary shelter and delivery of supplies for displaced families in areas affected by Typhoon Sarah in 1959.
"We hope that the archives will provide an informative look into our past and a fun distraction from the summer heat," said Song Gwi-gun, president of the National Archives of Korea.
Adapted from Gonggam Korea
By Kwon Jungyun
Korea.net Staff Writer
Department Global Communication and Contents Division, Contact Us