11 honorary citizens of Seoul recognized
Nov 07, 2012
Eleven outstanding foreign residents have been granted honorary citizenship of Seoul, in recognition for their accomplishments. Selected among the recipients were diplomats, clergy, entrepreneurs, and culture leaders who serve as role models to Seoul citizens and foreign residents through their outstanding contributions to the community.
A ceremony was held on Monday, October 29 at Sejong Hall in the Sejong Center for the Performing Arts, where the honorary citizens were each greeted by Seoul Mayor Park Won-soon who presented them with a medal, certificate, and citizenship card.
Steven B McKinney, head of the Seoul Global Center, gave a congratulatory speech to the new recipients, recalling when he received honorary citizenship in 2007, which he referred to as "one of the greatest days of my life." He retold with fondness how he broke the news to his dad back home. "Guess what, Dad, James Bond and I now carry the same card."
Since the program's start in 1958, approximately ten foreign residents, foreign dignitaries, or famous personalities have been named honorary citizens each year. Currently there are 677 honorary Seoul citizens, including Sir Roger Moore, the actor best known for playing the role of James Bond in seven films. Other honorary citizens include actor Jackie Chan, half-Korean NFL quarterback Hines Ward, Dutch football coach Guus Hiddink, and U.S. Ambassador to Iraq Christopher Hill.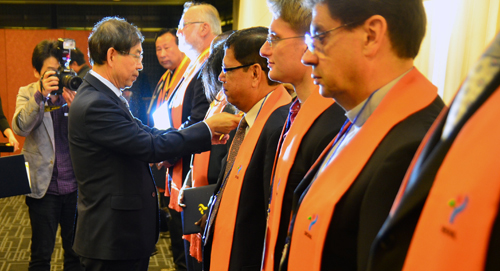 Honorary citizens receive exemption from paying admission fees to Seoul Museum of Art, Seoul Museum of History, Seoul Grand Park, and Children's Park, and are appointed to various municipal committees, but the greatest reward is in the official recognition for a job well done, and an invitation to keep at it.
"I believe receiving honorary citizenship is a message from Seoul City that I should continue my efforts," says honorary citizen Michael Aronson, a 29-year-old American who has spent six years of his life living in Seoul. Aronson, who currently works as a researcher at a publishing company, has been active in his free time in promoting and celebrating various aspects of Korea through online media and event-planning.
He has especially earned attention for his music videos, with his
"Seoul Subway Song"
receiving over 660,000 views on YouTube. "I try to celebrate things that people in Korea may overlook in their daily lives, like the subway system or Hanboks," he says.
"My stuff seems to stand out for a number of reasons," he explains. "First, I do everything -- song composition, vocals, mixing, filming, and editing -- by myself, so it's entirely my vision. Second, music in Korea is rarely explicitly about Korea or Korean topics. And third, I present a unique perspective, not only as a foreigner but as someone with a very individualized look at Korea."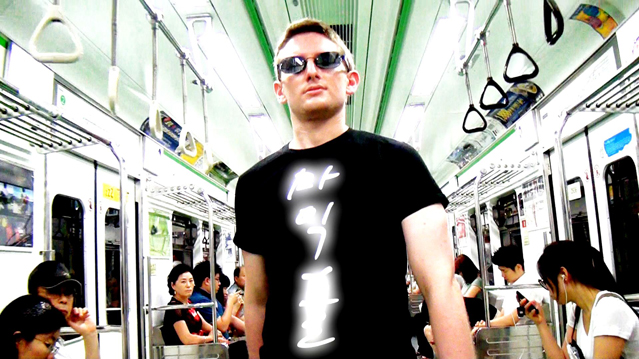 Charles Montgomery, a lecturer at Dongguk University, was nominated for his impassioned blog,
Korean Modern Literature in Translation
, promoting the internationalization of Korean literature. "I think it is partly because I'm doing something few others are doing," he said when asked why he thinks he received the distinction. "There are a lot of non-Koreans hard at work on the internationalization of Korean food, Korean music, Korean movies, TV shows, etc. But very few people are working on issues having to do with translation of Korean literature and then the marketing of the translations. And I've been at it a while and have just this year been able to begin to break into the Korean side."
Montgomery, who has a background in marketing, has done quite a lot of research, monitoring statistics from Amazon and book publishers to gauge the success of publications and identify trends that may help promote future publications. He has been active in uploading reviews and biographical information related to Korean literature to English websites, in particular Wikipedia and Amazon where he found a severe lack of information on Korean literature.
"I have projects like the Wikipedia Project -- this project puts pages about Korean authors up on Wikipedia so that when a book comes out, that author is represented," he explains. "My newest project is the Amazon Project, which is to support the Amazon pages of Korean authors. Currently their pages are bare and few have reviews or recommendations. You land on such a page and it looks like the book is unloved, and there is nothing to keep you on the page (the first step of making an online sale)."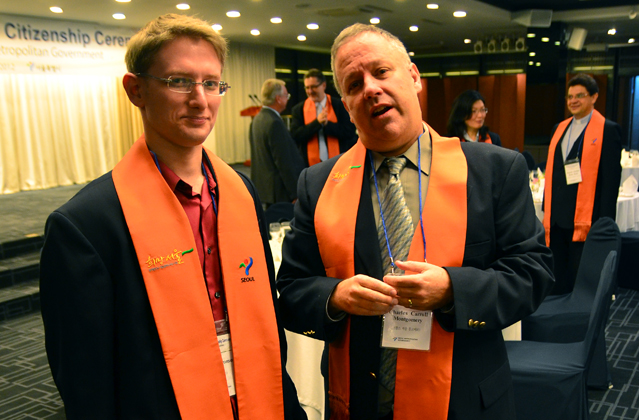 Also granted honorary citizenship was Catholic priest Robert John Brennan, a Columban priest who came to Korea from New Zealand in 1966 and lived here ever since, adopting the Korean name Ahn Gwang-hoon. Father Brennan has been well-known for his community services, offering financial services, job counseling, and even housing for the homeless and evictees. "I, myself, have been evicted from my house three times," he was quoted on the website of the Missionary Society of St. Columban. "And I will go anywhere if someone without a home needs my help."
Mexican missionary Eugenio Zacarias Romo Romo also received honorary citizenship. For the past ten years he's spearheaded volunteer efforts for poverty relief and established scholarships for disadvantaged youths.
The only woman receiving honorary citizenship this year, Baisalova Anara is a samul nori musician from Kyrgyzstan who has offered her services as a translator for a program bringing children from Kyrgyzstan to Korea for heart surgery.
Austrian engineer Reinhard Boehm was also selected for honorary citizenship. Following the 1994 collapse of Seongsu Bridge, he was a safety consultant for the Dongjak, Dongho, and Hangang bridges, and has since gone on to Africa and the Middle East to spread Korea's tunnel-building technology knowhow.
From Taiwan, Seong Ik-chang received honorary citizenship. He is an advocate for the rights of disabled foreign residents and serves as the head of the Yeongdeungpo Overseas Chinese Association.
Several diplomats received honorary citizenship, including Czech Ambassador Jaroslav Olša, Jr., Malaysian Ambassador Dato' Ramlan Bin Ibrahim, Azerbaijan Ambassador Rovshan Jamshidov, and Sudan Embassy administrator Anwar Mohammed Alnour Adam.

The reception, which brought out numerous honorary citizens from previous years, was followed by a tour of Bukchon Hanok Village and a visit to the new City Hall building, as well as the old one which serves as the new Seoul Metropolitan Library. They were also encouraged by Mayor Park and SGC head McKinney to continue in their endeavors to expand the basis for international exchange and develop Seoul as a leading global city.
Montgomery hopes that this distinction will lead to more organized support or official sponsorship for his activities. "I hope the honorary citizenship brings more interest from the Korean side of things," he says.
"Now that more people are taking me seriously as a creator, I want to take myself more seriously," says Aronson, who hopes his projects will be "more polished and worthy of professional regard," perhaps leading to a full career one day.
By Jon Dunbar
Korea.net Editor
Featured Topics
http://www.korea.net/NewsFocus/Society/view?articleId=103555
URL Copy
Department Global Communication and Contents Division, Contact Us