World Institute of Kimchi: finding the essence of kimchi
Apr 05, 2010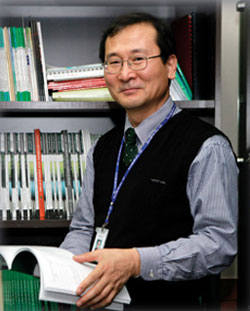 The World Institute of Kimchi opened its office last month on Mar. 10, signaling the birth of the first research center to focus solely on just one single dish: kimchi. It's never a good idea to underestimate this food because it comes in so many colors and shapes, so the institute will have its hands full just studying every type of kimchi according to different seasons and regions.

Kimchi, most often made of Chinese cabbage mixed with salted seafood and other seasonings and then put through a fermentation process, is rich in minerals and a great source of vitamins. In July 2001 the international Codex Alimentarius Commission (established by the FAO and WHO) officially recognized the method of making kimchi.

The idea of establishing an institute dedicated to kimchi started in April 2008, when President Lee Myung-bak during a cabinet meeting asked ministers to consider setting up a research center for fermented food.

The World Institute of Kimchi (WIK), which is currently based in Gyeonggi Province, is an organization under the Korea Food Research Institute. The WIK will move its office to Gwangju Metropolitan City (in South Jeolla Province) by the latter half of this year.
In Gwangju, a plan is also underway to build a kimchi exhibition and experience center, close to the WIK's new site. Gwangju is a city that has been holding a Kimchi Culture Festival since 1994. The city is further pursuing ways to establish a Kimchi Complex in line with the establishment of the World Kimchi Institute and intends to transform itself into capital of kimchi.

"The institute's goal is to develop the domestic kimchi-making industry into the country's strategic export market," said Park Wan-soo, 54, the newly installed director. The most important thing in studying kimchi is its fermentation method, which is a form of microbiology, underlined Park. "We must come close as possible to the real essence of its taste in order to commercialize it properly. That's because kimchi, being a fermented dish, has a taste and quality greatly determined by bacteria."

The type and number of bacteria living in kimchi vary according to the variety of kimchi and the surrounding climates and regions. Researchers have so far discovered over one hundred species of bacteria necessary for making kimchi, while more are yet to come. Park explained that once one fully grasps the secret of symbiotic relations between such micro-organisms one can also gain the key to control the taste of kimchi.


Additional study must be made of come up with manufacturing facilities customized for producing the best kimchi, along with analysis of the distribution system, before making a proud display of kimchi on the international market. The factory production of kimchi that includes washing, salting and the addition of seasonings are all different from the processing of western food. A new food processing system must be devised to match the need.

This is why Park plans to work on, first and foremost, research into kimchi bacteria. During the fermentation process, the researchers will experiment by adding bacteria to regulate the basic flavor. This method is already being used in big corporations. Park expects to see positive results within three years.

Bacteria artificially inserted into kimchi is expected to help the appearance of kimchi and influence its fermentation process to give a better flavor and nutrition, as well as lengthen its preservation period and heighten food hygiene. Artificial control of bacteria, when used effectively, can also control the fermentation process and time, making it possible to create a whole new flavor.

The WIK will classify itself largely into two teams: the first team will focus on the basics of fermentation and microbiology, and the second team on industrialized processing. Nine out of 25 experts will be selected from the Korea Food Research Institute and an additional 16 will be hired from outside.

"If we want to globalize kimchi we must first have a method to determine the taste," said Park, "so that when we export it to the United States we can tone down the spiciness and sourness, and when exporting it to Japan we can heighten the sweetness. This requires an effort to control the minute details."


When the day comes that a non-Korean eats a side of kimchi with a steak, without knowing that it is part of Hansik (Korean cuisine), only then will we know that kimchi has truly become a global food, said Park.

*Adapted by Weekly Gonggam Magazine

By Kim Hee-sung
Korea.net Staff Writer
Featured Topics
http://www.korea.net/NewsFocus/Society/view?articleId=80769
URL Copy
Department Global Communication and Contents Division, Contact Us