Multiplex theater for Korean films to open in L.A.
Jun 08, 2010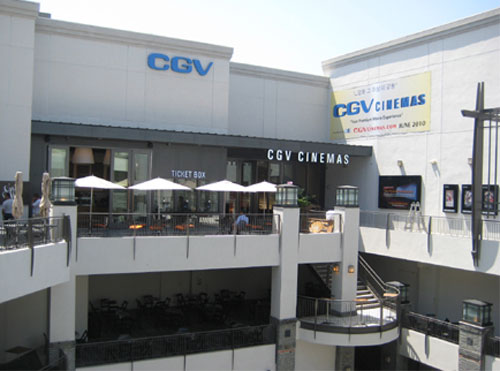 A multiplex film theater that will screen Korean films is soon to open in Los Angeles. CJ CGV, Korea's largest cinema chain, announced Sunday (Jun. 6) that it is due to open its new branch in L.A. this coming Friday (Jun. 11).

The opening of the first Korean movie theater in the United States is expected to help the advance of many Korea-made films into the U.S. market. The release date of new Korean films -- with English subtitles -- in the United States will be almost simultaneous with their opening dates in Korea. The theater also plans to introduce indie-films by young Korean directors during a cultural exhibition and other special functions on Korea.

CGV's newest branch, in the heart of L.A.'s Koreatown, is complete with a 3-D screening system with spacious seats (1.2 meters wide) and premium seats reserved for couples. The boutique style cine-café will offer Korean style treats like mixed grain tea (misutgaru) and red bean ice dessert (patbingsu) among other refreshments.

"Although the place isn't that big – three theaters with 600 seats – we plan to provide a differentiated service and be known as the trendiest kind of cinema in town and raise our brand value," said Kim Joo-Hyung, the CEO of CJ CGV. Some of the ideas include the introduction of reserved-seats and membership marketing. "We plan to take a long–term of everything, to facilitate a way for the Korean film industry and its content to make a space for itself in the United States and the global market, together with our multiplex chain," said Kim.

The opening of the new screens in the United States is also good news to many Korean singers and entertainers, as CGV plans to rent its space out for live concerts and other performances. The cable channel Mnet's "Superstar K," has already arranged to rent space in the L.A. cinema.

For the opening ceremony, CGV has invited distributors and producers of major studios in Hollywood, along with the Hollywood Film School and members of cinema clubs for a special preview of Korean films.

This is CGV's fourth theater to open overseas. The company opened two branches in Shanghai and a third one in Hubei Province.

By Kim Hee-sung
Korea.net Staff Writer
Featured Topics
http://www.korea.net/NewsFocus/Society/view?articleId=81542
URL Copy
Department Global Communication and Contents Division, Contact Us