K-pop going global
Sep 03, 2010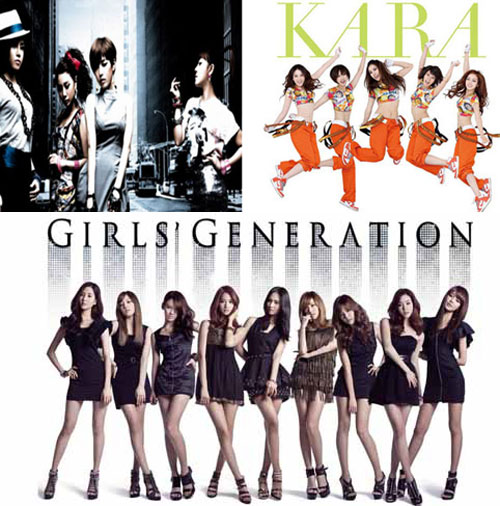 K-pop (Korean pop music) has not only conquered the charts in Korea, but also many of the nations in Asia. Korean girl bands can not only challenge the Japanese groups, but even make their official debuts on Japanese soil. Other groups have signed contracts with major recording companies, like Universal and Sony Music.

The five-member girl group Kara just released their first single "Mister" in Japan. Kara's album was not only one of the most popular downloads on the Japanese iTunes Store in the Pop category, but the single "Mister" immediately took fifth place on the weekly Oricon chart. Over 10,000 fans showed up for their album release, and they had to cancel their surprise concert at Shibuya, Tokyo only three minutes after it began because of safety concerns when over 3,000 fans crowded the place unexpectedly.

Girls' Generation's nine members held their first showcase concert at the Ariake Colosseum in Tokyo in late August. After dazzling some 22,000 fans with their dances and hit songs, they held two more sessions on an even larger scale to meet the overwhelming demand. Their DVD took the fourth place on Oricon DVD chart, and NHK featured their Japanese debut as a lead story on the evening news.

The four-member group Brown Eyed Girls released their first Japanese album "Sound G" through Sony Music Japan Entertainment in late August. Girl group 2NE1 is also getting ready for their official Japanese debut next year, having already made a short appearance at the MTV World Stage Video Music Award Japan (WS VMAJ) as guest singers.

The popularity of Korean girl groups in Japan has already been brought up by local media. Fuji TV had extensive coverage of the difficult training regime most groups go through before their debut. "These young talents practice their dance and other routines 14 hours a day. They also study different languages for their overseas debuts, which are even more distant in future," explained the program, showing their practice sessions. "They're very thorough and passionate in their preparations."

Oricon mentioned the professionalism displayed by the recently-arrived Girls' Generation, praising the addictive qualities of their song and dance routines.

"The Korean girl group members look like models, and have amazing performance skills for the stage," said Tower Records when launching their Korean music campaign. "It differentiates them from Japanese idol groups who rely more on having a cute image."

Fuji TV reported that the enthusiasm for Korean entertainment previously most evident among middle-aged women for Korean soaps is fast shifting to teenage girls. Oricon agreed, saying that it's no longer the women in their 40s and 50s, but ordinary girls who are now showing interest, while they previously followed popular Japanese acts like Arashi and AKB48. The Yomiuri Shimbun said the trend may spread to boys in their teens and early twenties, while weekly paper AERA used the expression "Korean Invasion" to describe the popularity of K-pop acts in Japan.

Time: social media makes way for Korean Wave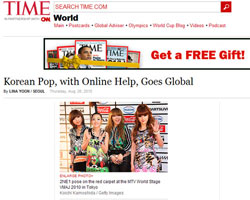 The online Aug. 26 edition of US weekly Time Magazine also reported on the global spread of the Korean Wave and its incursion into "formerly hard-to-access markets like the U.S. and Europe."

According to Time, Big Bang's online release of "Solar" in July proved to be a big hit, briefly holding second place on iTunes R&B sales charts in the United States and first place in Canada, an unprecedented feat for Asian artists. Even more astonishing is that Big Bang held no North American promotions, targeting only their Asian fans.

Allkpop.com, a U.S.-based K-pop blog, attracts 2.2 million readers per month, double the hits it received only a year ago. Girl group 2NE1 received an offer from Black Eyed Peas producer will.i.am to work with them after he caught their videos online. They have since been collaborating in Los Angeles and London, according to their management agency, YG Entertainment.

Time attributed the phenomenon in part to the advent of social media, including blogs, YouTube, Facebook, and Twitter. In the article, DFSB Kollective international marketing agency President Bernie Cho said that many Korean artists these days are "aggressively steering their efforts to go international via the internet" and that "Social media-savvy K-pop stars are now tweeting, YouTubing and Facebooking their way up music charts across and beyond Asia."

Korean music channel to broadcast live in 54 nations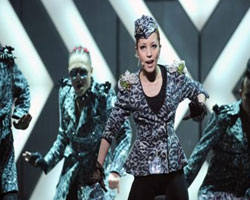 Boosted by favorable signs abroad, Korea Broadcasting Station (KBS) a state-run Korean TV channel, began live broadcasts of its music programs in 54 nations.

"Music Bank," aired by KBS World channel, reaches 140 million viewers in 54 nations in Asia, Europe, and the Middle East. North America and Japan also receive the program, with a few weeks delay for subtitling.

"We weren't sure how the viewers would respond to the live broadcast without subtitles," said KBS World producer Kim Hyun-ki, who had been testing broadcast of the program for about a year beforehand. "We received lots of positive feedback from fans, many asking us to allow them to vote for their favorite songs, too. That motivated us to go ahead with the full-fledged broadcast."

KBS World covers 71 nations besides Korea. Music Bank is the first Korean music program to be aired without subtitles, and in the wake of its success KBS plans to continue testing new ways for K-pop and other Korean entertainment to reach international audiences.

By Kim Hee-sung
Korea.net Staff Writer
Department Global Communication and Contents Division, Contact Us