Seoul sees its first high speed electric vehicles
Sep 30, 2010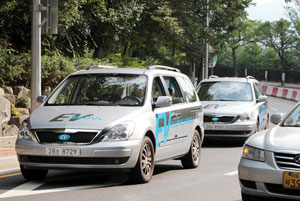 The Seoul Metropolitan Government announced there are now five high-speed electric cars in operation in the capital city.

The new vehicles are retrofitted RV's, adopted to accommodate an electric motor. The cars went on official duty after receiving official license plates on Monday, September 27.

The car can achieve speeds of up to 150 kilometers per hour, can cover 140 kilometers on a single charge, and has no emissions or engine noise. It takes nine seconds for the car to reach 100 kilometers per hour, about 15 seconds faster than the average RV. The vehicles are equipped with LG Chemical's latest 36kWh-level battery pack and locally produced 150kW-level hydro-motor.

The fuel cost of the electric car is 27 won per kilometer, or only 40,000 won for 40 kilometers, which is just one quarter of what the average gasoline car (140,000 won) requires.

Compared with earlier electric cars with top speeds of only 60 kilometers per hour, the new vehicle can not only achieve higher speeds, but is useable on highways. Also, instead of accommodating only two people, the new model can seat six plus luggage.

The car is the result of collaboration between the Seoul and the Korea Transportation Safety Authority, which oversees the development of batteries and electric motors for mid-size vehicles and builds infrastructure for battery recharge stations. The city also came up with customized insurance for the five vehicles, after joining hands with an insurance company.

"By November this year, thanks to the latest revision in law, average people will also be allowed to remodel their cars into high-speed electric vehicles. The only thing that'll matter in the mean time will be the cost," said an official at Seoul City Government. "Visiting officials from the cities of Barcelona and Chicago also showed interest in our project."

By Kim Hee-sung
Korea.net Staff Writer
Featured Topics
http://www.korea.net/NewsFocus/Society/view?articleId=83111
URL Copy
Department Global Communication and Contents Division, Contact Us