2014 Incheon Asian Games announces official slogan
Oct 14, 2010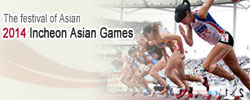 The 17th Incheon Asian Games Organizing Committee (IAGOC) officially unveiled their slogan, "Diversity Shines Here", on September 16 to commemorate the 4-year countdown of 17th Asian Games. Executive Committee members of the IAGOC, sports leaders, sports media, and city officials attended this historic announcement.

The slogan was finalized with the opinions and suggestions by people from a wide variety of specialized fields and backgrounds. It represents and highlights the significance of Asia's wonderful diversity in history, cultures, and religions.

Asia will gather together here in Incheon to display their power in unity, and finally realize Asia's true development potential.
In taking this opportunity, the IAGOC will step up its preparations and do its best to realize its vision for the 2014 Asian Games which includes promoting balanced sports development throughout Asia, fostering friendship between Asia's 4 billion people, and hosting the greatest event in Asian Games history.

The IAGOC is confident that the 2014 Asian Games will be an unforgettable festival of sport and a new beginning for Asia whereby through sharing and understanding, Asia can finally become united in its dreams and hope for the future.
Featured Topics
http://www.korea.net/NewsFocus/Society/view?articleId=83440
URL Copy
Department Global Communication and Contents Division, Contact Us