Vietnamese King Sejong Institute holds graduation ceremony
Nov 02, 2010
The Vietnamese branch of the King Sejong Institute recently held a graduation ceremony in Ho Chi Min City on October 22, according to Korea's Chosun University.

Now in its second year, the Vietnam branch of the language institute held a graduation ceremony where 28 students received a certificate for successfully completing the two-semester program.


A total of 130 Vietnamese students have graduated from the institute, run by Chosun University and sponsored by Korea's Ministry of Culture, Sports and Tourism.

The backgrounds of the students vary considerably, and the classes are attended by everyone from college students and teachers to people in international marriages and workers looking to join Korean companies. The ability to speak Korean is a key way to find better employment, with fluent Korean speakers earning up to twice as much as the average Vietnamese worker.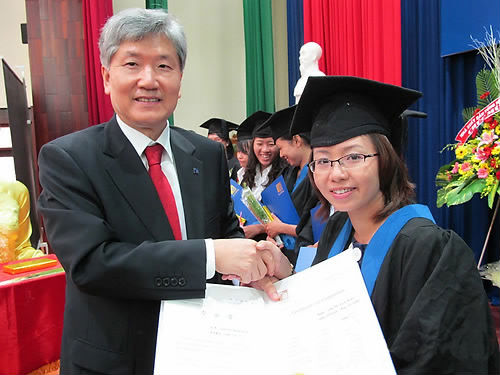 Chosun University President Jeon Ho-Jong gives a diploma to a Vietnamese student at the King Sejong Institute graduation ceremony in Ho Chi Minh, Vietnam, on Oct. 22.
The Korean language textbooks, which were designed by the Korean language department of Chosun University, received favorable responses from the Vietnamese students.

Thanks in part to the contributions of the institute, Vietnam National University, Ho Chi Minh City expanded its Korean language department to a full-sized Department of Korean Studies. The institute has also generated significant media interest, and some high schools in Ho Chi Minh City have adopted Korean as a second language due to the increasing popularity of Korean as an area of study.

Chosun University said that it is committed to promoting the study of Korea overseas, and hopes to build institutes in China and Russia in the future.

By Yoon Sojung
Korea.net Staff Writer
Featured Topics
http://www.korea.net/NewsFocus/Society/view?articleId=83754
URL Copy
Department Global Communication and Contents Division, Contact Us