Seoul to offer Korean language classes
Feb 22, 2011
Seoul Metropolitan Government has established Korean language classes to help foreign nationals residing in Korea who are struggling with the language barrier. Unlike previous classes, these are customized and free of charge.

The "Customized Korean Language Program" will take place at 14 public centers, including the Seoul Global Center, Itaewon Global Village Center, and foreign workers centers around Seoul. There are three and six month courses available, and all are customized to meet the schedules and individual needs of the students. All the Korean language courses being offered through the program are free.
Students in the Korean language program (Photo: Yeoksam Global Village Center)
The Korean language program includes beginner classes, family classes, and courses designed for migrant spouses and foreign workers. There are also courses for students preparing to take the Test of Proficiency in Korean (TOPIK). Parents who complete the 24-week family courses will receive a certificate in Storytelling.

The classes at Yeoksam Global Village Center and Seoul Global Village Center are especially popular because they include lessons on Korean expressions and phrases commonly used in business and work situations.

Seoul City official Oh Seung-hwan said, "We truly understand that language barriers can be very frustrating. We'll try to develop more language programs for foreign nationals in Korea to help them understand the country better and settle down more easily in Korea."

Cultural experience classes (Photo: Seoul Global Center)
The TOPIK preparation classes in Yeoksam Global Village Center start on March 4, and applications should be sent by email to yeoksam@sba.seoul.kr or by phone at 02-3453-9038~9 by February 24. The customized language programs at the Seoul Global Center start on March 5. Applicants interested in the customized classes should visit the center in person on February 26 or 27. Other centers will also be recruiting new students in February. For more information, please visit http://global.seoul.go.kr/.

Seoul is also offering a new program for children, called "customized, direct-visit Korean language lessons." These classes, which take place from March to December, will provide one-on-one customized in-home language lessons once a week to children from 200 multicultural families. Children between 3 and 12 from multicultural families are eligible for the program, which costs 5,000 won for the semester. Applications can be sent by email to 15405b@seoul.go.kr by February 25 or made by phone at 02-2171-2448.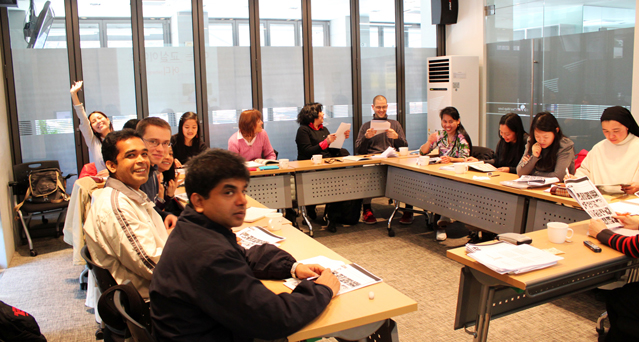 Students learning Korean (Photo: Seongbuk Global Village Center)
More one-on-one Korean language lessons will be also provided in elementary schools in Seoul as afterschool programs. Non-Korean children will have the opportunity to study Korean two hours a day after their regular classes, and children under seven years of age can take the same classes at the Yeongdeungpo Multicultural Village Center or Seongdong Foreign Workers Center. For more information, please visit http://global.seoul.go.kr/yeongdeungpo/ or http://www.smwc.or.kr.

By Jessica Seoyoung Choi
Korea.net Staff Writer
http://www.korea.net/NewsFocus/Society/view?articleId=85287
URL Copy
Department Global Communication and Contents Division, Contact Us