Ko receives America Award for contributions to literature
Mar 09, 2011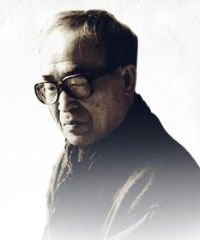 Ko Un (b. 1933), one of Korea's most renowned poets, will receive the 2011 America Award. Established by the Contemporary Arts Educational Project in 1994, the prize honors authors for lifetime contributions to international writing.
Previous winners of the America Award include Nobel Prize-winning English playwright Harold Pinter, Nobel-winning Portuguese novelist José Saramago, Austrian author Peter Handke and Syrian poet Adonis. Ko is the first Asian recipient of the award.
Ko made his literary debut in 1958, with a short poem in "Modern Poetry," and published his first collection of poems, "Other World Sensibility," in 1960. During the last half century, Ko garnered an international readership, with approximately 150 books of poetry, novels, prose and critical biography.
Ko's poems are especially appreciated in northern Europe, bringing him literary prizes and recognition in Norway and Sweden. Ko was awarded Bjørnson Order for Literature in 2005 and the Cikada Prize in 2006. Both prizes were founded in commemoration of Nobel Prize winners, Bjørnstjerne Bjørnson of Norway and Harry Martinson of Sweden.
The prize acknowledges his literary achievements, including the completion of "Maninbo (Ten Thousand Lives)." While expressing his gratitude, Ko said he is devoted to creation, and currently in the process of publishing two more volumes of poetry.
A dozen of Ko's works including "Songs for Tomorrow" and his masterpiece "Maninbo (Ten Thousand Lives)" have been published in the United States and an English translation of "Himalaya Poems" will be released this year.
For more information and a full list of translated works, please visit Ko's official website at:
www.koun.co.kr
(Korean and English)
By Hwang Dana
Korea.net Staff Writer
Department Global Communication and Contents Division, Contact Us