Korean language instructors and students take knowledge of Korea home
Aug 25, 2011
International instructors, teaching staff, and practitioners of the Korean language converge at Olympic Parktel Hotel in Seoul for a three-day conference held from August 24 to 26. The conference seeks to reinforce the educational competence of Korean language educators overseas, while also fostering exchanges of training expertise in Korean language education.
For its third year, nearly 300 participants including 89 international educators hailing from 19 countries including Mongolia, Vietnam, Japan, China, and Russia, gathered at the conference organized to boost Korean language education abroad. This event is hosted by the International Korean Language Foundation, under the auspices of the Ministry of Culture, Sports and Tourism and the National Institute of the Korean Language.
Also attending are 47 students who have excelled at learning the language at various branches of the state-run Korean language institute Sejong Hakdang, also known as the King Sejong Institute.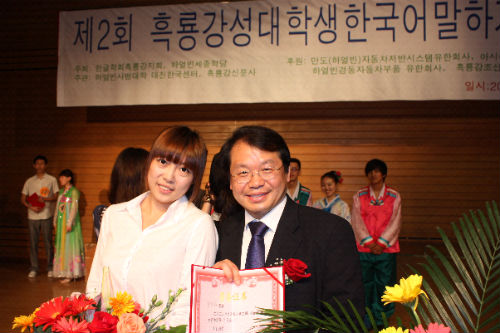 Jin Seol-yeong (left), the third-prize winner of the Korean language contest held last May in the Heilongjiang region in China poses with Ha Seong-bong, the director of the King Sejong Institute in Harbin. (Photo courtesy of the Ministry of Culture, Sports and Tourism)
The King Sejong Institute leads Hangeul education worldwide, helping make the Korean language more accessible to the world. Launched by the Ministry of Culture, Sports and Tourism in March 2009 to unite worldwide Korean language institutes, the King Sejong Institute now offers language courses at 28 branches in 16 countries around the world. Last year, a total of 7,780 students from 12 countries took part in the program. The Korean government has set up a plan to build 14 more branches across 13 different countries including France and Indonesia starting in September this year.
Over the course of three-day event, a wide array of activities has been offered to the outstanding students. Highlights of the conference include a multimedia lecture on Korean culture, hands-on activities such as making Hanji crafts, a visit to Gyeongbok Palace, and a K-pop performance at "Mnet Countdown," a weekly music show.
An official at the culture ministry hoped for the conference to play a role in paving the way for active cultural and educational exchanges among Korean language instructors across the world. The Ministry of Culture, Sports and Tourism plans to develop a variety of multimedia materials for the curriculum of Sejong Hakdang. The Korean government also aims at expanding Korean educational support for the benefit of both educators and learners. For more information, please visit the official website at:
www.sejonghakdang.org
(Korean, English, Chinese, Vietnamese, Thai, and Mongolian).
By Hwang Dana
Korea.net Staff Writer
Department Global Communication and Contents Division, Contact Us