Young environmental ambassador visits Dokdo
Sep 23, 2011
Fourteen-year-old Jonathan Lee has been named environmental ambassador of Dokdo. The title was awarded by the government of Gyeongsangbukdo (North Gyeongsang Province), the province Dokdo belongs to.
Lee, a half-Korean living in Mississippi, is embarking on an environmental campaign to raise awareness of environmental issues on the islets. Last Wednesday, Lee received a certificate recognizing his position from Governor Kim Kwan-yong of Gyeongsangbukdo, which is also the home province of Lee's father. Next, Lee and his parents paid a visit to Dokdo.
"He thought it's the most beautiful island he's ever seen," said Lee's father, Kyoung Lee.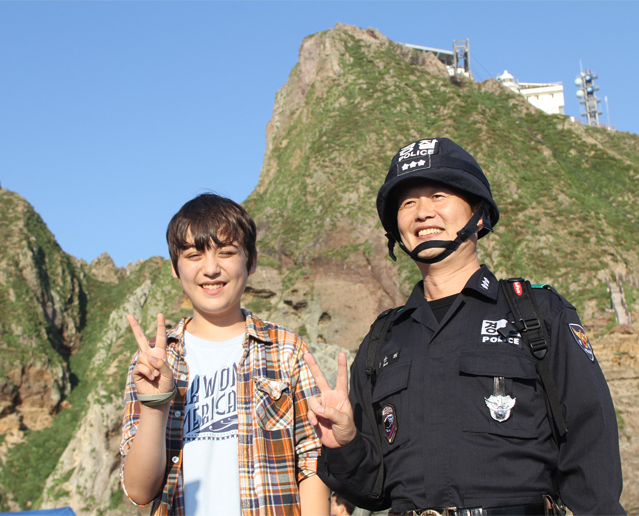 Lee's interest in Dokdo is not over territorial issues, but rather environmental concerns. His interest in Dokdo, which is Korea's easternmost territory, is in reintroducing sea lions to the islets. The sea lion population on Dokdo, which is estimated to have once been around 15,000, was decimated by Japanese seal hunters during the Japanese occupation of Korea. Sea lions were once so prevalent on Dokdo, that it was long ago known as "Gajido," or "Sea Lion Island, according to the Korean government.
Lee also made a stop at Ulleungdo, where he visited a primary school to talk about bringing sea lions back to Dokdo. He also introduced his environmental group, the International Cooperation of Environmental Youth (ICEY), who provide educational activities and tools for children around the world to promote humanitarian environmentalism. According to his father, 70 volunteers at the school signed up with the group, which was founded by Lee in 2007.
He started down this path to becoming an ecological dynamo in 2007, after watching a documentary on climate change at age 10. He created GoGreen Man, an eco-friendly superhero, and uploaded them to his new website. He began a mission to spread the word for environmentalism, giving speeches in front of students as well as politicians and world leaders. He led the charge to get U.S. fast-food restaurants to start recycling, and he went to the Gulf Coast to plant trees in areas damaged by Hurricane Katrina.
The proactive youth, who was born in Korea but moved to the U.S. when he was a baby, first returned to Korea in 2007, after a visit to Mongolia where he had been treeplanting. Once in Korea, he was invited by the Korea Forestry Service to participate in Environment Day on June 5. He and his family also received an invitation from former President Kim Dae-jung to visit him at his home, where he got Lee interested in peninsula politics and was appointed an honorary board member of ICEY. Lee spoke publicly about global warming in front of Seoul City Hall, and he gave a speech in front of Korean politicians at an event celebrating the seventh anniversary of the June 15 North-South Joint Declaration, where he proposed creating a forest of chestnut trees in the DMZ between North and South Korea.
"I am half-Korean, but I didn't know much about the problems on the Korean peninsula until I met the Nobel Peace Laureate, former President Kim Dae Jung," Lee wrote in a letter. "He impressed me about his want for peace between the two Koreas. He told me about the June 15 agreement and his Sunshine Policy... He promised he would take me with him the next time he went to the DPRK, but sadly he passed away [in 2009]. I'd like to carry on his dream."
Lee returned to Korea in 2009, when he introduced ICEY at the 2009 Incheon Fair's Environmental Forum, and was later invited by President Lee Myeong-bak as a VIP to the opening of the Green Growth Museum for Korea, where they spoke for 30 minutes on topics such as Cheonggyecheon and the importance of recycling.
He returned again in 2010, when he visited Seoul during the G20 conference last November to demonstrate for environmentalism and peace. He even went to Pyongyang with his parents last August to deliver a letter to North Korean head-of-state Kim Jong-il.
Lee wrote to Kim to tell him about his idea for the Children's Peace Forest in the DMZ. He envisioned a place where children from both countries could meet to plant trees, play, and cultivate food. The motto of this plan is "Above politics, Above conflicts, Above borders, Above ideology, It's all about giving hope to people and children around the world."
"You may be wondering why a thirteen year old boy from the U.S. wants to go into your country, especially right now when there are a lot of problems," Lee wrote to Chairman Kim. "The children of [the two Koreas] have never met or interacted with each other. I think this is sad. So, I'd like to suggest that leaders from both Koreas (you, Dear Leader Kim and President Lee Myung bak) along with U.S. President Barack Obama, China's President Hu Jintao and G-20, to support the creation of a Children's Peace Forest in Panmunjom in the DMZ as a sign of peace for the children."
As well as Kim Jong-il, Lee wrote letters to world leaders including President Lee Myeong-bak of South Korea, U.S. President Barack Obama, and China's President Hu Jintao. He received letters of encouragement from President Obama, Prime Minister Stephen Harper of Canada, and Prime Minister Julia Gillard of Australia. "Your idea for a Children's Peace Forest is ambitious one," wrote Gillard, "and I do hope that one day becomes a reality when peace is realised on the Korean peninsula."
Although he did not manage to deliver the letter in person, Lee says North Korean officials promised to pass it on to the North Korean chairman, along with a copy of his book, "The Adventures of GoGreen Man." According to Lee, the officials he met seemed to like the idea of the Children's Peace Forest, but said that in order for it to be planted, a peace treaty must first be signed.

Over the years, Lee has reached out to many politicians and policymakers in America and around the world. "Environmental issues are the focus of many world leaders," said Lee's father, explaining why so many leaders are willing to meet him.
In 2007, he was named environmental ambassador by Senator John Kerry, the Democratic presidential candidate from 2004. "In order for us to really have a chance at tackling this problem, we need more than just grown-ups on board," said Kerry. "Jonathan's message is special because he delivers it as a peer to a new generation of environmentalists, and there's nothing more powerful than that. Every child makes the world a little brighter, but I commend Jonathan for saving the world in his own way -- one superhero adventure at a time."
Former U.S. President George W. Bush encouraged him to, "study hard in school, listen to your parents and teachers, and help those in need. Through your kindness to others and dedication to your schoolwork, you can reach your full potential and help strengthen our country."
Now that the Dokdo trip is finished, Lee is taking Bush's advice and focusing on his education. He was unavailable for comment because he was at school.
For more information about ICEY, visit
http://iceyhope.org
. To see where it all began with Jonathan's superhero characters, visit
www.gogreenman.com
.
By Jon Dunbar
Korea.net editor
Department Global Communication and Contents Division, Contact Us